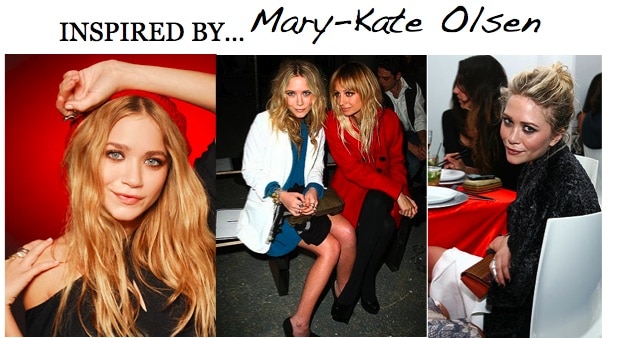 Mary-Kate Olsen's style has definitely evolved from the days of Full House where she sported high-top socks and side ponytails with puffy scrunchies. Nowadays, MK has become a fashion icon.
When she enrolled at NYU, the press was all over her boho chic style, also referring to it as "dumpster" or "hipster" chic and some other creative terms (…but we won't get into terminology). Some say MK single-handedly generated the boho chic trend by throwing on oversized layers mixed with glimpses of ornate beading and other exotic influences for a totally eclectic look.
But MK didn't stop there! In fact, she and her twin sister Ashley have two very successful clothing lines: The Row and Elizabeth and James. After viewing previews of The Row's Pre-Fall 2010 collection, critics are saying MK has definitely played a large part in creating the amazing 20 piece collection, which features edgy leather miniskirts, shrunken knits, and python coats.
Want to learn more about Mary-Kate's style and how you can get it for yourself? Keep reading.
Mary-Kate's Daytime Attire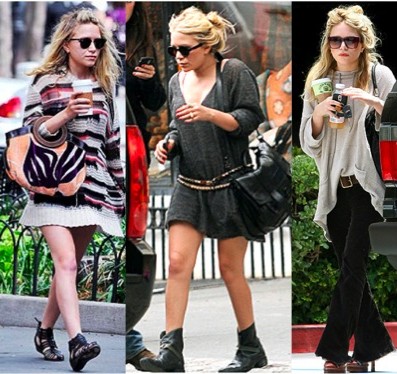 Mary-Kate's daytime looks are very effortless, and she always seems to have the following essentials: a big bag, sunglasses, cell phone in hand, and a coffee. Mary-Kate likes loose clothing, especially when it comes to minidresses or sweaters.
Here are two looks inspired by Mary-Kate: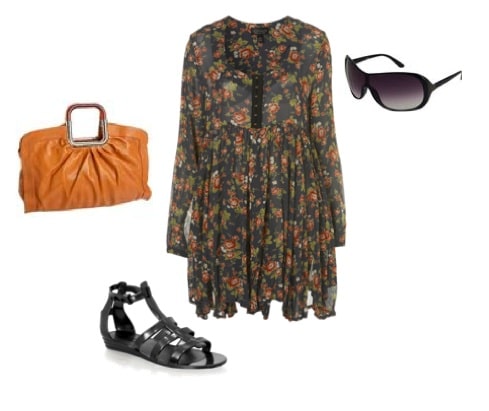 Product Information: Rose Hook and Eye Dress- TopShop, Gladiator Sandals- ASOS, Street Level Rectangle Satchel- Endless, Black Sunglasses- Forever 21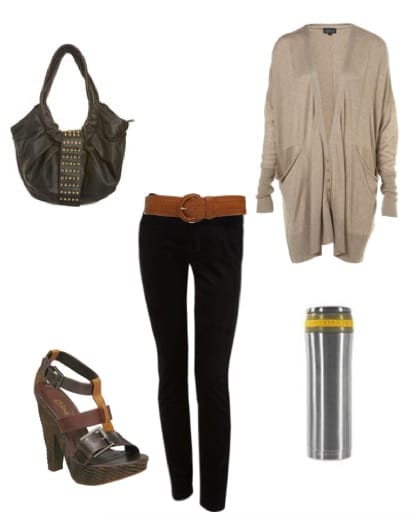 Product Information: Corduroy Pants- Charlotte Russe, Oversize Cardigan- TopShop, Brown Belt- Wet Seal, Diba Bad Girl Platform Sandal- DSW, Black Studded Faux Leather Hobo- Windsor, Stainless Steel Coffee Mug- Cooking.com
Mary-Kate's Evening Attire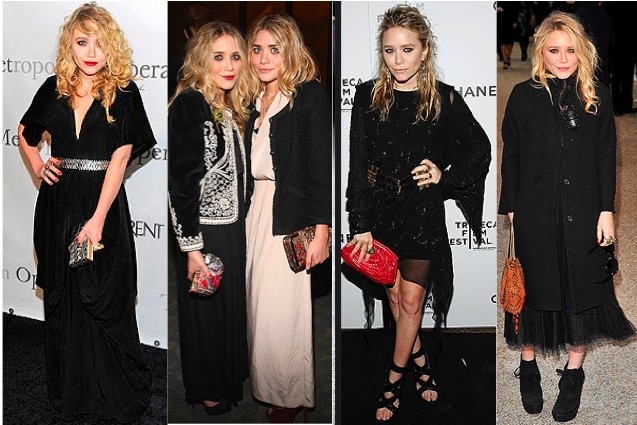 Lately, Mary-Kate has been sporting a TON of black for evening events. The head-to-toe black seems to always be accompanied by one eye-catching piece, such as a sequined belt or a beaded clutch. If you are really keen on wearing black to holiday/New Year's events- spice up your black ensemble with an embellished clutch like MK!
Here's my MK-inspired evening look: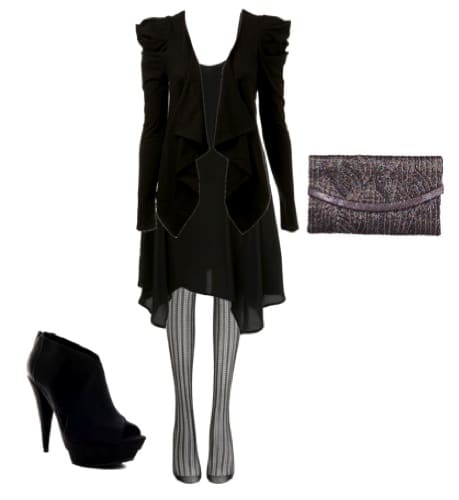 Product Information: Black Swing Dress- Top Shop, Essence Tights- Barney's, Monster Sleeve Cardigan- Miss Selfridge, Black Bootie by Jessica Simpson- Heels.com, Beaded Clutch- DSW
Mary-Kate's Hair and Makeup
Mary-Kate pulls off a variety of looks in the beauty department. I've gathered a few examples of different looks that I think she has pulled off really well. I must admit the red lipstick look is definitely my favorite, probably because with darker skin, I'm not able to pull off such a bold lip color!
MK's Hair
Mary-Kate is notorious for her seemingly flawless tousled locks. I've tried this look a few times myself (and have also gathered a few tips from some friends and beauty-related resources on the web) in order to give you a few tips on how to achieve this look!
Here are the essentials…or as I like to call it…the MK Hair Kit: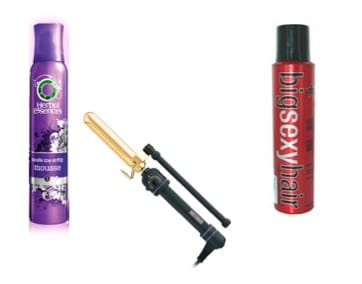 Product Information: Tousle Me Softly Mousse- Herbal Essences, Hot Tools Professional 1″ Curling Iron- Folica, Big Sexy Hair Spray- Beauty.com
How to Get Mary-Kate's Tousled Hair
Your exact regimen is really all going to depend on how your hair takes to curls/waves. My hair is pretty thick and naturally wavy, so my regimen is as follows…

After I take a shower, I towel-dry my hair and let it air dry for about 15 minutes.

Then, I put about a nickel-sized dollop of curl enhancing mousse (such as the Herbal Essences mousse above) starting at the roots and working my way down through the ends.

Next, I braid my hair in a loose braid. Sometimes, if I want my hair to be a little extra curly, I braid multiple braids; however, sometimes when I take out the braids, my hair looks really crimpy (remember those hot crimping irons?!) instead of tousled- not a good look for me.

Fourth, I use a 1 inch curling iron and pick random pieces at the top and curl them. I do this very haphazardly to try and make it look au naturale.

Finally, I spray hair spray to hold and voilá! I have Mary-Kate's "effortless" curls. For a little more oomph, sometimes I use my blow dryer and flip my head over and scrunch up my hair in my hands, but word of caution again- one time I overdid it and had a lion's mane for the night.
Other tips for different types of hair…

One of my friends has really thin, stick-straight hair, and she uses a three barrel curling iron to achieve tousled hair. I have one, too, and sometimes use it in Step #4 above instead of a curling iron. Here's a great one from CHI.

Sexy Hair (the company that makes the hairspray in the MK Hair Kit above) says you can use their product on dry hair to tousle your hair by simply flipping your hair over, spraying hair spray, and scrunching it with your hands in sections. I've never tried this, but if anyone has, please let me know if it works!
Complete your look!
Okay, so now that your hair is super cute and tousled, finish off your look with MK-worthy beauty products. Here are a few ideas inspired by MK that I really like, and some products that can help you achieve a similar look!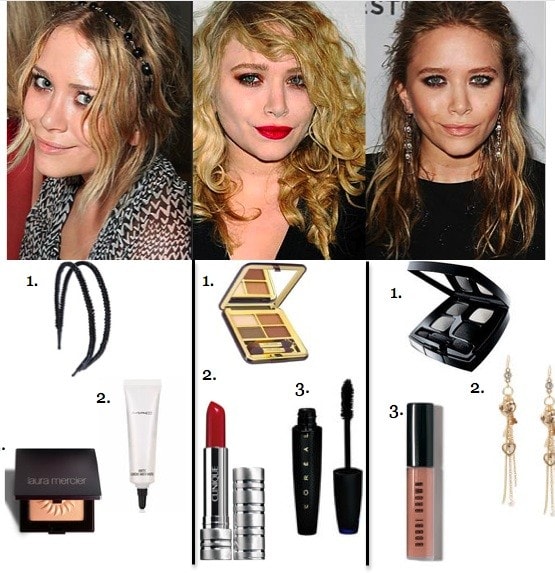 Product Information:
Look 1 (left): 1. Beaded Headband- Armani Exchange, 2. Matte Sheer Cream- Bloomingdales, 3. Laura Mercier Bronzing Pressed Powder- Saks Fifth Avenue
Look 2 (center): 1. Estee Lauder Signature Eyeshadow Quad in Truffle- Saks Fifth Avenue, 2. Clinique High Impact Lip Colour in Sassy Spice- Saks Fifth Avenue, 3. L'Oreal Extra-Volume Collagen Plumping Mascara- Drugstore.com
Look 3 (right): 1. Les 4 Ombres De Chanel Quadra Eye Shadow- Saks Fifth Avenue, 2. Dangling Charm Earrings– Forever 21, 3. Rich Color Gloss – Bobbi Brown
What do you think?
Now that you've seen MK's day looks, evening attire, and aspects of her beauty regimen…what do you think? Can you draw inspiration from Mary-Kate? Since obviously I couldn't feature all of her many diverse looks, which other looks of hers are your favorite? Leave us a comment!
-All of the photos I used were found on People.com–