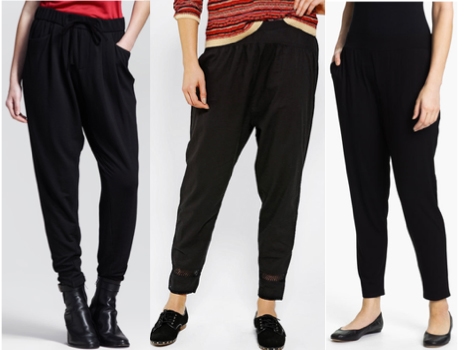 Pants: Neiman Marcus, Urban Outfitters, Nordstrom
Do you struggle with transforming your outfits from day to night? Don't worry, CF is here to help turn that daily annoyance into a fun challenge. Class to Night Out focuses on one piece per week, and aims to help you take your look from study sessions in the library to dancing the night away.
The one fall trend I've been most hesitant to try? Slouchy pants. (Remember when they were just harem pants and they were hugely controversial?) However, I saw them all over New York City this summer, and I couldn't get over how chic they looked. They have this super funky boy-meets-girl silhouette that I think is going to stick around for a long time.
To get over my fear, I thought I'd show you guys two ways to style a pair of black slouchy pants — one for day, one for night. If you're feeling lukewarm about this trend but still want to give it a go, I recommend picking up a pair at H&M or Forever 21 — you can usually find them for under $25!
Black Slouchy Pants: Class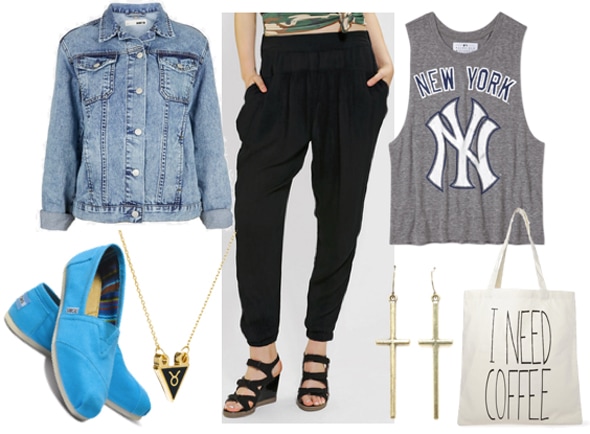 Pants, Tank, Jacket, Shoes, Bag, Necklace, Earrings
Create an urban-inspired day look by pairing your pants with a femme-d up muscle tee (nothing too fratty!). Add a distressed denim jacket for a little more structure — these pants do have the tendency to look like pajamas if you're not careful. A bright pair of TOMS keeps this ensemble super casual, as does a funny canvas tote. Complete the ensemble with funky jewelry, like a zodiac pendant necklace and dangly cross earrings. Too cool!
Black Slouchy Pants: Night Out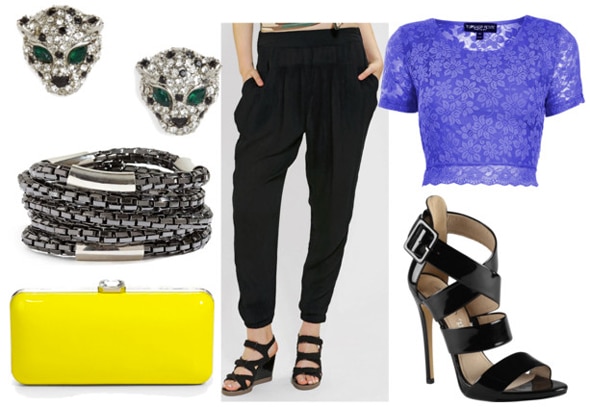 Pants, Top, Pumps, Clutch, Bracelet, Earrings
Embrace your inner Princess Jasmine for your night out look, starting things off with a lacy crop top in a bright sapphire blue. Create bold contrast with a bright yellow clutch, then add super-sexy height with a pair of strappy black pumps. Trendy jewelry like silver chain bangles and jaguar-shaped studs (love those green eyes!) complete the outfit.
Your thoughts?
Will you be wearing slouchy pants this fall? How would you style this pair? Be sure to let me know what you think of the outfits in the comments, and what other pieces you'd like to see featured on Class to Night Out!