This post may contain affiliate links, which means we may receive a commission if you purchase through our links. Please
read our full disclosure here
.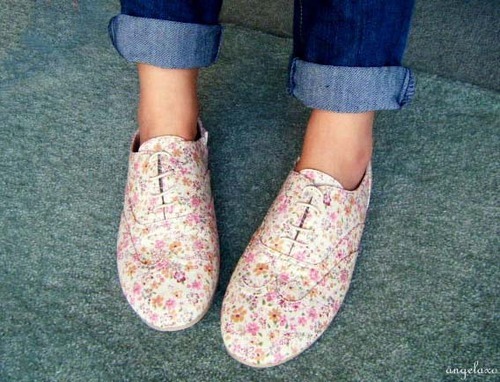 Ultra-trendy oxfords have been seen on the feet of super-stylish celebrities for the past few seasons. But now it seems the footwear has jumped to the mainstream – it's now the latest trend on college campuses. Stylish girls at schools across the country are rocking this unconventional shoe both in class and at parties.
A great alternative to sloppy sneakers or oft-worn ballet flats, oxfords are a perfect addition to any fashion maven's constantly-growing shoe collection. Afraid to splurge on a pair in fear that you won't wear them? Don't be! With this styling guide, you and your new shoes will be set.
How to Wear Oxfords – Tips & Tricks

Choose heels or flats. Are you, like Carrie Bradshaw, a fan of height in your shoe collection, or do you prefer staying closer to the ground? With the oxford trend, you can have it either way! Oxford heels provide a sexy, quirky vibe while flats are great for a classic, down-to-earth look.
Hot Picks: Heeled Oxfords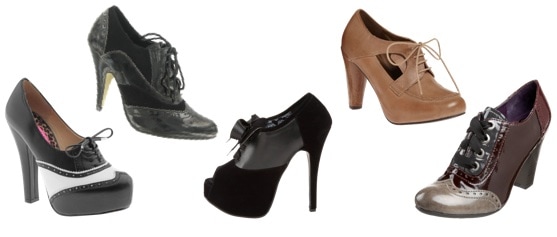 Product Information: Betsey Johnson Napoleon Oxfords, Piperlime. Black Lace-Up Oxford Pumps, Electric Boutique. Pleaser Teeze Platform Oxford Pumps, Endlesss. Spotlight Oxfords, ModCloth. Madeline Deedi Heel Oxfords, Endless.

Go dressy or casual. While heel height (or lack thereof!) will partially determine how dressy or casual your oxfords appear, their finishes and colors are equally important in determining casual or dressy wearability. Shiny patent leathers, luminous metallics, and sparkle-covered finishes on your oxfords add a fun touch to an elegant outfit. Traditional saddle styles, solid colors, and neutrals help to create a look that's both casual and chic.
Hot Picks: Dressy vs Casual
Product Information: Black Henrietta Studded Brogue, Debenhams. Red Vienna Brogue Shoe, Very. Purple Metallic Take Me With Shoe Oxford, ModCloth. Mallory Teal Oxfords, Asos. Kamille Soft Leather Brogues, Topshop. Candela Taylor Oxford, Endless. Toronto Patent Brogues, House of Fraser. Candy Dipped Flat, ModCloth. Leslie Blue Suede Brogues, House of Fraser. Jeffery Campbell Two-Tone Oxford Wedge, Urban Outfitters. Very Volatile Marlena Oxfords, Piperlime.

Balance it out. Oxfords are a great shoe if you're looking to play up the feminine/masculine dichotomy. The menswear-inspired footwear creates a great contrast when paired with a short, girly skirt or floral print dress. For a more androgynous look, wear your oxfords with skinny or boyfriend jeans, cargoes, or chinos.

Watch the width. Narrow silhouettes and thin soles generally make for the most feminine and universally-flattering oxfords. Since any pair of oxfords will draw attention to your lower half, take the opportunity to show off those pretty ankles! Cropped cuts and abbreviated hemlines help to showcase your oxfords, and your legs.
How to Wear Oxfords – Outfit Inspiration
Flirty & Feminine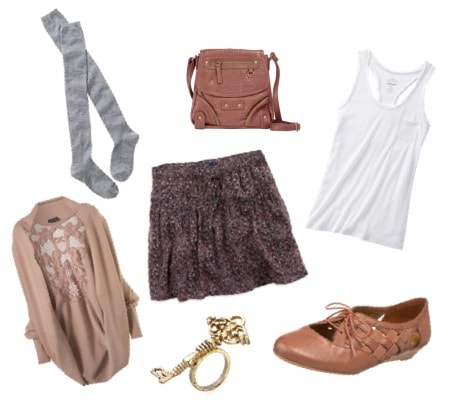 Product Information: Over-the-Knee Socks, Madewell. Knitted Lace Back Shrug, Topshop. Tan Casual Crossbody Bag, Dorothy Perkins. Ditsy Floral Skirt, American Eagle. House of Harlow 1960 Key Ring, Otte. Twist-Neck Racerback Tank, Old Navy. BC Footwear Anchors Aweigh Oxford, Endless.
This look is ideal for a playful girly girl. The floral skirt and flirty over-the-knee socks give this outfit a sweet, feminine touch that helps balance the oxfords' more masculine style. In addition, these oxfords will work for multiple seasons: The cute cut-out details on the shoes above will make them perfect for your spring or summer looks next year.
Cute & Casual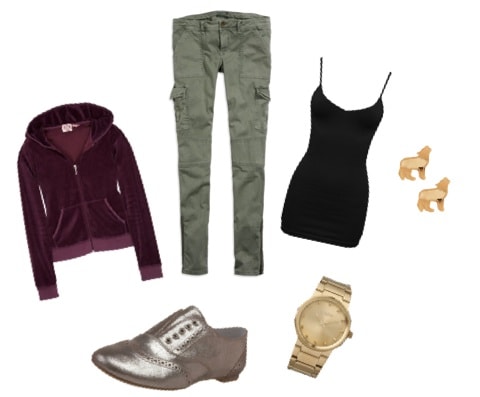 Product Information: Juicy Couture Basic Velour Hoodie in Candied Fig, My Wardrobe. Cargo Jeggings, American Eagle. Jessica Simpson Mely Oxford in Tarnish, Endless. Fabulous Finds Basic Tank, Forever 21. Nixon Oversized Watch, Shopbop. Golden Menagerie Wolf Earrings, ModCloth.
This is a super comfy outfit that's perfect for fall semester on campus. A cozy zip-up paired with a basic tank and cargo-style jeggings is the ultimate in casual cool. Make sure to roll up the bottom of the cargos to show off those ankles…and these amazing metallic oxfords, of course!
Your thoughts?
What do you think? Would you wear oxfords? Do you already own a pair? If so, what are your tips for wearing them? Are there any other trends you're wondering how to wear? Let us know your thoughts with a comment!