This post may contain affiliate links, which means we may receive a commission if you purchase through our links. Please
read our full disclosure here
.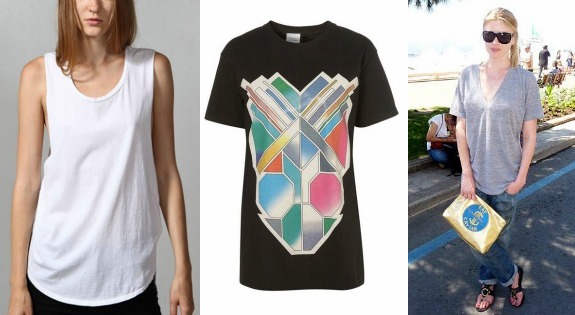 After checking out CF's latest Fabulous Find – the nicely colored boyfriend trousers – I realized that wearing clothes that are inspired by or intended for the opposite sex is something every one of us should embrace. Men's clothes are just as stylish as women's clothes, but in my experience, they're softer, more comfortable, and even have lower prices when they're on sale.
So, how difficult is it really to wear an oversized, boy-style t-shirt? It's easy as pie! Scroll on down to see how to style a boyfriend-style tee:
1. Show Some Leg
Boyfriend t-shirts have the amazing ability to make your legs look fantastic. My favorite way to wear these loose-fitting tops is with short skirts or leggings – it makes your legs look slimmer and longer, which creates a flattering silhouette.
Below, I also included an alternative way of wearing the tee: if you think yours might be a little too large, try this trick – gather one side and make a small knot, allowing it to hang lower on the other side. Asymmetry rocks!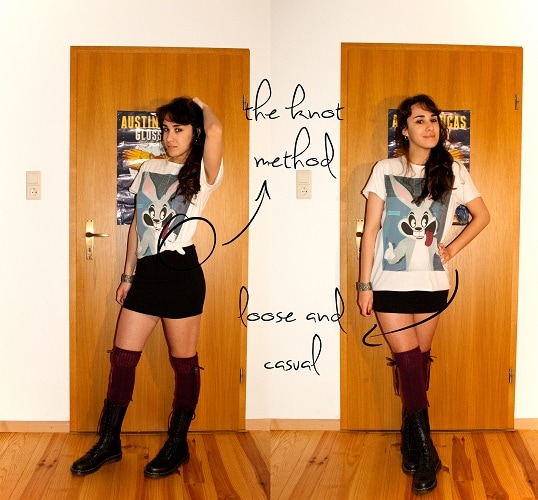 When wearing a longer t-shirt, pay attention to how itcomplements the bottom piece. If the bottom piece is too visible, it may mean that the top layer is too short and the outfit can lose its harmony. In this case, either get a shorter skirt or pair of shorts or pull your t-shirt higher (like I did in the photo on the right).
Now, I'm all too aware that this skirt might just be a tad too short and too tight to wear on a normal day of classes, so let's pretend I was about to have some drinks with my friends. Still too short for your personal taste? Just throw on a pair of opaque black tights for a sleek and streamlined look.
2. Layer, Layer, Layer
For my second outfit I decided to play with volume and create something that normally I wouldn't even consider wearing. However, in this case, the multi-layered look actually ended up being my favorite combination.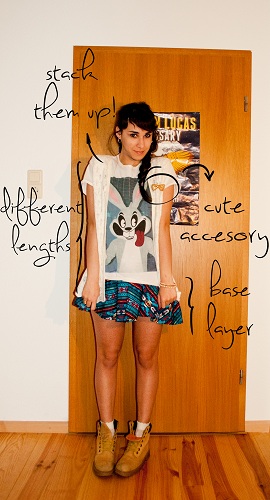 What I started with was a flared dress with a vibrant pattern. I threw the t-shirt on top and added a vest as a third layer. The resulting outfit is a balanced example of tomboy-meets-girly-girl: the untied boots and the boy t-shirt with the funny print bring some nonchalance to the table, while the dress, lace vest, and golden sequin bow add feminine touches to the ensemble.
3. Play up the Menswear Vibe
One way I love to style men's t-shirts is by making them look less casual. In my book, there's nothing that looks better than a fun t-shirt paired with a sharp jacket or heels. For this final look, though, I decided to incorporate more menswear-inspired pieces to create a polished and trendy outfit.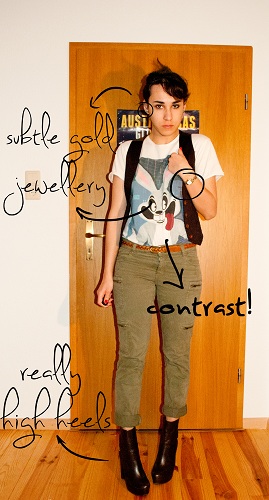 For starters, tuck the graphic tee into a pair of high-waisted pants. I think it makes you look more put-together and secondly, it elongates your body and is very flattering to your back part (a.k.a. the booty).
Then it was time to "formal" things up – I added a short vest on top and wore a bold pair of high-heeled boots. Out of all the combinations, this is the one that made me feel the most powerful, even though I was walking around with a rabbit with its tongue sticking out on my chest!
3 More Tips for Rocking a Boyfriend Tee:
If a t-shirt is long enough, wear it as a dress! If you are too self-conscious, put on some shorts or leggings, but since summer is on its way, those may prove to be unnecessary. (Boy shirts also work great over bikinis at the beach!)
If you want to emphasize the upper part of your body, wear a belt (a scarf can function as one, too!). You can wear it around your waist, or leave it hanging casually on your hips.
Ladies, don't steal! I'm sure your boyfriends have clothes that you like a lot, but respect their property and get your own shirt to wear as you please. Although I'm sure no one will mind if you borrow one of their t-shirts for a day or two…
Tell me what you think!
Do you think men's clothing should stay in men's closets or should the fairer gender have access to it too? Would you wear any of the outfits I presented? What other pieces would you like to see me style? Let me know in the comments!