This post may contain affiliate links, which means we may receive a commission if you purchase through our links. Please
read our full disclosure here
.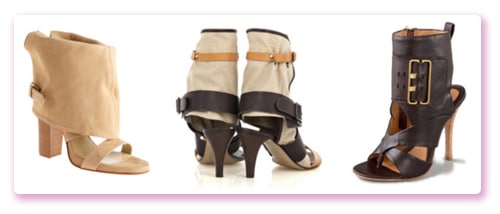 Designer Creations: Opening Ceremony, Chloé, L.A.M.B.
A lot of you were interested in the ankle cuff styles among the Spring 2010 shoes that I posted last week and asked me how I would wear them with an outfit. If you're intrigued by this style but not sure how to pull it off, here are some tips and outfit ideas to help get you started.
Tips for Rocking Ankle Cuff Shoes
Expose Leg
While these styles are a lot of fun, you should be aware that, realistically, something that covers up your whole foot and cuts off above your ankle will have a leg-shortening effect. To compensate for cutting off more of your leg at the bottom, you may want to think about showing a little more at the top. If you're worried about looking too risque, try high-waisted shorts and skirts, which will give the effect of more conservative coverage.
Heels = Easier to Pull Off
In general, because these styles can shorten your leg, high-heeled ankle cuff shoes are easier to pull off than flats, simply because high heels lengthen your legs, while flats have a shortening effect. Make sure to take this into account before you buy.
Casual Fit
Ankle cuff shoes are a little easier to wear than ankle booties because the cuff fabric is often loose and scrunched, especially on sandals. This gives the effect of space between the cuff and your ankle, which then has a slimming effect on your legs. I personally prefer a looser cuff, because I think the charm of this look is in the carefree and effortless attitude it gives off.
Color Matching
Another trick to counteract the leg-shortening effect is to match the color of the shoe with the color of your leg. You don't necessarily have to go nude. Any color that reduces contrast between the shoe and your leg should help. Also, for styles with more coverage overall, you can experiment with footless tights and leggings, which will allow you to wear ankle cuff shoes that are a very different color than your natural skin tone.
Now that you know the basics for pulling these shoes off, here are some outfit examples to give you a visual to work with.
Casual: Updated Boho Chic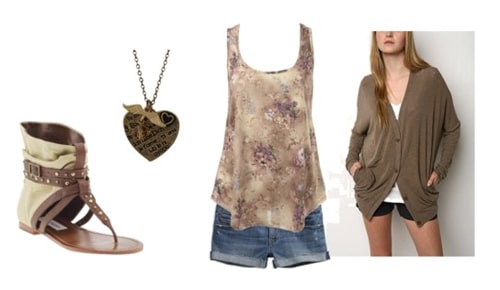 Sandals – Steve Madden, Necklace – Forever21, Top – Miss Selfridge, Shorts – American Eagle, Cardigan – Urban Outfitters
The gladiator sandal immediately evokes a boho-chic vibe, hence the casual denim and earth tones. Sexy draped silhouettes keep the look relevant and up-to-date, while a whimsical pendant adds a delicate, flirty detail.
Dressy: Edgy Sophisticate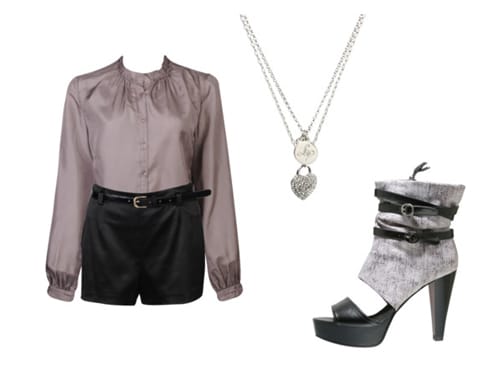 Top – LOVE 21, Shorts – Forever21, Necklace – ASOS, Shoes – alice + olivia for Payless
The shoe speaks for itself. Because it's such a statement item, the rest of the outfit is simple, almost like a mellow canvas against which the shoe can stand out. Satin fabrics are perfect for a night-time look, and the conservative blouse balances out the miles and miles of legs you'll be showing off.
Fun: Unexpected Contrast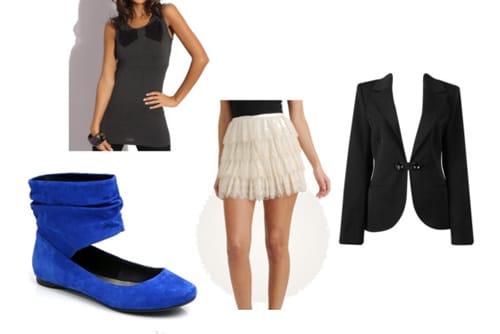 Shoes – Debenhams, Top – ASOS, Skirt – Forever21, Blazer – Forever21
The bright royal blue of this otherwise-modest flat sets the tone for this outfit. The top, skirt, and blazer are all neutral basics with a fresh detail — the contrast bow on the tank top, ruffles on the skirt, and the lace-up back on the blazer (see the back view here). This outfit is all about surprises tempered with classic colors and shapes.
The skirt is no longer on the Forever21 website, but I did find a similar style by Charlotte Russe.
What do you think?
Do you have any other ideas on how to wear ankle cuff shoes? If you're a fan of this style, do you like it best on heels, sandals, or flats? Or if you're not a fan — do you think you'd ever change your mind? Discuss in the comments section.