This post may contain affiliate links, which means we may receive a commission if you purchase through our links. Please
read our full disclosure here
.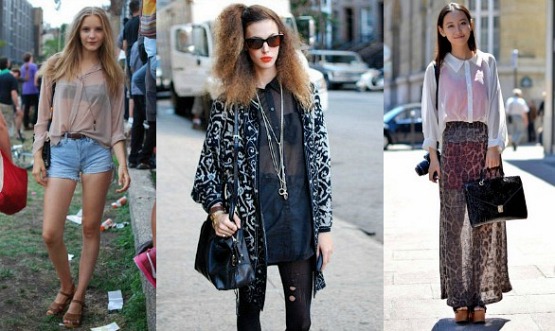 Photos Courtesy of ELLE
It's been slow and steady, but warmer weather is approaching and with it comes fewer layers, lightweight fabrics and lots of new trends to try.
One of my favorite things to wear during this transitional period is sheer clothing. There's something quite summery about see-through fabrics, yet they can also be paired with more "substantial" pieces, like boots or jackets, until the weather stays consistently warm.
Below, I'll show you four different ways to style a sheer blouse. For this post, I tried to limit myself to using a single sheer top, but — since I am a huge fan of this trend — that proved to be impossible, so instead I used three different tops to illustrate my points.
1. Making it college-appropriate
My first top was a yellow silk blouse that I have two problems with:
It's sheer, so I can't really wear a normal bra underneath.
It is too loose! This particular top is one size bigger than what I normally wear, meaning that it shows more skin than what would be okay to show at school.
To bypass these small issues, I had to pay attention to what I wore underneath. Here, I layered the yellow top over a black, sleeveless bodysuit. That way, I didn't have to worry about accidentally flashing everyone and it gave me some protection against the cold (in addition to a jacket, not pictured).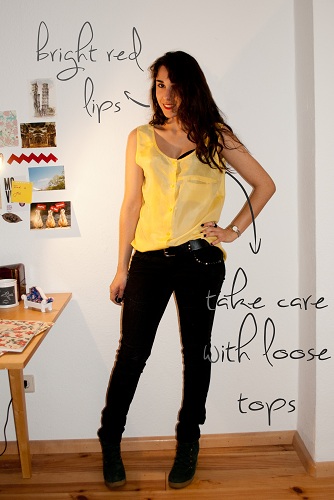 If you don't want to show any skin at all, take this as a lesson and wear a bodysuit, a tight tank top, or t-shirt underneath your sheer top — just make sure the sleeve length of the bottom layer matches the one of the top layer to create a polished look. As far as the rest of this outfit goes, I kept it low-key with dark shades, accessorizing with a simple watch and adding an additional pop of color with red lipstick.
2. Small things, big changes
For the second outfit, I switched out the blouse and replaced the bodysuit with a corset, but left the bottom half unchanged. As you can see in the picture, it is pretty clear where the fabric ends and where the skin begins, so I'd say this is more of a going out look than an on-campus one.
If you want to cover up a little more, you can easily layer a jacket or a vest over this look.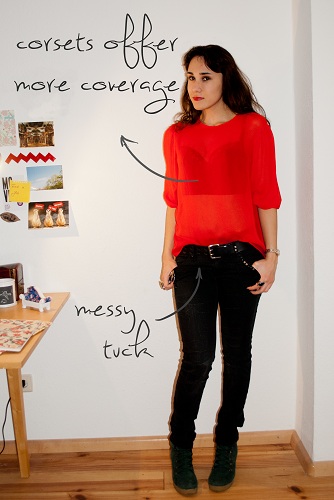 3. A complete style turn-over
Next, I took the same sheer red blouse and adapted it into a completely different look. The first outfit I created was quite sharp and daring, whereas this second ensemble is casual, colorful and practically screams "spring!"
To switch things up, I substituted the black corset for a patterned bikini top. This is something I would wear when hanging out with friends or as a casual, yet trendy weekend look. Since swimsuits are usually fun and bright, they provide a cute alternative to bras.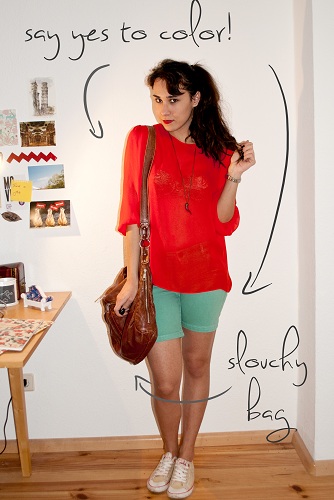 I paired the top with these mint-colored shorts, which always seem to put me in the good mood. The finishing touches included my lucky charm necklace and a slouchy leather bag, which kept the ensemble from looking too much like something I'd wear to the beach. Also, I chose not to tuck in my blouse, which gave my outfit a carefree vibe. Small details like these can make a world of difference!
4. How to wear a sheer white top
White, see-through blouses are probably the trickiest things to wear — well, they are for me at least. When it comes to bra color choices for these tops, you're usually left with two options: nude or white. However, I decided to go bolder and instead wore a violet-colored bra underneath a white blouse.
Since the bra was obviously very visible under the sheer fabric, I opted to hide it a bit with a faux furvest. Not only did this keep my outfit relatively modest, but it also kept me warm and toasty throughout the day.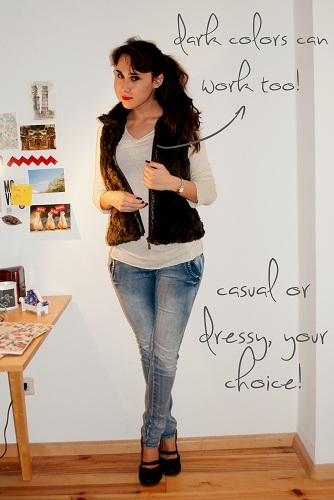 The beauty of vests is that they are easily adaptable. Here, I used one to create a casual daytime outfit, by pairing it with jeans and flats. (Obviously, this outfit would probably be better for a casual outing with friends than a classroom.) However, if you feel like dressing up a bit, you could easily replace the jeans with a skirt and wear a delicate necklace for a more feminine look. It all depends on your mood and personal style.
Your thoughts?
Are you looking forward to trying this trend? What did you think about the outfits? What item would you like to see me style next? I'm excited to hear your thoughts and opinions!