This post may contain affiliate links, which means we may receive a commission if you purchase through our links. Please
read our full disclosure here
.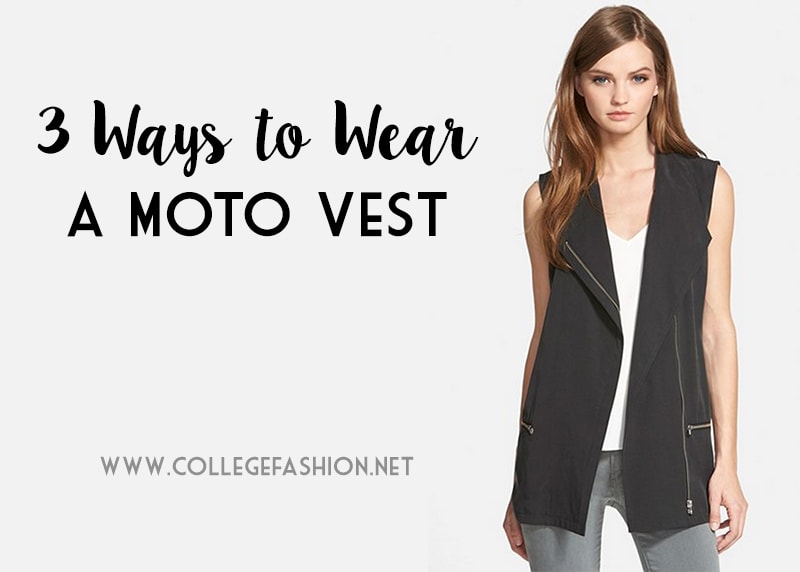 I find vests perplexing. My body heat is always concentrated in my torso, while my extremities are the first body parts to get cold. (I mean, my toes and fingers go numb in a strong breeze, even while my back is sweating.) So why the heck would I want to wear a garment that does nothing for my goosebump-covered arms?
Vests make no sense, yet I've spent hours cracking the mystery of how to wear them. (This may stem from my desire to be Han Solo.) When I finally learned to embrace vests as purely decorative (like those glitter pumpkins or tissue paper garlands you see on Pinterest, except for your torso), I began to incorporate them into my wardrobe. I am now the proud owner of three vests: a denim vest, a tuxedo-style vest, and the focus of today's post, a leather moto vest.
(Puffer vests, though. I will never understand how anyone wears those without simultaneously suffering torso heatstroke and arm frostbite.)
TL;DR: Shannon is confused by vests, wants to wear them anyway, has accepted that they are meant to be pretty and not practical.  You should wear them too. Here's how. 
3 Ways to Style Your Moto Vest
Casual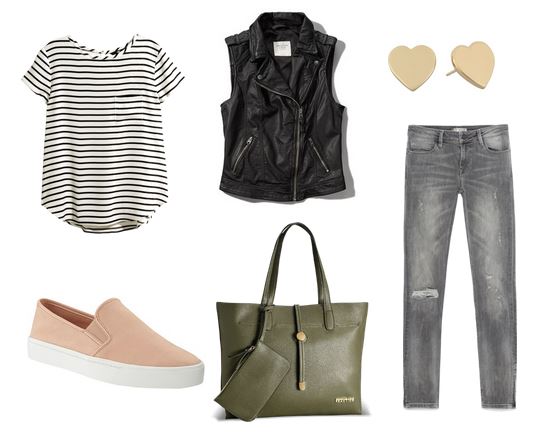 Products: Vest, Top, Jeans, Sneakers, Tote, Earrings
Laid back weekend outfits are the best, but sometimes I can't help but want to jazz things up. A motorcycle vest over your fave top and jeans looks totally effortless in that model-off-duty way. One more perk of vests: If your arms do get cold and you decide to throw on a cargo jacket, you won't have to deal with super bulky sleeve layers.
Ballet flats and sneakers work equally well for this casual ensemble. During the Labor Day sales, I picked up this pair of Gap slip-on sneakers in the gray color, and I can't stop wearing them! (So comfy and they go with everything!)
Edgy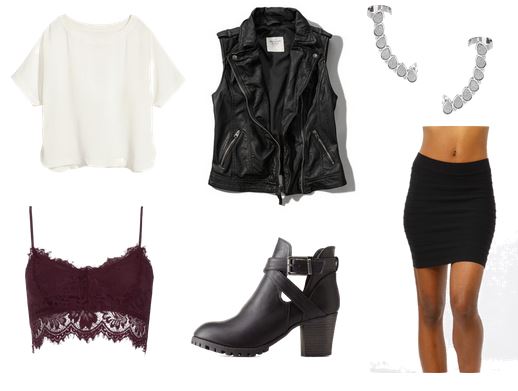 Products: Vest, Top, Bralet, Skirt, Boots, Earrings
I was actually inspired to write this article because this is exactly what I wore for a bar night this past weekend. It was probably the most comfortable outfit I've ever worn for a night out!
I'm just now trying out the sheer shirt+visible bralet combination; while I love the look, I'm still a little shy about it, so I threw on a moto vest so I didn't feel quite so exposed. The vest also helps to create a flattering silhouette for those of us who don't have perfect hourglass figures.
Boho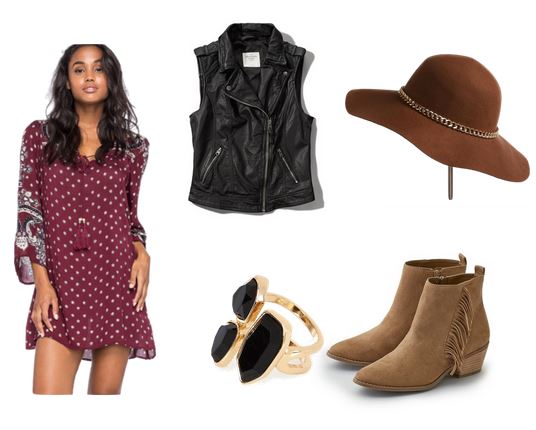 Products: Vest, Dress, Boots, Hat, Ring
Eager to try out the '70s-inspired trend but don't want it to look like you're celebrating Halloween a month early? Ease into the grooviest of decades with a patterned peasant dress and fringed ankle boots.
Layering a moto vest over top of this dress not only lets you show off those bell sleeves, but it also lends a more modern vibe to the ensemble. If you're feeling bold, add a floppy wool hat to complete the look!
What did you think?
Would you wear these outfits? Are you a fellow sufferer of vest-phobia? Have you learned to accept the fear and confusion and wear them anyway? How do you wear yours? Let us know in the comments!