Although certain trends come and go, denim has earned its place as a staple in American fashion. No matter what the current trends call for, a good pair of jeans will never go out of style. We can even sleep in them now!
The best thing about the classic jean? It is constantly being modified to fit the styles of the moment. Yesterday, we did a feature on the hottest denim trends for fall 2011, and today, we're going to show you how to wear fall's denim trends, with affordable picks and outfit ideas.
The '70s-Inspired Flare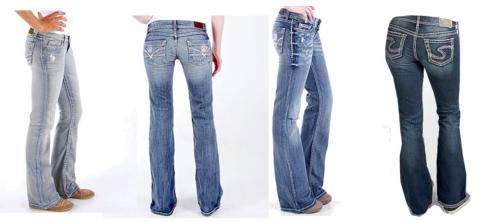 L-R: Light Wash Flares, Medium Wash Flares, Distressed Flares, Dark Wash Flares
History is repetitive. Fashion is recycled. As such, the '70s are making a comeback (with a slight shout out to the '90s), with flared silhouettes all over the runways for fall 2011. Countless celebrities have been spotted rocking their bell bottoms in a chic, updated fashion over the past few months, and it was only a matter of time before us mere mortals were able to access the same look for less.
Translation #1 :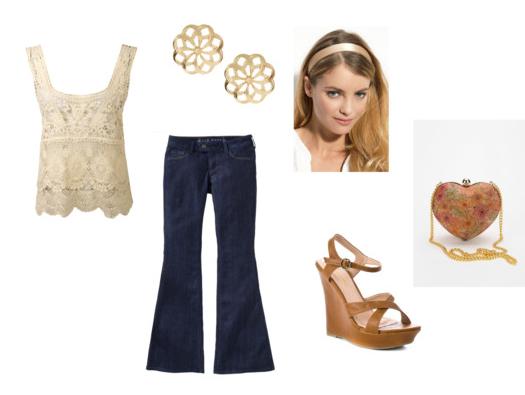 Flared Jean, Top, Earrings, Headwrap, Bag, Shoe
The trick to wearing flared bottoms is to play with proportions. Instead of wearing a bell sleeve top, try for a loose-fitting blouse. This adds a bit of volume to the ensemble without overpowering the flares, and creates more of a put-together look. Pair with heels to lengthen the leg. For more of a breezy, casual look (such as the one above) pair your bell-bottoms with a flowy tank or tunic. Choose one in a light, airy color and pair with wedges or wooden clogs.
The Denim Shirt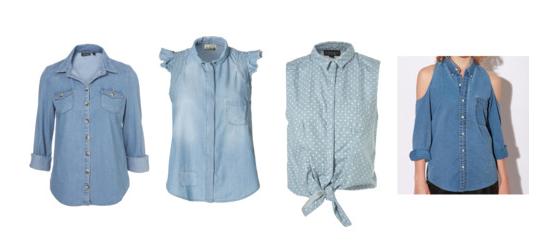 L-R: Long Sleeve Shirt, Cap Sleeve Shirt, Sleeveless Shirt, Cutout Sleeve Shirt
I have to say, the very idea of a denim shirt gives me Tim Allen in Home Improvement flashbacks. However, this trend, when worn correctly, can make you look runway-ready in time for running errands. The key to mastering this look is to choose tops that have a unique spin on the basic button-down top. Look for different washes, or cut-outs in the shirt that make it more interesting to the eye.
Translation #2 :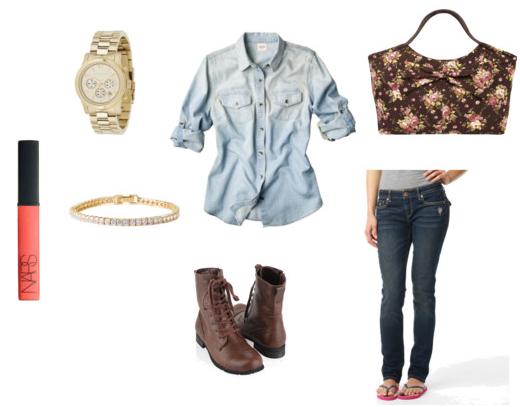 Shirt, Bag, Jeans, Shoes, Bracelet, Lipgloss, Watch
To wear this trend, take a lighter wash denim top and pair it with either a brightly colored chiffon skirt like this one from Forever 21, or (if you're willing to try another new fashion trend) pair it with more denim!
If you are trying to achieve the denim-on-denim look, try the ensemble above and opt for a darker pair of jeans on the bottom. This will break up the look and bring the attention towards your beautiful face. Go for utilitarian accessories for a homage to Lady Gaga's newest androgenous look. If you're a little less daring, add some feminine accessories like this floral bag and gold jewelry. Pair with a coral or pink lip to add another feminine touch.
The Denim Mini Dress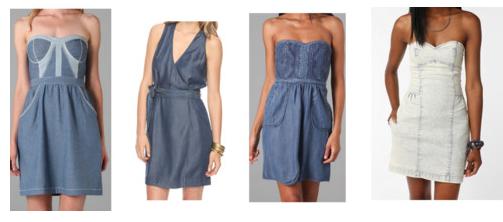 L-R: Strapless Multi-tonal Dress, Wrap Style Dress, Strapless Medium Dress, Acid Wash Dress
While dresses made of denim material aren't necessarily new, this season, the shape and form of the dresses are. Bustier-style denim dresses are perfect for a night out when paired with the right accessories. The look of denim material for night already makes a sexy, confident statement, so go minimalist with accessories. For daytime, a wrap dress paired with conservative closed-toe shoes and a nice colorful sweater will look polished and pretty.
Tranlation #3 :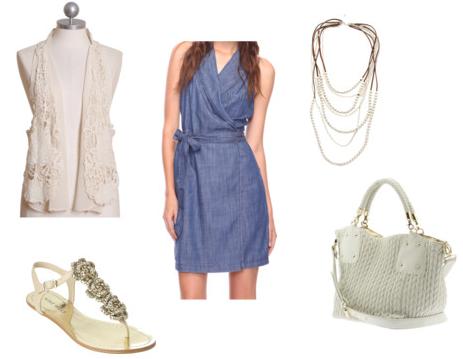 Dress, Necklace, Bag, Shoe, Vest
A denim dress with a unique shape, like this figure-flattering wrap dress, looks great with a sweater or vest of a different texture. Pairing the dress with a lace or knit sweater tones down the harsh appearance of the denim. For day, add neutral-colored accessories. Make sure to include an accent to break up the monotone accessories such as gold detailing – as seen on these sandals – or a pop of dark color, like the brown leather straps on the pearl necklace pictured above.
The Colored Jean
L-R: Mint Green Jeans, Hot Pink Jeans, Bright Blue Jeans, Mustard Jeans
The greatest accessory to pair with these colored jeans is confidence! If you're confident enough to rock a pair of bright skinnies, then you have to go for it! The biggest roadblock when it comes to wearing bright colored items is figuring out how to style them. This guide will help you match magenta skinnies without looking like the inside of a crayola box. The key to mastering colored jeans is to create a color palette which tones down the brightness of the jeans so that they fit into a cohesive outfit.
Translation #4 :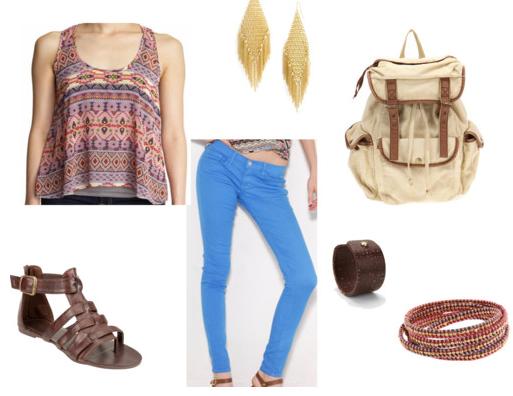 Jeans, Top, Earrings, Bag, Cuff Bracelet, Bracelet Set, Shoe
If you're a little unsure about wearing a bright color on the bottom, start out with skinnies in a shade of blue – it's close to your normal denim and therefore easier to style than yellow or hot pink.
The trick to styling a pair of bright colored jeans is to offset the color with muted accessories. Pick a top that has a pattern so that the eye does not get caught on the bottoms due to the bright color. Picking a patterned top in earth tones also creates a more cohesive look, as opposed to pairing bright pants with an equally bright top. Keep the accessories muted as well, choosing nude and brown colors. This makes the outfit look more sophisticated and conveys a sense of intentional style.
The Patchwork Pant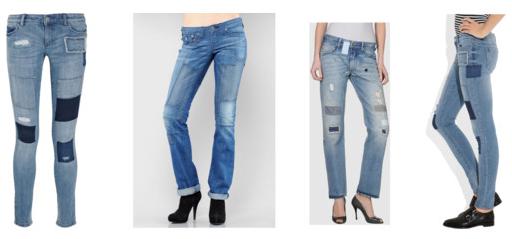 L-R: Patchwork Skinnies, Patched Flares, Patchwork Wide Legs, Patchwork Skinnies 2
The patchwork jean was seen all over the fall 2011 runways, resurrected by top designers like Anna Sui and Marc Jacobs. This jean trend can be found on all different types of cuts – from bootcut to skinny jean to boyfriend jean. This range of styles makes the trend versatile enough for everyone to wear. However, styling these jeans correctly is important so that the patches look chic as opposed to frumpy.
Translation #5 :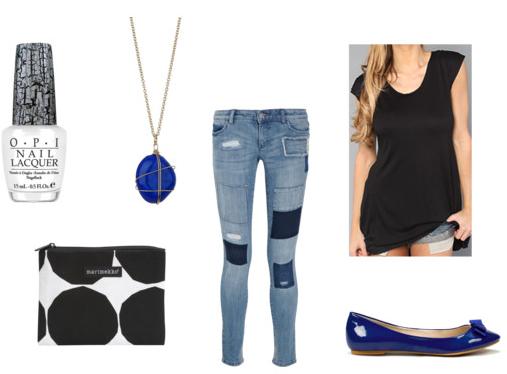 Jeans, Tee, Flats, Necklace, Nail Polish, Bag
To fearlessly pull of this tricky style, I would choose a patchwork pant in a sleek skinny or boot cut shape. Pair the jeans with a solid colored top. (I recommend either stark white or black.) Add a pop of color with another solid yet similar hue (as I did with the electric blue accents). Continue choosing pieces with angular patterns to make the look cohesive, or opt for contrast, choosing a bag like this one with a circular motif to balance out the harsh squares on the pant. Bring the outfit together with OPI's crackle nailpolish to finish off this mod look.
Thoughts, Ladies?
Do you swear by a certain style of jeans? Would you dare to try any of these Fall 2011 denim trends? Any tips or suggestions for styling not-so common jean shapes and styles? How would YOU wear these trends? Leave a comment and tell us what you think!