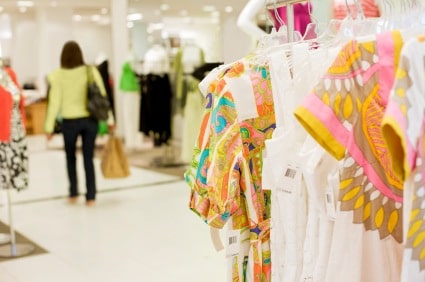 It's still definitely winter here on the east coast, but believe it or not, spring is fast approaching. The season officially starts on March 20th, but it may start feeling like spring even sooner than that!
Since spring is coming up fast, how do you start dressing the part without freezing to death in this still-wintery weather? How do you bring spring color into your wardrobe without completely ditching your winter clothes? Easy – by transitioning your wardrobe. Keep reading to learn how to bring your winter look into everyone's favorite fashion season.
How to Transition Your Wardrobe
Here are my top tips for transitioning your wardrobe from winter to spring:

Layer, layer, layer.
If I could only give you one tip for transitioning your wardrobe, this would be it. When you don't know what the weather's going to do, layering is your new BFF. Layer a cami under a cardigan or over a tee, or a tee shirt under a cardigan and over a cami. The options are endless. What's great about layering is that no matter the weather, you can add or take off layers to remain perfectly dressed.

Add in a few spring pieces.
Since retailers are rolling out the spring stuff already, there's no point in waiting 'til May to wear it! Pick up a couple of cute new pieces for spring and find ways to wear them now. For example, pair a springy floral dress with black tights, ankle boots, and a fall jacket, or pick up a bright blouse and wear it with a faux leather jacket, jeans, and boots. Simple, easy, and completely chic for both winter and spring.

Accessorize with brights.
One of the best ways to spring-ify your winter clothes is with a pop of bright color. This means a pair of hot pink tights, a yellow scarf, or even a lavender pair of skinny jeans. They add some fun color without being completely inappropriate for a winter day.

Use jewelry to transition your look.
One of the great things about jewelry is that it's an easy, fairly inexpensive way to completely change any outfit. A red beaded necklace, for example, would help brighten up a winter outfit and make it feel more springy. What about some dangly statement earrings with a simple winter outfit for a little extra interest? Or try some sparkly bangles and a chunky turquoise cocktail ring. There are so many fun possibilities to experiment with.

Wear one spring trend at a time.
If you want to try out some spring fashion trends before the season starts, don't go full-on fashion victim and wear them all at once. Instead, try out the different trends one at a time, paired with some of your winter clothes. For example, the cropped pants trend. Test 'em out on a warm day, paired with a cami, cardigan, and jacket. It's an easy way to test out the trends early without going overboard.
Your Thoughts?
So now that you've seen my tips on transitioning your wardrobe, I want to hear yours. How do you take your wardrobe from winter to spring? Do you transition, or do you wait 'til the last minute to break out the spring stuff? Discuss in the comments!