This post may contain affiliate links, which means we may receive a commission if you purchase through our links. Please
read our full disclosure here
.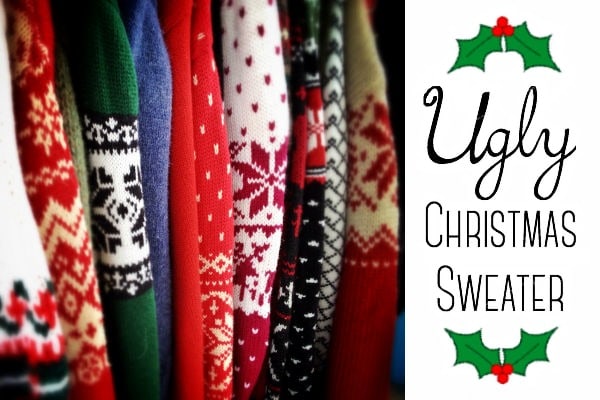 Over the years, wearing the most hideous, tacky, over-the-top Christmas sweater has become a new holiday tradition of sorts, and odds are you've probably been invited to at least one Ugly Christmas Sweater party this season.
If you celebrate Christmas, you've probably scoured your local thrift shops and Etsy for the holy grail of all ugly Christmas sweaters. Or maybe you've even DIYed your own. But now what? How will you wear that delightfully gaudy sweater? Never fear, I've come up with four Ugly Christmas Sweater party-worthy looks inspired by my favorite holiday music. Scroll down for styling inspiration and a whole lot of Christmas cheer.
Note: While I realize that the ugly sweater tradition is mostly associated with Christmas, it is not my intention to exclude those who celebrate other seasonal holidays. You can find ugly holiday sweaters for Hanukkah and we encourage anyone who celebrates Ramadan or Kwanza to try DIY-ing their own. At College Fashion we are full supporters of Christmahannukwanzadan!
Jingle Bell Rock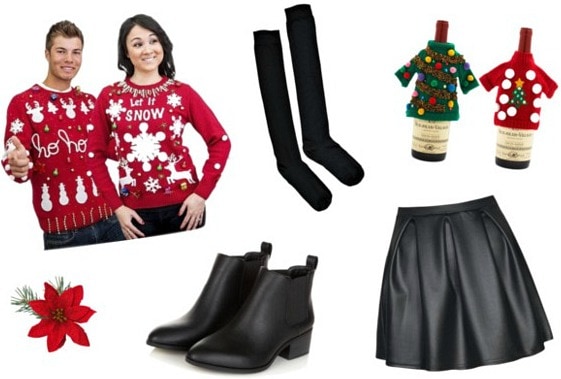 DIY Christmas Sweater Kit | Knee High Socks | Christmas Sweater Wine Koozies | Ankle Boots | Skater Skirt
This edgy look is one of my favorites, and further proves my point that a skater skirt can instantly make anything look more chic. You can find this ugly Christmas sweater kit at your local Target (bonus: it's currently on sale!) and create a one-of-a-kind sweater that will make all of your friends jealous.
Pair it with a faux leather skater skirt, black knee-high socks, and ankle boots. And for the over-21 crowd, don't forget to bring these adorable Christmas Sweater wine koozies to the party!
Candy Cane Christmas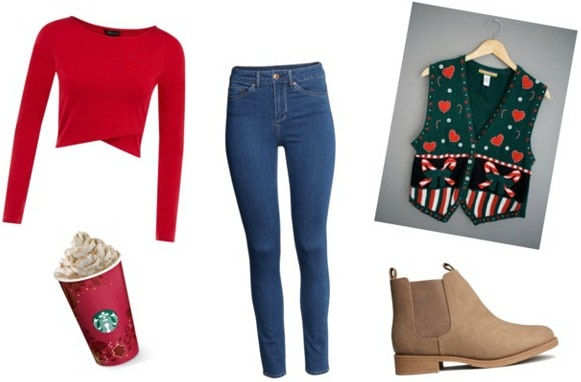 Crop Top | Jeans | Christmas Vest | Ankle Boots
At first glance, this ugly Christmas vest might look more like something your grandma would wear (no offense grandma!), but a little creative styling will have you ready for any sort of holiday festivities. Take a trip down candy cane lane by layering the vest over a red crop top, then pair it with high-waisted jeans.
Complete the outfit with ankle boots and you'll be all set. The only thing that could make you look more festive is a delicious holiday latte in hand.
Baby It's Cold Outside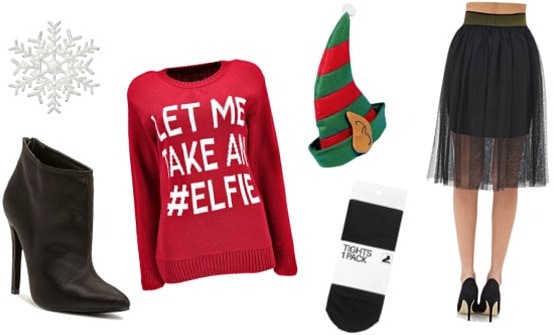 Heeled Boots | Christmas Sweater | Elf Hat | Tights | Tulle Skirt
If you find yourself at a slightly classier holiday party, this is the perfect look for you. Who said ugly Christmas sweaters had to be casual? Take a cue from Zoey Deschanel in the movie Elf (sidenote: this is the best scene ever) and tuck your ugly Christmas sweater into a classy tulle skirt.
To complete the outfit, throw on tights and black stiletto boots. The elf hat is entirely optional (although strongly encouraged). Bonus points if you take an #elfie or two with your friends!
Rudolph the Red Nosed Reindeer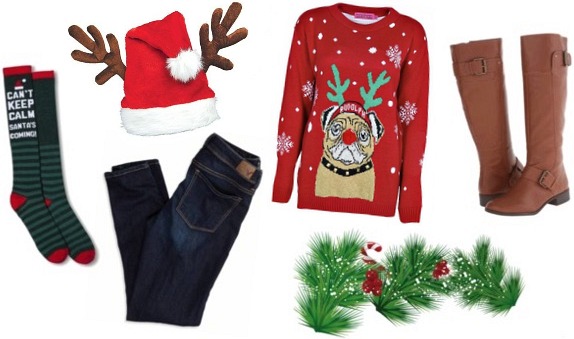 Knee High Socks | Reindeer Santa Hat | Jeans | Christmas Sweater | Riding Boots
What's cuter than a pug wearing reindeer ears? You in a sweater with a pug wearing reindeer ears on it, that's what. This is the most casual of the four looks, but it's certainly not the least festive. Pair your sweater with jeans, as well as cheeky holiday socks to peek out from your riding boots. Finish the outfit off with a Rudolph-approved Santa hat.
What do you think?
Here are at CF, we wish you happy holidays filled with lots of cheer and hopefully an ugly Christmas sweater or two. We'd love to hear your thoughts. Will you be heading to any ugly Christmas sweater parties this holiday season? How do you plan to wear your ugly Christmas sweater? Let us know!