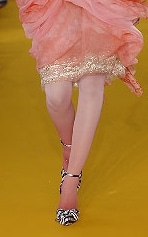 If you checked out Christian Lacroix's haute couture runway show, you probably noticed the adorable tights his models were wearing. The tights were plain white with gradients of color at the toes (as seen on the left.) So cute, right?
The only problem? It's hard to buy gradient tights period, and the only ones I found are over $90!
The solution? Fashion blog The Coveted came up with a Gradient Tights Tutorial that is totally brilliant. All you need is some dye, salt, detergent and plain tights.
I'm thinking of trying this tutorial out the next time I'm at home. What about you?
Check out the tutorial for yourself and let me know what you think if you try it out!