This post may contain affiliate links, which means we may receive a commission if you purchase through our links. Please
read our full disclosure here
.
Editor's Note: The following is the fourth part of Elizabeth's weekly series, "How to Look Like a Beach Babe." In case you missed them, check out: Part I – The Tan, Part II – The Hair, and Part III – The Makeup.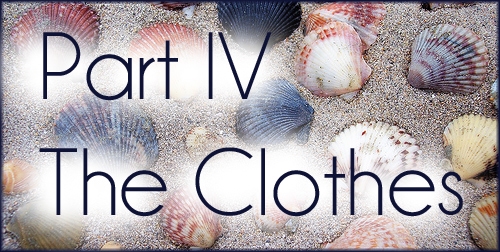 Now that you've gotten the tan, the hair, and the makeup, it's time to finish off your beach babe look with beachy clothes!
The key to making any outfit look beachy is to keep it casual- heels and jewelry don't belong on the sand! For these looks, I concentrated on the four things fashionable girls like us wear to the sea- bathing suits, cutoffs, tees, and cover-ups. It's almost July, guys: get ready to bust out your favorite beach wear!
1. Bathing Suits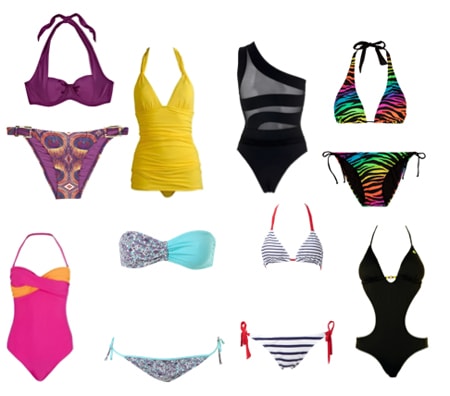 Products from L-R: Lolita Halter – Net-a-Porter, London Square Bottoms- Net-a-Porter, One-Piece- Everything but Water, One-Shoulder- Bunnyhug, Zebra top, bottom– Tillys, Fuchsia Bandeau- Debenhams, Floral Dotty Bandeau- Topshop, Nautical Top & Bottom- Oasis, Black Monokini- Dogfunk
Undoubtedly, we all have a bathing suit somewhere in the back of a drawer just itching to get worn out in the sun. But if you're looking for something new to wear to the beach this year, there are tons of bathing suits out there at any price point, in styles from punk to simple and boho to retro. Above, I've displayed a few of my favorites from around the web.
If you're on a serious budget, head to Target for cute pieces in a myriad of styles that will last you the summer (and more). Or, check out some of the vendors listed above!
2. Cutoffs and Tops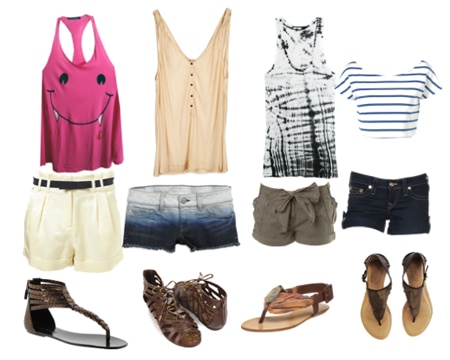 Outfits L-R: Tank- The Trend Boutique, Shorts- Topshop, Sandals- Piperlime. Top- Musthaves, Shorts- American Eagle, Shoes- Forever 21, Tank- My Theresa, Shorts- Miss Selfridge, Shoes- Endless, Top-Topshop, Shorts- Metropark, Shoes- Shop Zoe Online
When I think of the quintessential "beach babe in denim" look, my mind immediately says Erin Wasson. Although originally from Texas, this model brought back the jeans-and-a-loose-shirt style a few seasons ago. Now, as a designer for RVCA, she makes her amazing beachy wardrobe available to us! In these outfits above, I've tried to emulate her style while adding a colorful touch- each look is perfect for a day spent at the beach (or just wishing you were there)!
3. Cover-Ups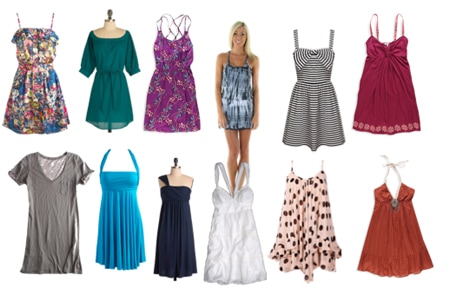 Top Row, L-R: 1- Arden B, 2- Modcloth, 3- Forever 21, 4- Surfride 5- Forever 21, 6- Forever 21, Bottom Row, L-R: 1- Calypso Celle, 2- WetSeal, 3- Modcloth, 4- Abercrombie & Fitch, 5- Republic, 6- Forever 21
Sometimes when I'm shopping during swim season, I noticed that cover-ups are often the best dresses- they're colorful, easy to throw on, and fit my 5'3 frame. Here are some great ones from around the web that you can wear on or off the beach!
4. Accessories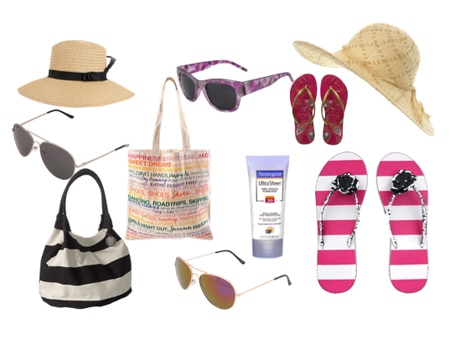 Products L-R: Hat- Forever 21, Sunglasses- Forever 21, Flip-Flops- In Style Swimwear, Hat- Miss Selfridge, Aviators- Forever 21, Tote- Forever 21, Sunblock- Walgreens, Flip Flops- Abercrombie & Fitch, Bag- Nordstrom, Mirrored aviators- Forever 21
At the beach, there is usually only one accessory that we really care about- a nice, soft beach towel! However, hats and sunscreen are equally important as they'll keep your skin healthy and sunburn-free. Also, make sure to keep your eyes protected with a great pair of sunglasses. And finally, what's a day at the beach without a great book or your favorite magazine stashed inside a sunny tote?
What do you guys think?
How do you dress like a beach babe? What's your favorite look to wear to the beach? What are your beach day essentials? Tell me everything in the comments!