This post may contain affiliate links, which means we may receive a commission if you purchase through our links. Please
read our full disclosure here
.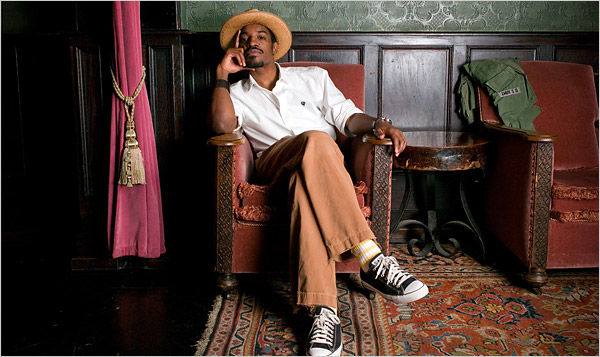 (Andre Benjamin aka Andre 3000, my fashion hero. Photo Credit.)
Alas, the days are getting shorter, the leaves are beginning to change colors, and the Jersey Shore Season 2 has premiered… Sadly, Summer 2010 is nearing its end. But, even though tomorrow is the first of August, it is no time to groan. Although long afternoons lounging will soon become late nights studying, there are still days to waste and end-of-summer sales to peruse.
In addition, now is the time to throw caution to the wind: Skip work and go to the beach! Make a move on your summer crush! Buy a pair of chino pants! Wait… what?
Yes, ladies and gentlemen, for the young American male it is often a bold play to invest in a pair of chinos. (For the record, "chino" is the name of the pants, while "khaki" refers to the color, but they are commonly used interchangeably.) Maybe it is because of this Gap commercial, but chinos aren't usually seen as a "cool" item to have in your closet. Whether the semi-formal connotations or the preppy traditions are to blame, more often than not, guys are turning down the chino and rocking the denim.
Now, I am not here to knock jeans, but denim is just a bit too heavy for me this time of year. Soft and breathable, a the chino pant is just more comfortable on a late summer night. So, in the spirit of improving some wardrobes, let's explore the chino pant and see if we can't change some opinions.
Pass it Along: One Chino to Rule Them All…
I'll be honest; I am not a very practical shopper. I am what many would call, an addict. If you need proof, walk into a sneaker store with me: I'll either leave with two pairs or need to be forcibly removed.
But, I have been trying to kick the habit. My recent purchases have been smart and practical ones; they also don't burn my wallet. Therefore, in following this newfound personal restraint, I present you with two pairs of chinos that are not only friendly for a guy on a budget, but also timeless and flexible pieces to help grow a healthy wardrobe: the Dockers Slim Khaki in Marble and the Dockers Soft Khaki in Stainless.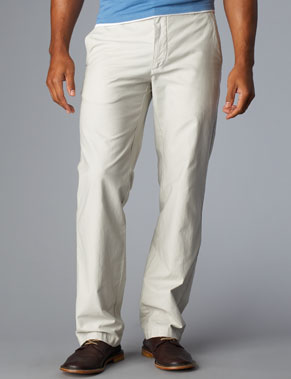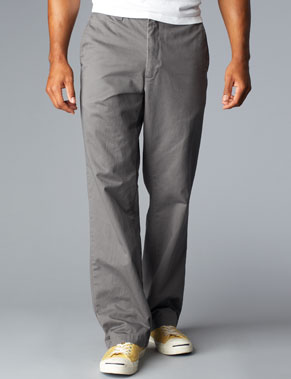 Now, aside from their affordability, I chose these two particular pairs of pants because of their adaptability; these pants breed options. The amount of possibilities actually became a little overwhelming when I was putting the outfits below together. Pink or blue, t-shirt or button up shirt, Sperrys or Dunks, it doesn't matter, you can rock anything with these pants.
Here is the bottom line, though, folks: There comes a day in a man's life where he has to grow up and throw on a pair of pants. So, he might as well do so in style. Pass the tips below along and I assure you, the guy you love will be thinking twice before he buys his next pair of jeans.
Look 1: Chillin' Out Maxin' & Relaxin' All Cool
(Sorry about the lame heading, but someone mentioned Carlton in the feedback on my last post, so I had to do it…)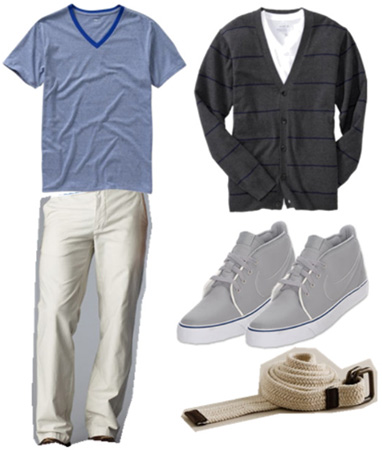 Products: T-Shirt – Gap, Cardigan – Old Navy, Sneakers – Finishline, Belt – J.Crew, Pants – Dockers
A cardigan is one of my favorite pieces of clothing. Why? Because it has the allure of formality, but can easily be turned into a casual masterpiece. Whether you wear it over a shirt and tie in lieu of a jacket or layer it over a t-shirt, it looks just as cool.
This versatility is similarly found in a pair of chinos. By replacing a short-sleeved button up shirt with a v-neck tee and some fly kicks, the middle management stigma of the chino pant fades away. Suddenly, chinos become kind of… cool.
So, here is my main tip for successfully wearing these pants: Forget everything you know about chinos and embrace personalization. Go crazy! Wear them with a graphic tee! Throw on a pair of high tops! The bottom line is: Dare to be different; there are no rules as to what you can wear with your chinos. Express yourself and your personality, and most of all, have fun.
Look 2: Not Your Average Nine-to-Five-er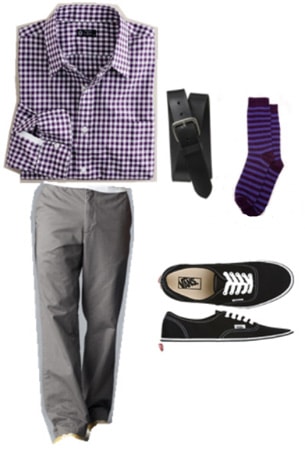 Products: Shirt – J.Crew, Belt – Old Navy, Socks – Urban Outfitters, Sneakers – Vans, Pants – Dockers
As we all saw in my last post, I am a fan of prep style. However, it is not fair to categorize chinos as a uniquely preppy piece of clothing. Sure, every good southern boy and frat guy in the northeast probably owns at least three pairs of chinos, in colors similar to what I featured last time, but it takes more than a pair of pants to make you look preppy.
My point is, it is not the pants that make the man, but the man that makes the pants. With a pair of chino pants, you can always go the traditional, classic American prep route. But you don't have to. As I stated earlier, you should wear the pants your way. Cuff 'em, show some sock, or roll up your sleeves. In the end, a piece of clothing is only a piece of clothing, and how you wear it determines what it means.
Look 3: The Date Night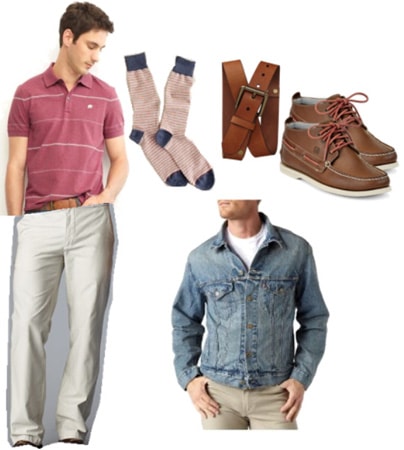 Products: Polo – Banana Republic, Socks – J.Crew, Belt – Old Navy, Shoes – Sperry, Jacket – Levis, Pants – Dockers
I firmly believe that slim-cut chinos, like the ones featured above, are an indispensable part of any guy's closet. I can only begin to tell you how big of a fan I am.
First of all, let's get one thing straight: Slim does not imply "skinny," and thus a guy my size, 6'2/220, can still pull them off. Furthermore, a slim cut can be easily dressed up or down, meaning any guy can wear them for a multitude of occasions.
As seen in the example above, you can go with the straight "polo, chinos, belt, and shoes" outfit and look like you are either ready to go to work or out for the night. If you throw on a jean jacket, though, you have totally changed the equation: Not only do you look put together, but you also have an edgy, '90s grunge sort of feel. And even if you are not into '90s grunge, you have instantly redefined what chinos mean.
Trust me, if you pass on nothing else from this post, get a guy you love to buy a pair of slim cut chinos. It will be a game-changing moment in his life.
What do you think?
What are your opinions on chino pants? Are these styles you can see a guy you love wearing? I write for you! Let me know what you think by leaving a comment…