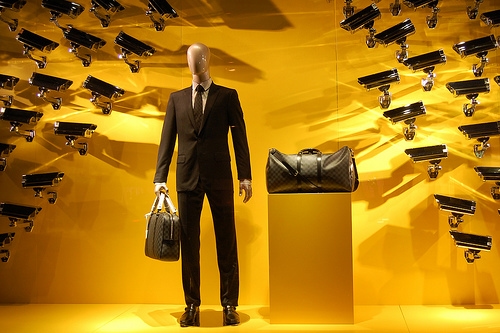 Though the holiday season is surrounding us with 50% off deals and oversized Turkey balloons, recently, my mind has sadly been focused on another quickly approaching season. For we college folk, the time for summer internship and job interviews is imminent. It'll be January before we know it, and by the time we have worked off the holiday 15, we will be in offices around the country pleading our best case for that crucial summer job.
Interviews are stressful and therefore, preparation is key. Below are my tips for dressing for the occasion. Interview attire is make or break, so pass along my tips to a guy you love and he'll thank you for the new office you helped him score.
Not all Interviews are Created Equal
Without a doubt, research is the key to nailing an interview. When you step through your interviewer's door, through careful research, you should already know his or her favorite cartoon show from the 3rd grade and what he or she eats for breakfast on a Tuesday morning.
But research is even more important in planning your interview outfit; you need to know as much about your company's business atmosphere as you do about their business functions.
Virgin Mobile USA, for example, states on their Jobs Page, "First off, no suits please! If you're sporting a tie, you definitely have no idea what Virgin Mobile USA is about." The line complements the feel of the page beautifully, but also raises an excellent point: treat your interview attire like you would treat your attire for a day on the job. If you look like you will fit in the office, you, and your interviewer, will feel more comfortable, and that comfort just may land you the job.
Below are a few outfits for a few different types of interviews. Study them, adapt them to companies you are applying to, and get yourself a job.
A Little More Than Casual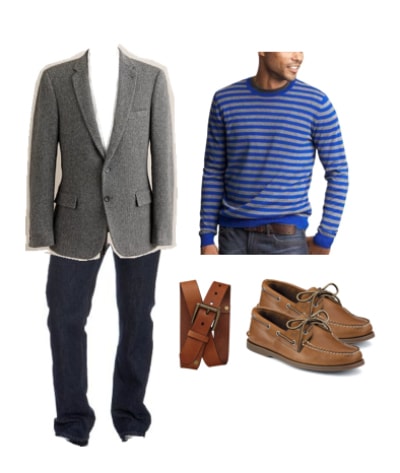 Products: Jacket – J.Crew, Jeans – Levi's, Sweater – Gap, Shoes – Sperry Top-Sider
Let's be honest: not everyone is applying for an internship with a multi-national corporation. For many of us, especially in this economic climate, summer employment may be at a local camp, in the mall, or at a small office. However, that doesn't mean that you shouldn't look presentable when you interview at one of those places. The casual interview offers you a chance to practice your interview skills, including interview attire, so take it seriously and you will benefit in the long run.
The above outfit will impress your future employer without overdoing it. I definitely think that jeans still have a merit in the workplace, especially in a more laid-back office or at a local store, so don't be afraid to wear a nice, clean, plain pair to an interview. Just don't wear anything with holes, whether manufactured or not. Furthermore, a gray tweed blazer is indispensable in a man's wardrobe. Even if you aren't interviewing, I would suggest investing in one to diversify your business casual wardrobe.
Semi-Pro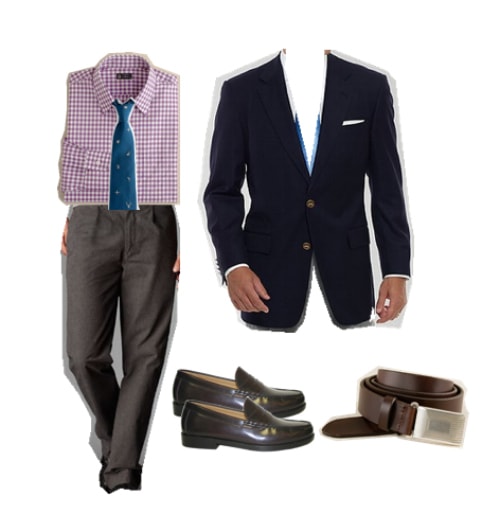 Products: Shirt – J.Crew, Tie – J.Crew, Pants – Dockers, Blazer – Brooks Brothers, Shoes – Bass
The hardest dress type to capture in an interview outfit is business trendy. Young, fashion-savvy employees are the wave of the future, and it is essential when interviewing with younger professionals to embody this idea. Young and old companies are looking to hire someone who inspires progress, and your outfit is an immediate way to allude to this quality.
I like to think of business trendy attire as the professionalized version of an outfit you would wear to the bar. Above, I have spruced up a pretty rad nighttime outfit by altering one or two small, but pivotal details. The purple gingham pattern is always a good bet for everyday wear, but the above shirt ditches the casual "Button-Down Collar" in favor of the more professional "Point Collar." (Read more on collar types here.) This seemingly insignificant detail immediately gives your trendy shirt a professional kick. Furthermore, the chinos are an instant business trendy hit because of the charcoal color, a refreshing departure from khaki, and the slight pleat, which adds a pinch of formality to the otherwise-casual pants. Finally, the classic navy blazer seals the deal, accentuating the polished brown loafers.
The Suit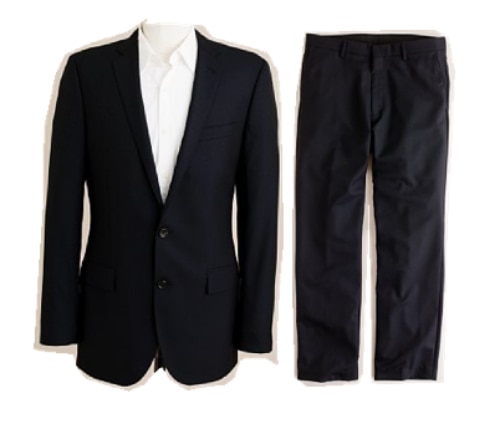 Products: Suit – J.Crew
If you have an interview that requires a full-on suit, I'll give you this advice, ask someone in the corporate world what is most appropriate to wear. I believe that a navy suit, a white Point-Collar dress shirt, and a quality silk tie will get you pretty far in life, but for an interview this important, it is always best to get a second opinion…
P.S. Make sure it fits! No one has ever gotten a job in a sloppy oversized suit. Either invest in a higher-quality suit or make sure to get it altered – the cost will be worth it in the long run.
What Do You Think?
What is appropriate interview attire? Have you ever been over-dressed or under-dressed for an interview? Is it true that a man looks best in a suit? Let me know what you think, I write for you!