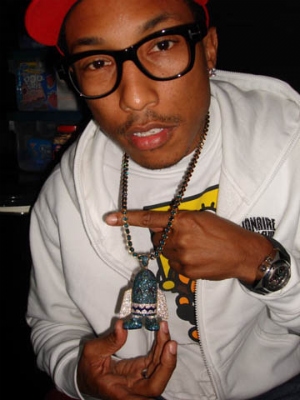 (Pharrell…How I Love Thee. Photo Credit)
Gettin' Geeky Wit It…
If you know what MTG is, have ever uttered the words "May the Force Be With You," or have ever wanted to "Catch 'Em All," you, like me, are a geek.
Please, don't be offended by this affirmation. Though we geekazoids were persecuted as youths, our affinity for all things Potter and our propensity towards glasses and Greek mythology has finally paid off. Now is our moment! Thanks to companies such as Apple, werewolves such as Jacob, and Dharma Initiative stations such as The Swan, geek culture is officially mainstream. From Blogging and Skyping, to Netflixing and Farmvilling, geek vernacular is deeply imbedded in our culture. Finally, swirlies are ancient history and Geekdom is a cultural phenomenon that begs to be emulated.
Fashion is certainly not excluded from this momentous flourishing of the geek. Open your eyes and you are bound to see someone rocking a classically geeky fashion item. Even the king himself, LeBron James, has been spotted rocking geek shades!
So today, let's step out of our comfort zones and appreciate our inner geeks. Take a look at the outfits below, watch an episode or two of Star Trek, and pass these tips along to a guy you love.
Outfit 1: More Math For You and Me!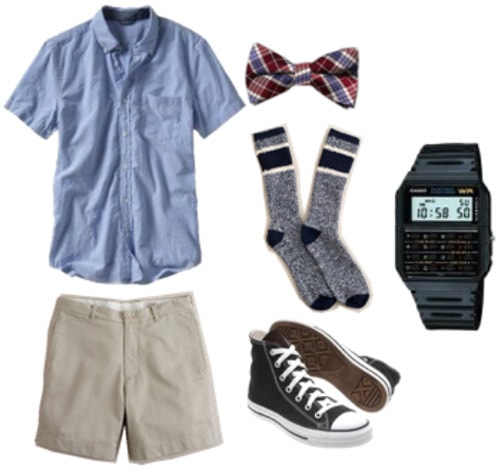 Products: Shirt – Gap, Shorts – J.Crew, Shoes – Converse, Socks – J.Crew, Watch – Amazon, Bow Tie – Tie Bar
No, I am not kidding: Yes, I am advocating the purchase of a calculator watch. No, you shouldn't stop reading… Seriously, this outfit is what Geek Swag is all about!
Pause for a second and strip away all of the geeky items by covering up the right side of this outfit. Now, what do you see? A classic prep star. Someone that doesn't stand out. A coward of the fashion world…
Now add back all of the geek swag in question – watch, socks, converse, and bow tie, the whole nine yards. Now what do you see? The guy that got beat up in 3rd grade? Probably, but that's not a bad thing. Geek chic is all about putting a new spin on the clothes from your glory days.
And how do you do that? By following my first tip of the day: Accessorizing is a two way street. Quite simply, guys should man-cessorize just as much as women accessorize, and it is not a bad thing. In the outfit above, a pretty bland combination is made a lot more interesting with the addition of some simple items – high top Converse, an American classic; striped socks, a geek must; and a calculator watch, one of the greatest inventions of all time. Think what you will of accessorizing, but you have to admit, it makes this outfit pop.
One more tip: skip the bow tie unless you are truly ready to commit to the geek lifestyle. It's for advanced users only.
Outfit 2: Hold It Now!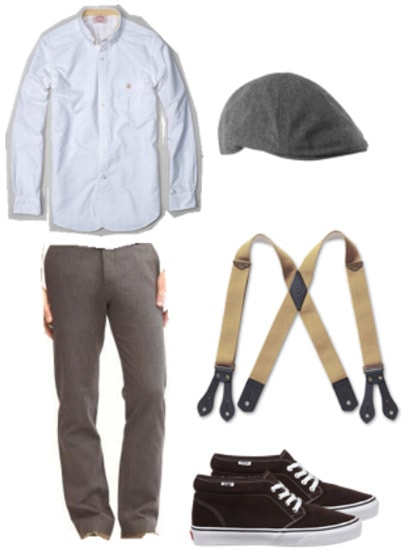 Products: Shirt – Brooks Brothers, Pants – Banana Republic, Shoes – Vans, Suspenders – Filson, Hat – Gap
I love the old school intellectual vibe that suspenders suggest. Blame it on Wall Street, but when I see someone rocking them, I immediately think geek. Obviously though, suspenders aren't your run of the mill item. Though they have been picking up popularity recently (says GQ), spotting them on the street is still a rare occurrence. So, to get yourself into the mindset required to make these work, I suggest this tip: think outside the box.
What is more geeky than thinking outside the box? Your iPod, your cellphone, and your laptop all started as radical thoughts. So embrace the off-beat and go crazy… You might just be the next Steve Jobs…
Outfit 3: Rules Were Meant to Be Broken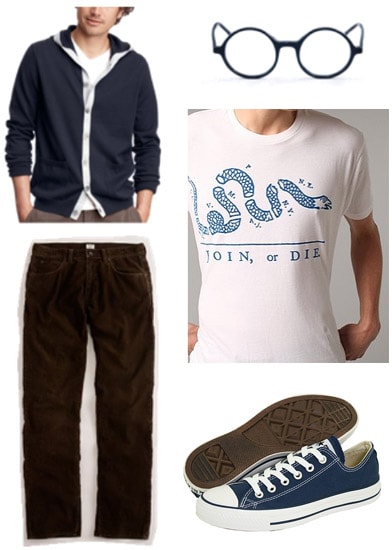 Products: Cardigan – Gap, Cords – J-Crew, Shoes – Zappos, T-Shirt – Urban Outfitters
This outfit is a far cry from what I would usually suggest and thus my tip is that rules were meant to be broken. Everything about the outfit above is a bit off the beaten path. Ironic glasses and graphic tee combo (If you can explain the irony in a comment, bonus points!). A cardigan with a hood. All of the items above are a bit strange, with the exception of the Converse which bring it all back down to earth.
At the end of the day, being a geek is the epitome of individuality. For we geeks, there is nothing wrong with being different! So, go out, rock some geek swag, and show the world who is boss!
Really though, geeks run the world… get used to it.
What do you think?
How do you express your inner geek? Is geek chic here to stay? Leave me some comments, I love to read them!