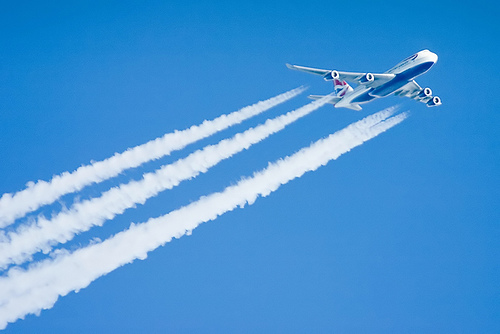 'Tis the season to be traveling, and as such, 'tis the season to be prepared. For most, flying is not a pleasant experience. From the crying baby in row C, to the person in front of you who happens to recline her chair while you are sipping your complimentary coffee, to the guy who won't get out of the bathroom, the time you spend on an airplane is usually the least comfortable part of your day. This, however, does not need to be the case in terms of what you are wearing.
Airplane clothes can be comfortable, fashionable, and most importantly, functional! Just follow my tips below, and you will be getting a guy in your life off the ground safe and sound this holiday season.
What Not to Wear on an Airplane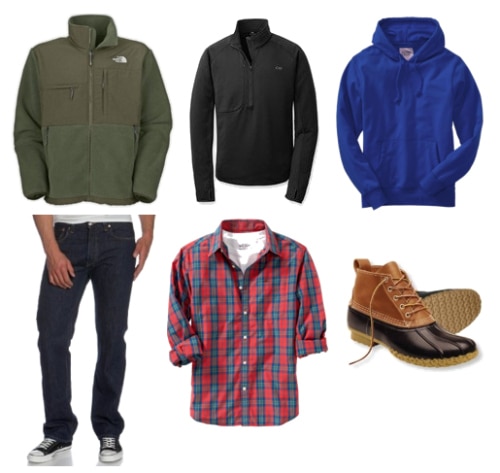 Products: Jacket – North Face, Fleece – L.L. Bean, Hoodie – Old Navy, Jeans – Levi's, Shirt – Old Navy, Boot – L.L. Bean
Last Sunday, I boarded a flight from Beijing, China to Queens, New York wearing a variation of the above outfit. Because bag space was limited, I wore my heaviest clothes and lots of layers. Terrible idea!
By the time I landed at JFK International Airport, I was ready for TSA to strip search me. What I forgot in my frantic outfit creation was that you can't sacrifice sanity for bag space. In other words, don't plan to wear something because you can't pack it. Wear clothes on your plane that won't distract you from the overall goal of making it out of your destination airport. You don't want to be the guy getting restrained at customs because he is taking off his pants in frustration.
The Perfect Storm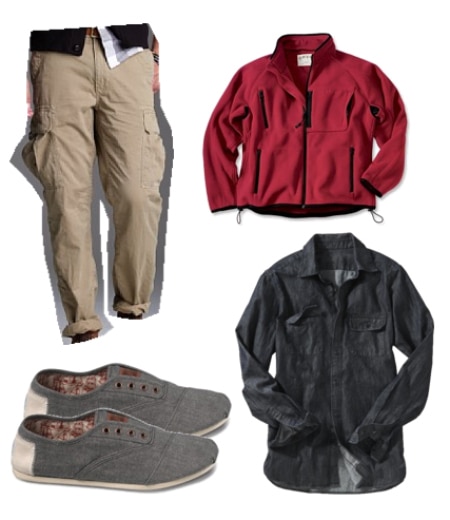 Products: Pants – J.Crew, Shirt – Gap, Jacket – Orvis, Shoes – Toms
It is easy to feel overwhelmed when preparing for a flight. Between packing, checking in, and the inevitable prospect of crazy family members, flying is often torture. What's worst is the fact that even the most simple part of flying, getting dressed the morning beforehand, has become a hassle. Whether it is making sure your shoes slip off easily for screening, or whether your boarding pass and photo ID are accessible, there always seems to be an issue with the clothes you wear on an airplane.
After my fiasco returning to America, I have resigned myself to configuring the most practical outfit for flying. Above is what I consider the coup de grace of airplane outfit essentials. Fashionable, functional, and comfortable, these items will get you through airport security and your flight painlessly.
Pants are probably the most important aspect of a functional, yet comfortable flight experience. You want a pair that you can sit, and breath, in for a long time, just in case your flight gets delayed or stuck taxiing on the runway. My solution is a lightweight cotton pant, such as a Chino, that is soft to the touch. A lot of people knock cargo pants as decidedly unfashionable, but when executed properly, they can maintain their charm. Shoot for a pair with only one or two sets of extra pockets that don't define the pant. Use these extra pockets for little things, but never, ever, ever, stuff them full.
In terms of the jacket, go for something that is versatile. Usually, you will not spend too much time sitting out in the cold when you go to fly, but be prepared just in case. Fleece is a perfect alternative to a heavy down jacket and, when paired with water and wind-resistant material, really fits all your needs.
Aside from pants, the most important airport outfit essential has to be your shoes. I love shoes without laces when I am flying, but at the same time I don't like wearing flimsy flip flops or boat shoes without much traction. For flights, I opt for lightweight, slip on sneakers, such as TOMS, that have a little more material too them and a rugged tread, just in case you need to run to catch a flight.
What Do You Think?
What do you wear to the airport? Any suggestions for a guy in need? Where are you flying to this winter break? Leave me some feedback, I love hearing from my readers!