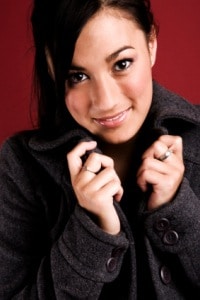 With a few months still left in winter, dressing for cold weather is something we've all gotten used to. But showing off your style while still staying warm can be a challenge. After all, it's tough to see your outfit when it's covered up by a big jacket. What's a stylish girl to do?
Don't worry, you don't have to forgo looking good to keep from getting frostbite this year. There are many ways to dress so you can stay warm and still show off your fashion sense, and none of them require breaking the bank.
Here are some tips for braving the cold and still looking hot:

Invest in a classic and stylish coat.
Your coat is the most important part of your winter wardrobe, so invest in a fabulous one that will last you many years. I've talked about cute winter coats here before, so be sure to read the linked article if you're coat-hunting.
If you just want something classic that won't go out of style, I personally recommend a pea coat. A good quality wool pea coat will stand the test of time and keep you super warm. Pick one up in black if you want a basic coat that goes with everything, but don't be afraid to invest in something a little flashier if you find one in an amazing shade of red or hot pink. Bold colored pea coats are fabulous!
If your style is on the trendier side, consider picking up a trendy winter coat like a plaid parka, swing coat, or cocoon coat. You'll make a statement and stand out from the crowd with your funky style.

Add interest to your winter look with accessories.

Product Information: Gloves and Mittens – Topshop, Blue scarf – Aeropostale, Plaid scarf – Burberry, available at Nordstrom, Hat – Topshop.
Accessorizing isn't just for regular outfits – you can (and should) accessorize your outerwear as well! Bright scarves, cute hats, and colorful gloves are your best friends during the winter months. Even better, they're so cheap that there's no reason not to buy a bunch in different colors.
Lately I've been in love with Pashmina scarves from Pashmina International – they're really warm, come in so many colors, and go with almost everything. They're perfect paired with a basic coat to add a pop of bright color to an otherwise dull outfit.
And don't forget about gloves! Make a statement while you keep your hands warm with a bright pair of hot pink knit mittens, or go for a rocker vibe with an amazing pair of studded faux-leather fringe gloves.

Switch it up with two coats.
If it's in your budget, consider buying two winter coats this year – one for everyday, and one for special occasions. That way you can alternate them and keep your winter wardrobe looking fresh. For example, I have one basic black pea coat for everyday that I spent a little more on, and a cheaper cobalt blue "statement" coat for nights out or whenever I feel like standing out a little more.

Rock fabulous winter boots.
One of my favorite things about winter fashion is that I have an excuse to buy cute boots. Boots are so versatile in winter, and if you get the right pair, you'll have the perfect footwear for almost any occasion. A great pair of boots is a must-have if you want to be stylish in winter. For more on boots, here's an article I wrote recently about cute winter boots for any budget.

Remember that being warm is still the most important thing.
At the end of the day, no matter how cute your winter outfit is, if it doesn't keep you warm, it's not doing it's job. That's why it's crucial to spend a little more money on a quality coat that will keep you toasty instead of going for a cheap yet fashionable jacket. Spending more now means you'll have a quality piece you can wear for years.
What are you wearing this winter?
There you have it – my top tips for staying warm and looking great in cold weather. Now I want to hear yours!
How do you dress in winter? Are you a pea coat fan like me? Do you have a favorite pair of toasty winter boots? Tell us all about it in the comments section.