This post may contain affiliate links, which means we may receive a commission if you purchase through our links. Please
read our full disclosure here
.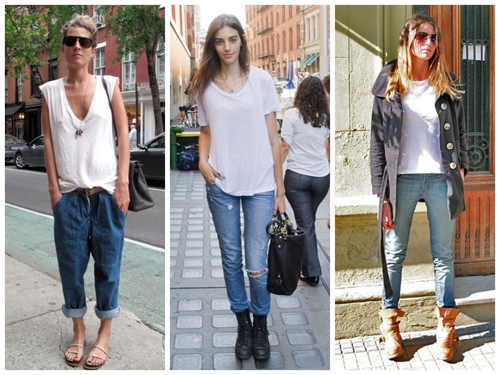 Photos Courtesy of ELLE: 1, 2, 3
Who says fashion has to be complicated? Sometimes the best outfits are the ones that take minimal effort. A white tee and jeans can look surprisingly chic when styled with the perfect accessory.
Taking inspiration from this article, I decided to put together a collection of my own "outfit completers" to share with you for back-to-school styling ideas.
Here are four of my go-to accessories that will finish off even the most basic outfit. Rock one (or more!) and you'll wow everyone on campus with your effortless style!
Statement Necklaces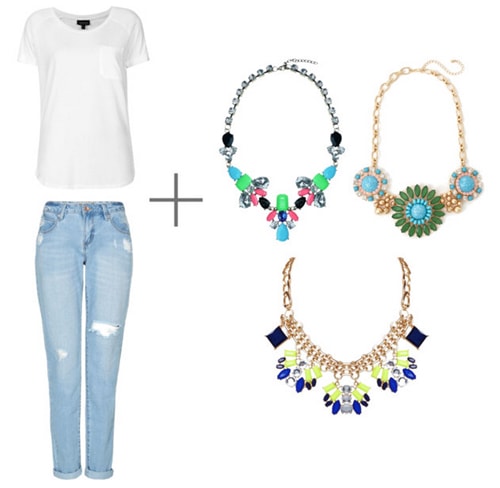 White Tee, Boyfriend Jeans, Necklaces (Top Left, Top Right, Bottom Middle)
Take the old white tee and jeans combo up a notch by accessorizing with a dazzling statement necklace – you'll go from casual to fancy in two seconds flat. Because in the words of Iggy Azalea, "I'm so fancy, you already know."
This is also a fantastic way to add some color to an otherwise neutral ensemble. Blue, green, purple, pink… as shown with the multicolored necklaces above, the sky's the limit when it comes to brightening up an outfit.
Fun Hats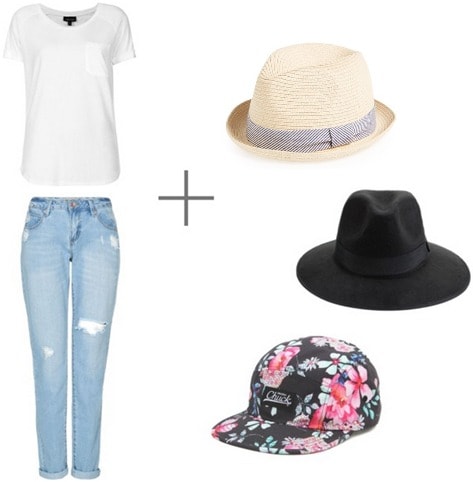 White Tee, Boyfriend Jeans, Hats (Top, Middle, Bottom)
So many hats, so little time. I love adding hats to outfits for two reasons. First of all, hats are extremely practical since they keep the bright sun out of your eyes. Second, it instantly makes an outfit look more put-together.
The only downside? The person sitting behind you in your lecture class might be a little annoyed that they can't see over your impeccably styled head. Ah, the prices we must pay for fashion…
Unique Bags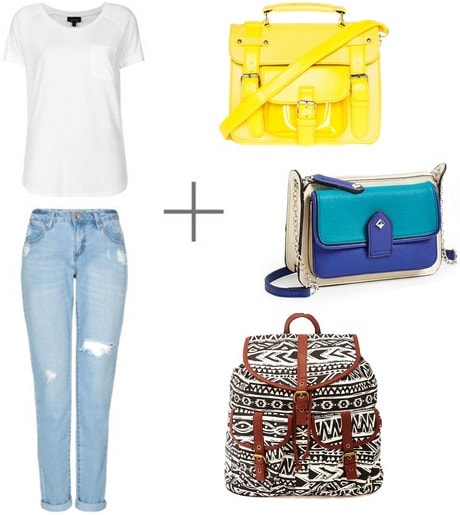 White Tee, Boyfriend Jeans, Bags (Top, Middle, Bottom)
Although it is often the under-appreciated cousin of the statement necklace, the statement bag is here to save the day when it comes to bland outfits. A true example of fashion meets function, statement bags can make any ensemble special.
From backpacks to crossbody bags to clutches, there are so many styles to choose from! Opt for a bright color or even an interesting pattern, such as the geometric print backpack featured above, for a unique look.
Colorful Shoes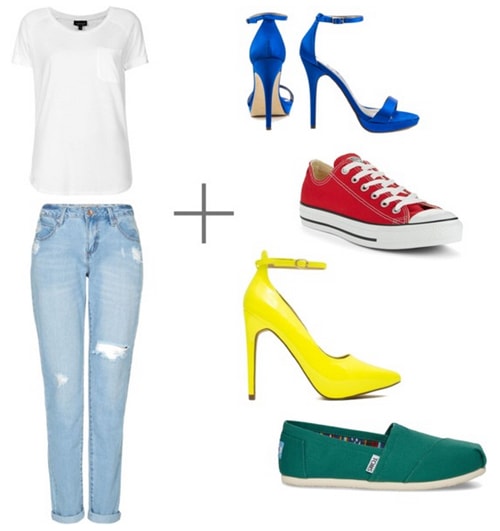 White Tee, Boyfriend Jeans, Shoes (Blue, Red, Yellow, Green)
While it is often tempting to limit yourself to buying only neutral colored shoes because they match everything, I firmly believe that every girl should own at least one colorful pair of shoes. A good pair of vibrant shoes will make any outfit pop.
I personally love these cobalt stilettos, but if you're going for a more comfortable look, try wearing a brightly-colored pair of sneakers or TOMS with a white tee and jeans. You'll look amazing from head-to-toe.
Your Thoughts?
Which of these "outfit completers" is your favorite? Do you have any other accessories that you often use to upgrade a basic outfit? How do you feel about wearing hats to class? Let us know by sounding off in the comments!