This post may contain affiliate links, which means we may receive a commission if you purchase through our links. Please
read our full disclosure here
.
No matter your reason for the season, who doesn't love an excuse to eat lots of good food, spend time with friends and family, and break out your favorite party dresses? (Also, I'm all for any holiday that involves presents!)
Social calendar jam-packed with holiday party invitations? No clue what to wear? We've got you covered! Read on for three holiday party outfit ideas.
Festive Fun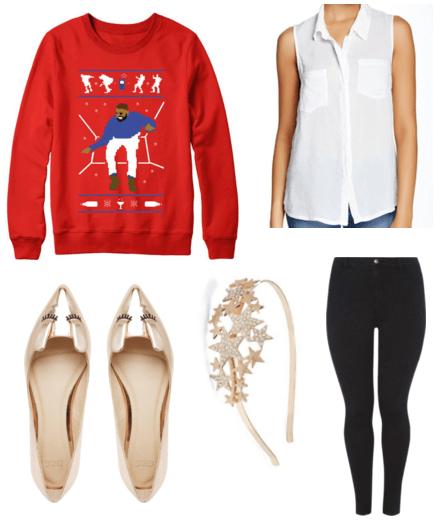 Products: Sweater, Shirt, Jeans, Flats, Headband
The Occasion: Ugly Sweater Party, Casual House Party/Potluck, Secret Santa/White Elephant gift swap
This slightly kooky but totally cheery look is perfect for a more casual event, like getting hot chocolate with your high school friends from home, or taking home the prize in your dorm's ugly sweater party. Since the sweater is well, ugly, (but doesn't Drake look fabulous?) brighten up the rest of the outfit with a starry headband and gleaming flats. (You can also swap out the ugly sweater for a normal one!)
Prim and Polished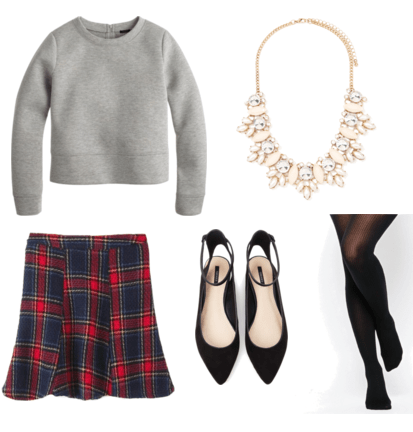 Products: Sweater, Skirt, Necklace, Shoes, Tights
The Occasion: Family Reunion, Casual Office Party, Dinner with Friend or SO's family
For a more put-together vibe, try out a crewneck sweater paired with a patterned skirt. Keep your legs toasty warm (and make a shorter hemline more Grandma-approved) with warm ribbed tights. Whenever I'm wearing tights, I opt for strappy flats/heels so that my feet don't slip out. Last but not least, bring on the bling with an embellished take on a traditional pearl necklace.
Feeling Fancy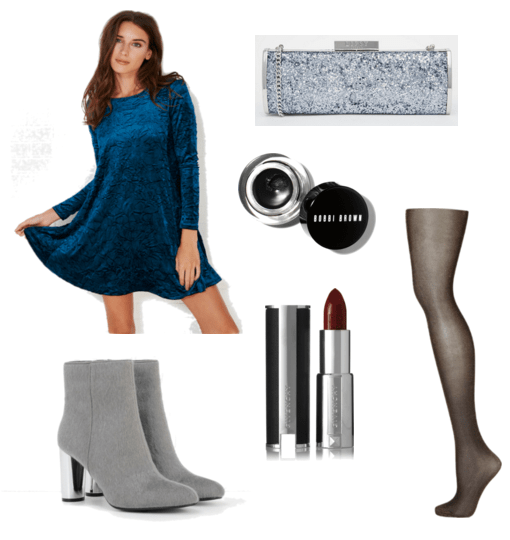 Products: Dress, Tights, Boots, Clutch, Eyeliner, Lipstick
The Occasion: Cocktail Party, Night Out With Friends, NYE
I love the look and feel of velvet (how I would love to be swathed in one of Arwen's flowing silk velvet gowns!) but it can feel odd to wear it casually in real life. Luckily, winter parties are the perfect time to wrap yourself in this plush, luxurious fabric! Pair a velvet dress with glittery tights and a cool pair of metallic boots. Prove your commitment to sparkle motion with an eye-catching clutch, then go for dramatic berry lips and sleek cat-eye liner!
What did you think?
Would you wear these outfits? What holiday parties are you looking forward to this year?