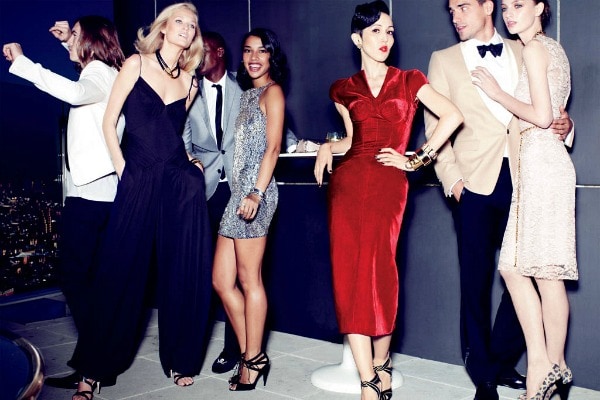 Photo Credit: ELLE
The holidays are almost upon us! If you're like me, right now you just need something to look forward to to get you through the abyss of finals. While curling up with my mom and watching The Holiday, seeing friends, reading for pleasure, and sleeping are all on my list (and probably yours), I have another one for you – holiday party outfits.
Whether you need a look for winter formal STAT or are planning what to wear on NYE, I've got some suggestions for you. The best part? They're both under $100! If you're looking for even more cheap-chic inspiration, check out the 2013 version of this post by CF writer Caitlyn.
Look #1: Sparkly Dress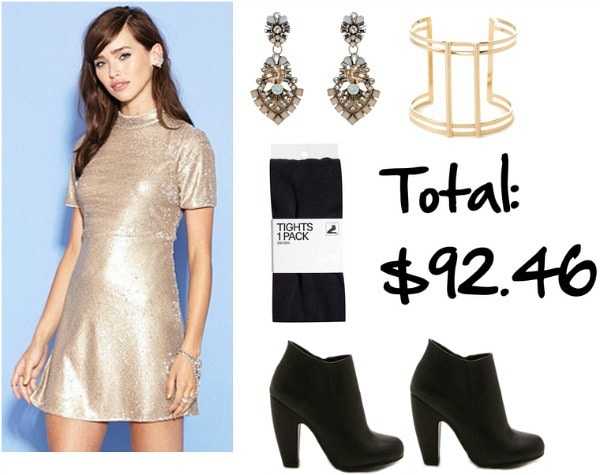 Product Info: Dress and Cuff–Forever 21, Booties–Love Culture, Tights–H&M, Earrings–Accessorize.
A sparkly dress is the no-fail option for a fancy holiday party. What could be more festive and fun?
When shopping for a great formal dress on a budget, a structured fit-and flare will usually be more flattering and classy (read: expensive) looking than a sheath. Look for one where the sequins won't catch on your coat or jewelry.
Forever 21 has a bunch of sparkly dresses, like the one above, in stock right now. If you already have awesome accessories and are able to dedicate more of your $100 budget to the dress itself, I'd recommend including Delia's, Modcloth, and mid-price boutique brands, like Darling and Gracia, in your search.
While I have definitely sacrificed warmth in favor of wearing an awesome party dress with nude pumps and no tights, a pale dress like this looks extra edgy anchored with black tights and booties.
Normally, I'd say keep the jewelry very minimal with a sparkly dress like this, but it's the holidays! This is the time of year to go all out with glitz, so grab some of your sparkliest baubles. I'd still stick with only two types of big jewelry – a statement necklace and ring or big earrings and a cuff (like above) – but in general, don't shy away from glitz.
I'm not much of a beauty guru, but I think this getup would look amazing with bold eye makeup, such as a colorful smoky eye or a sleek cat-eye.
Look #2: Chic Jumpsuit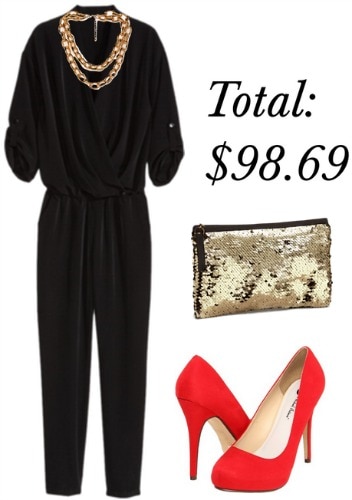 Product Info: Jumpsuit and Clutch–H&M, Necklace–Forever 21, Pumps–6PM.
If you want to go for something a little different, a sleek jumpsuit will ensure you a spot on the party's best dressed list. I love a no-frills solid-colored one that lets statement accessories shine.
Look for a jumpsuit that is comfy and not too close-fitting, but one that isn't too slouchy either. You'll know it's the right fit if you're free to move, but it doesn't hide your awesome figure. This one is from H&M, but I'd also recommend Bebe and Nasty Gal for quality, affordable jumpsuits.
As I said with the previous look, holiday parties are an opportunity to pull out all the stops with your accessories. Bold shoes and a statement necklace are musts with a simple jumpsuit. Of course, there's gotta be sequins somewhere in a holiday look, and I LOVE this clutch from H&M. When the party's over, it can double as a makeup or jewelry bag for your winter break trip.
In terms of beauty, a bold lip and a fab mani would finish off this sharp ensemble nicely.
What do you think?
What's your go-to holiday party look? Any wild trends you're thinking of trying this year? Would you rock the looks above? Any suggestions for stylish yet affordable formal wear? I want to hear it all! Let me know in the comments.