This post may contain affiliate links, which means we may receive a commission if you purchase through our links. Please
read our full disclosure here
.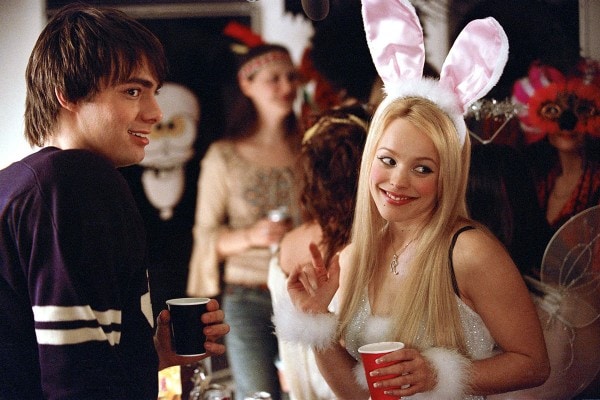 Avoid the horrors of the Mean Girls Halloween party and do something else! | ELLE
Halloween can be a fun time to dress up with your significant other – after all, so many great costumes come in pairs. But if you're thinking about skipping the costumes this year, there are plenty of other ways to look cute and celebrate the 31st!
Here are a few of my favorite Halloween date ideas (take the hint and ask me out, Dave Franco), along with corresponding looks for each occasion. The best part? These activities are equally as fun without a date, so grab your girlfriends and get moving.
Pumpkin Patch Picnic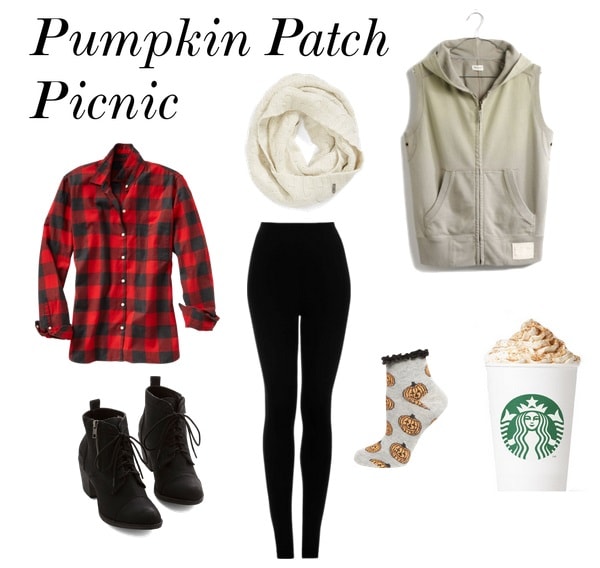 Flannel Shirt – Gap, Scarf – Nordstrom, Vest – Madewell, Socks – Dorothy Perkins, Leggings – Topshop, Boots – ModCloth
I've always wanted to go to a pumpkin patch and this just might be the year! Enjoy the crisp fall leaves and the feeling of satisfaction once you find the pumpkin that is "yours." In a total flashback to senior pictures, sit on the hay and pretend you're a model while taking faux-serious pics. And whether or not you come with your sweetie or just some friends, be sure to bring a blanket and some food for a romantic dinner.
You'll want to stay warm once the weather starts to drop in the evening, so carry a fleece vest or other outerwear you can throw on over a casual button-down. You want to be able to move and bend down easily, so leggings are the perfect choice here. Don't forget a scarf – my favorite fall accessory!
Haunted House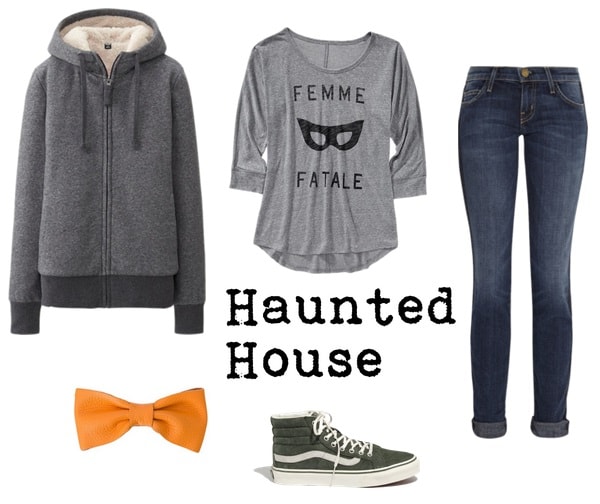 Hoodie – UNIQLO, Graphic Tee – Old Navy, Jeans – The Outnet, Sneakers – Madewell, Bow – American Apparel
It might feel overdone, but going to a haunted house with your date can be a lot of fun as you battle to see which of you is less of a scaredy-cat. You can also bring a group of friends and enjoy watching the expressions of people who have just exited the house.
Most haunted houses come with the risk of being injured, so wear jeans to avoid accidental bruises from jumping against the wall. To keep it casual, wear a neutral graphic tee and hoodie, but spruce things up with a festive hair bow. Sneakers are a must – you don't want to try keeping your balance in heels when someone jumps out at you.
S'mores and a Spooky Movie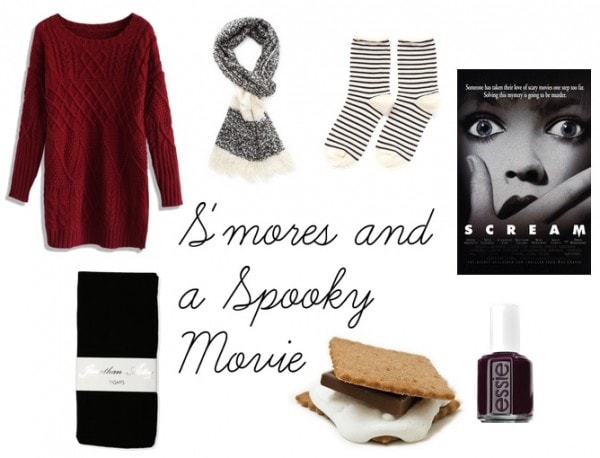 Dress – Chicwish, Scarf – Forever 21, Socks – Lane Crawford, Nail Polish – Essie, Tights – Selfridges
This is probably my favorite date idea because a) it involves chocolate, marshmallows, and graham crackers, and b) you can do it right from the comfort of your apartment, house, or dorm room. I have a favorite coffee shop here in Austin that actually lets you roast your own s'mores for dessert, but the DIY way at home sounds perfect for Halloween!
While waiting for your s'mores to turn that satisfying golden hue, relax and chat with your date about anything and everything. If you're with a group of friends, get in a circle and tell scary stories or reminisce about the trick-or-treating days. You'll probably end up curling up on couches or pillows so wear something you feel comfortable in (leave any stiff pants or short dresses at home). Pop in your favorite scary (or not, rom-coms are totally fine) movie, turn off the lights, and voilà! You have yourself a low-key yet fun Friday night.
What are your Halloween date ideas?
Do you have any special plans for Halloween, or ideas for what you and your friends might do? What would you wear in these situations? Let me know in the comments!