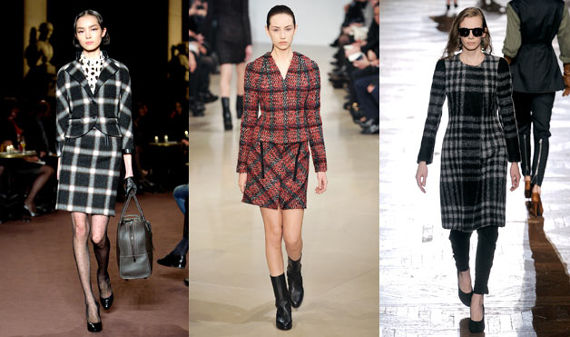 Photos Courtesy of ELLE
I don't know about all of you, but I am on a plaid binge right now. Plaid is probably my favorite print of all time – it's just so classic and versatile!
Even though I love a plaid flannel shirt or a plaid scarf as much as the next person, you shouldn't let yourself get stuck in a plaid rut. Check out the three looks below for new ways to wear this perfect fall print:
Plaid Shoes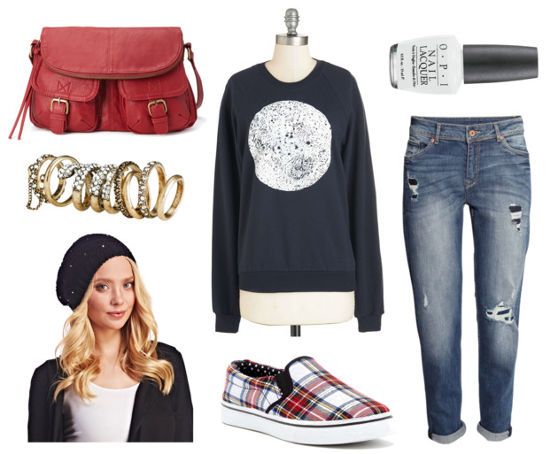 Products: Jeans, Sweatshirt, Shoes, Hat, Rings, Bag, Nail Polish
For a comfy on-campus outfit, try sporting a pair of plaid slip-on sneakers. Style them with distressed boyfriend jeans and a cool graphic sweatshirt, then add a little warmth with a cozy black beanie. Grab a red messenger bag for a pop of color and slip on stacked rings for a bit of sparkle and edge. Lastly, try a few coats of white nail polish for a sleek and trendy look.
Plaid Coat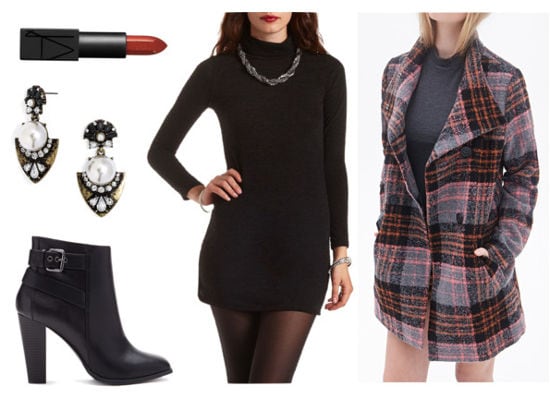 Products: Dress, Coat, Shoes, Earrings, Lipstick
A trendy plaid coat is the perfect layer to add to a sleek and sophisticated going-out look. Try wearing one over a fitted black turtleneck dress, paired with high-heel black booties (and black tights if it's chilly outside). Keep the outfit streamlined with just one or two accessories, like a pair of jeweled earrings, then finish the ensemble with a rich red lipstick.
Plaid Pants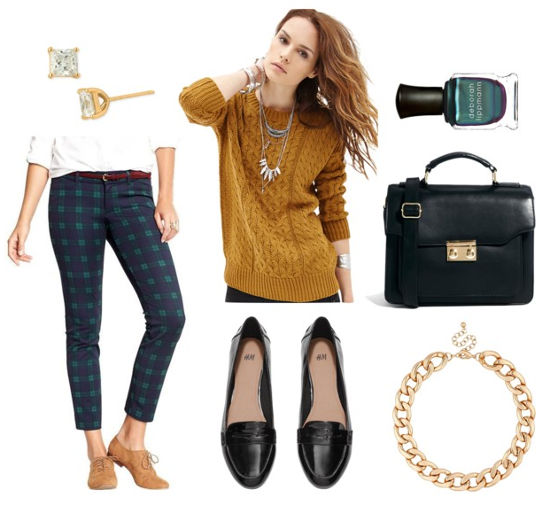 Products: Pants, Sweater, Shoes, Bag, Necklace, Earrings, Nail Polish
Plaid is a stylish way to add color and print to your work wardrobe. For a trendy and chic outfit, start with a pair of plaid pants and a cozy mustard sweater (can you get more fall than that?). Next, slip on a pair of black loafers that will keep you comfortable on your feet. A gold chain necklace, rhinestone earrings, and a simple black satchel add professional polish, but don't forget to add a youthful touch with shimmery teal nails.
Thoughts?
What's your favorite way to wear plaid? Which look do you like best? Let us know in the comments!