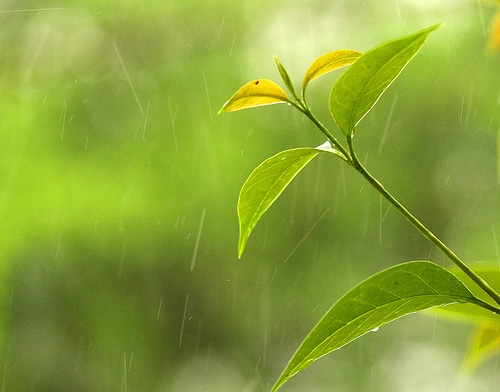 If you're lucky, you live in a place where spring means flowers, sunshine, and butterflies. Unfortunately, not all of us are likewise blessed. Here in Philly, for example, spring every year comes with several weeks of unrelenting rain and drizzle.
Right now, I'm on a mission to find the perfect pair of rain boots. Although I haven't made a final decision yet, I thought I'd share the fruits of my research with you guys, in case you're on a similar mission. You'd think that with such a specific item there can't be that much variation — not true at all.
The good news is, no matter what your fashion taste or personal needs, there is a perfect pair of rain boots for you. Here are some cute options.

Classic, Timeless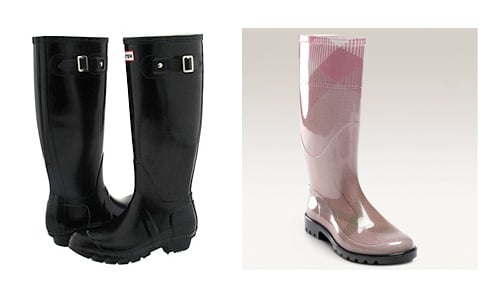 1. Hunter Original — 2. Burberry Check
When we're talking rain boots, nothing is more classic than a pair of Hunters. They fit great, feel great, look great, and do what they're supposed do perfectly (keep out water, duh). If you're not a fan of black, you can also get them in a variety of other great colors, as well as with a gloss finish if you don't like the matte look.
Another solid choice is the rain boot by Burberry. All of Burberry's rain boots are so classic, and the quality is phenomenal. I like the subtle rose check pattern above; it conveys the image of the brand without being too aggressive. The simple lines of the boot keep it both stylish and functional.
Fashion, Fashion, Fashion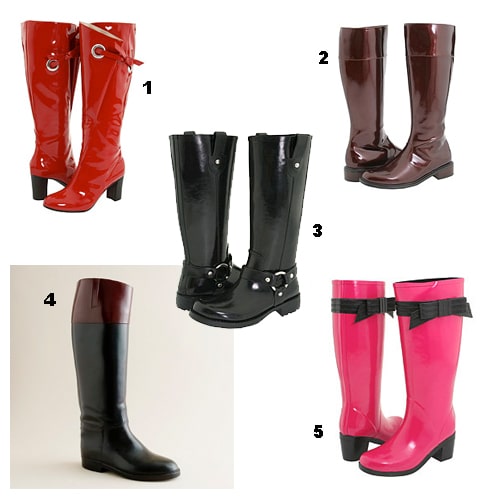 1. Sperry Top-Sider Sausalito — 2. Santana Deena 2 — 3. KORS Michael Kors Stormy — 4. Aigle Jumping Boots — 5. Kate Spade Randi
Who says you have to give up fashion to keep your feet dry? These five super-cute styles look just as cute as regular boots but still do a great job of warding off puddles. Tuck some skinny jeans into these and throw on any cute top, or even a basic tee, and you're good to go. I'm especially seduced by the Aigle Jumping Boots… what a beautiful low-gloss finish!
P.S. All of these styles come in black, for the more conservative ladies among us.
Roomy Calves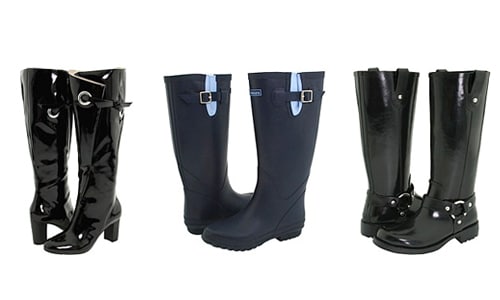 1. Sperry Top-Sider Sausalito — 2. Tretorn Langta — 3. KORS Michael Kors Stormy
Personally, my calves are on the wider side (especially in proportion to my feet), so shopping for boots can be frustrating. Rain boots are especially hard because they pretty much never come with zippers.
Fortunately, these styles have roomier shafts to accommodate wider calves. Never again will you experience the death struggle to get these on and off — you can even wear them with jeans!
Under $100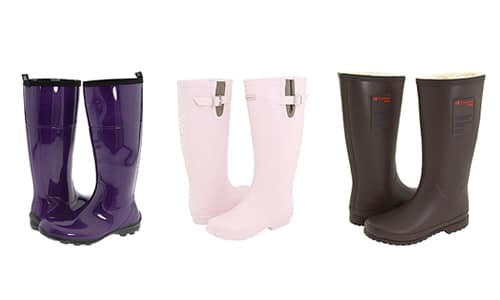 1. Kamik Ellie — 2. Tretorn Langta — 3. Tretorn Kelly Vinter
Just because you don't spend a fortune on your rain boots, that doesn't mean you have to deal with bad arch support, unsavory colors, and plastic seams that split.
These styles are cute, comfy, and durable, and they'll only ring up double digits on your credit card. Investment-quality pieces at value prices are pretty hard to resist. Check out the faux fur lining on the third pair… word on the street is that you can even wear those without socks!
Which style would you go for?
Do you currently own any of these boots, or something really similar? Any great styles I missed out on? If you're shopping for rain boots, which style would you prefer?
I think I'm going to end up getting Hunter's, although I really can't get over the Aigle Jumping Boots, and I'm quite intrigued by the KORS Michael Kors biker-inspired style. Oh, the dilemma of choice!