This post may contain affiliate links, which means we may receive a commission if you purchase through our links. Please
read our full disclosure here
.
The romper has been a fashion girl fave for the past few years, and it's easy to see why. Rompers are comfy, easy to wear, and can be dressed up or down, but the fact that they're both shorts and a top make them instantly cool.
Many of you probably rock casual rompers the same way you do sundresses– with flip-flops and a crossbody bag for a casual day out. But now that this trend has been around a while, it's time to tap into the rest of the romper's styling potential.
Thankfully, the rompers hitting stores this summer come in all kinds of fresh silhouettes and prints. So whether you're looking to buy a new one or for more ways to remix the rompers already in your closet, here are three ways to bring the onesie into 2015.
1. With Long Sleeves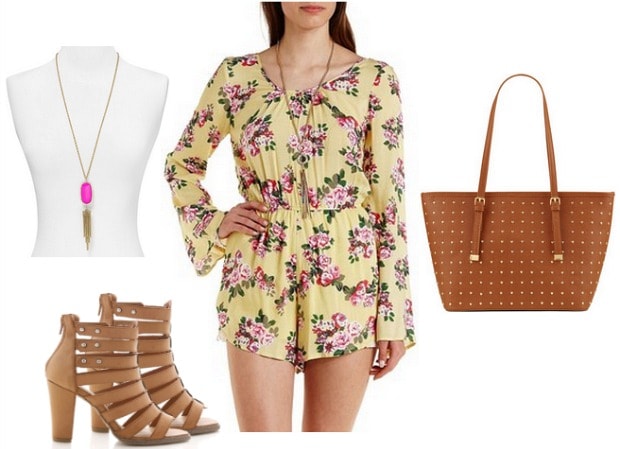 Product Info: Romper–Charlotte Russe, Bag–Aldo, Shoes–Pink Ice, Necklace–Bloomingdale's.
The contrast of long sleeves with a super-short hemline never ceases to be chic– whether in the form of a Taylor-Swiftian striped top and short-shorts, a long-sleeved mini dress, or a breezy romper like this one.
In addition to the comfy, wide sleeves, I love that this romper defines your waist and has a cute floral print on a so-hot-for-summer yellow backdrop. Let this awesome piece take center stage with mainly neutral (but still gorgeous) accessories and one cool shot of color that helps the floral print pop.
Thick-heeled strappy sandals are more polished than flat ones, but are still great for daytime. Like the long sleeves, they show that you're not just following trends– you're a fashionista that knows how to add a cool spin.
A long pendant necklace is the perfect finishing touch to every summer outfit, especially those with a slightly boho vibe, and the color of this one is so brilliantly vibrant. Like the bag, it looks luxe and keeps the outfit more city than Coachella. If you want to go more boho, try a fringe bag and wedge sandals and replace the necklace with major hoops.
2. All Dressed Up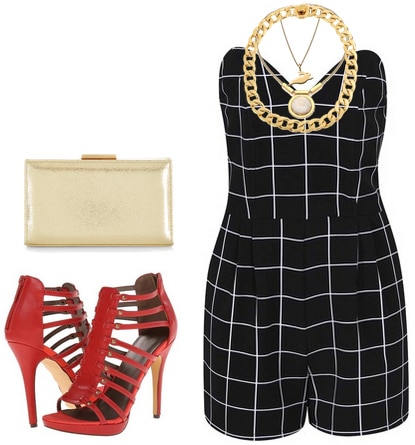 Product Info: Romper–Boohoo, Chain necklace–Lord & Taylor, Pearl necklace–Saks Fifth Avenue, Bunny necklace–Max & Chloe, Clutch–Accessorize, Shoes–6PM.
I love a romper with major heels for a summer girls' night out. Layered necklaces give the look interest and personality (especially when one features a charm of your favorite animal) and a box clutch is sleek and polished.
The windowpane print on this romper is so in right now, and this is a piece that is much more versatile than it looks. In the winter, take it to class or a coffee date with a slouchy black sweater thrown over it, along with black tights and booties. Layer it over a white tee if you want to show a little less skin. Wear it under any number of bright cardis and statement jackets. Mix in a moody floral print. Belt it.
I love the pop of red with black and white. Want to go for neutral shoes instead? Swipe on some ruby lipstick.
3. Vintage Inspired and/or with Cool Cutouts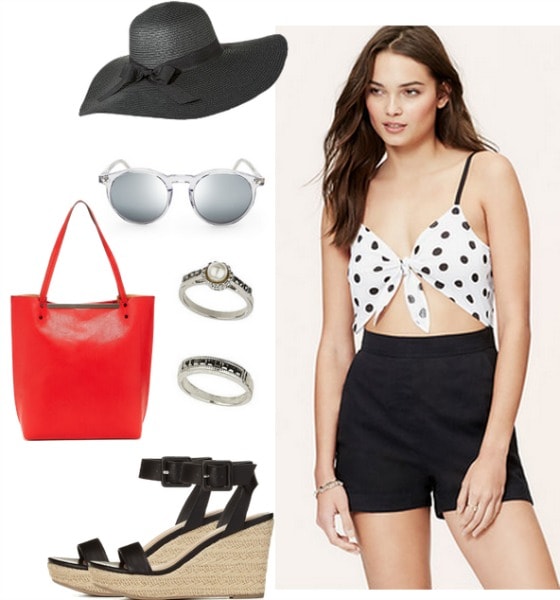 Product Info: Romper–LOFT, Wedges–Charlotte Russe, Hat–Target, Sunglasses–Bloomingdale's, Bag–Nordstrom Rack, Rings–Topshop.
This to-die-for romper from LOFT inspires two different tips for refreshing your romper look:
1. Try one with cutouts, be they major in the middle like this one, smaller on the sides, or sexy in the back. Perfect for the hottest summer days or ooh, those summer nights.
2. Style a sweetheart-neckline romper like a vintage bombshell. I'm talking amazing sunglasses, simply chic sandals, a big tote (and maybe even a big hat), and minimal jewelry.
This romper is obviously less versatile season-wise, but I could definitely see it being transitioned to night with a chain-strap bag, tall black pumps, a red lip, and a black cardi. And even if you always wear it with the same simple accessories, it was made to be your statement piece of the summer.
What do you think?
Do you like to wear rompers? What types do you like, where do you wear them, and how do you style them? Would you rock any of these looks? Let me know in the comments!