This post may contain affiliate links, which means we may receive a commission if you purchase through our links. Please
read our full disclosure here
.
Stripes can be intimidating. They're bold, they're brazen and they can be a little difficult to wear. Some people fear that horizontal stripes make you look wider (totally not true!!) and they can be a little too bold for the wallflowers among us. So it's understandable that some would be hesitant about them.
But stripes can also be fun and exciting, injecting a little bit of punk rock into an everyday outfit. Stripes were a big trend on the Spring/Summer 2011 catwalks, and they're an easy way to get a next season feel right now. Below, I have created a list of tips and tricks for wearing stripes and four great ways to wear them – rocker, girly, casual and night out.
6 Tips and Tricks for Wearing Stripes
1. Ignore the myth that horizontal stripes make you look wider.
Recent studies have proved this to be false, so if this is the only thing making you put down that breton-striped top, your fears are unfounded!
2. The wider the stripe, the bolder the statement.
If you're nervous about stripes, try pinstripes at first and then work your way up to wider stripes. Pinstripes are especially cute for business-casual wear and on shorts and trousers. They add a bit of flare to an otherwise-plain piece.
3. Pair stripes with a neutral if you want to play it safe.
If you're a beginner with stripes, wear them with a block of color on your other half. A striped skirt with a plain top can look fab, as can a striped top with a plain skirt or jeans.
4. Black and white is classic, but don't be afraid of other combinations.
Of course, you can go as bright or clashing as you like if you're daring, but one brightly colored stripe next to a neutral stripe can look fantastic. I love camel with reds and blues, or grays and creams with reds or pinks.
5. To add fun to an otherwise-plain outfit, swap a block-color top for stripes.
This is the easiest way to add stripes to your wardrobe. Swap a plain tank for a striped one; also, a striped sweater or cardigan can add an interesting touch to a simple dress.
6. Stripes are a great base for experimenting with mixed prints.
I love to wear black and white stripes with florals or plaid. The stripes act like a neutral (in the same way that leopard print does) so they can go with anything in your closet.
Outfit One: Rocker Stripes
Stripes seem to go hand in hand with the punky, rocker look. Since I am a little bit of a rocker at heart, I wanted to create something on-trend, using fall/winter wardrobe staples.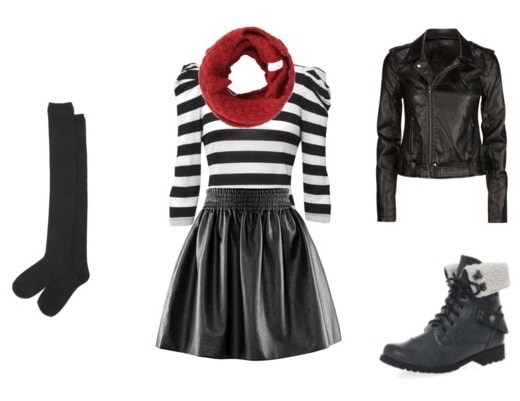 striped top/jacket/socks/shearling boots/infinity scarf/skirt
This outfit incorporates some of my favorite trends this season: socks, leather, red and shearling. Imagine this look with a plain black top and you'll see the different stripes can make to an outfit – this adorable long-sleeve striped top is the perfect contrast to the all-black ensemble. Also, if I'm wearing a monochromatic outfit, I love to add a dash of bright color, and this red scarf is perfect for that. Finally, I am a little bit obsessed with these kind of boots for winter – they just look so warm!
Outfit Two: Girly Stripes
If you have more of a girly, feminine sense of style, stripes can totally work for you too! For this look, I decided to use more feminine colors instead of stark black-and-white to make a really fashion-forward outfit for fall.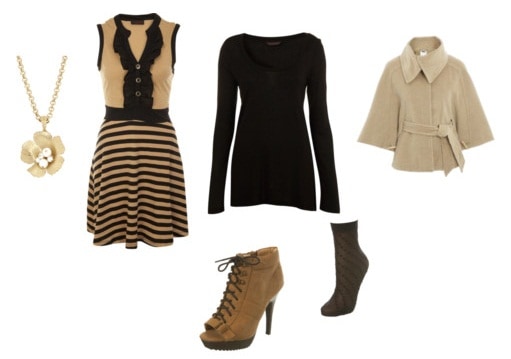 dress/long sleeved top/cape/socks/booties/necklace
I created a nice, neutral palette for this outfit, taking inspiration from the black-and-camel stripes on this dress. I love camel for this season and was so happy to find a little camel coat to go with this that would be warm enough for winter. This dress is striped without seeming too bold- I love these dresses because they create an instant outfit by giving the effect of two separate pieces. Plus, these boots are adorable! And finally, I added a long-sleeved black top to make the dress wearable throughout the season.
Outfit Three: Casual Stripes
We all have days where we don't want to have to think about what to wear; we just want to throw something on and go. A tunic top and leggings is usually the standard lazy day outfit this time of year. A striped tunic-length top is just a little more exciting than your standard basic, yet just as easy to throw on before you rush out the door. dress/cardigan/leggings/boots/necklace/hat/belt
This outfit is entirely made up of wardrobe staples – a simple jersey dress, leggings, boots, a long cardigan and a no-time-to-wash-my-hair hat. I think this dress is perfect for every occasion – it's so versatile. You could add a bandage skirt over it for a dressier look, or just heels for a night out. Skinny belts were everywhere this season, so belt the cardigan over your dress and you're good to go!
Outfit Four: Night on the Town
Be warned, this outfit is not for wallflowers! For this look, I wanted to take stripes to their limit and create a really fun night-out outfit. I also love to mix prints and thought "Well, if you want to make a statement, why not do it in the evening?" As I said before, stripes almost act like a neutral so you can really pair them with anything and it'll work.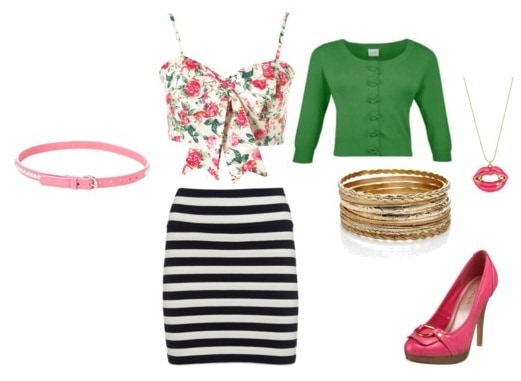 skirt (not the exact one used here but the next best thing!!)/ cardigan/crop top/shoes/bangles/necklace/belt
This outfit is meant to resemble one of those dresses that looks like separates, but it's even better because actually having the separate pieces adds so much to your wardrobe. This skirt can be worn in a million different ways, just as you'd normally wear a black bandage skirt. Next, I love the look of a crop top with a high-waisted skirt. I used the pink from the top for accessories and added the little green cardigan to keep you warm when you're waiting to get into a bar!
Your thoughts?
How do you like to wear stripes? Do you mix it up with mixed prints or keep it simple with a neutral? Will you be wearing stripes this season? Let us know in the comments!