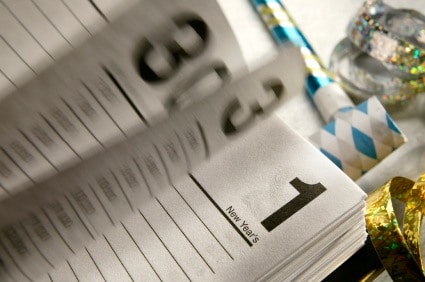 It's almost a new year, and that means a fresh start and a chance to set some new goals. Whether you're a seasoned fashion addict or you're still developing your own style, new year's is also a great time to set some style resolutions for the year ahead.
Here are some style resolutions you might want to make for 2009!

Buy more quality items and fewer cheap "fast fashion" pieces. This is one of my resolutions – I'm always tempted to buy a bunch of cheap clothing items instead of splurging on quality, but I know it's not the right way to shop. This year, I've promised myself that I'll control my H&M addiction and spend my money on fewer clothes that will last a little longer!

Think before you buy. Do you impulse-purchase a little too often? Make it your 2009 resolution to stop and think before you make a purchase. Ask yourself "do I really need this?" and "how often will I wear it?" If you need to, resolve to wait 24 hours & see if you still want that item the next day. If you do, you'll know it's not just an impulse!

Develop your own sense of style. This was one of my resolutions a few years ago, and it's an ongoing process I work at every day. In fashion it's so important to have your own point of view instead of blindly following trends. What's your personal style? I wrote an article about how to find your own sense of style if you want some tips on how to get started.

Start making your own clothes. If you've always thought it'd be fun to be a fashion designer, why not get started learning how to make your own clothing? Pick up a book on sewing, grab some fabric and borrow your mom's sewing machine. You'll save a bundle, be able to customize every piece you own, and who knows – maybe you could be the next big thing in fashion!

Learn more about the fashion industry. Become a whiz at fashion industry trivia – learn about the history of all the big designers, who worked for whom, and even the difference between different fabrics. I just picked up a copy of The Fashion Game Book and it's essentially a textbook on everything you could ever want to know about fashion. There are quizzes, pop-out pages, designer bios, quotes, and so much more. It's amazing and highly recommended if you want to learn about the industry!

Start documenting your style. If you want to get an accurate picture of how your style is evolving, try taking a picture of your outfit every day next year. You could keep the pics private for yourself or start a blog about your style like Rumi at Fashion Toast. Taking outfit photos daily is a great way to see how things really look on you, keep your style fresh, and find new ideas for how to wear things. It's also a lot of fun!
Those are just some of my ideas – what are you going to do to make 2009 your most stylish year ever?