Personal style changes when you move to a new city… especially New York City. I recently moved from small-town Iowa to Manhattan, and it didn't take long for me to act on all of the great fashion inspiration the city has to offer.
My previous Fashion Evolution Chronicles post was all about solids. Solids are great, and I worship the ground of anyone who is wearing them correctly. But I have a confession: I actually do love prints more than solids.
Solids can be difficult to style, and I wanted to help our readers by providing some options in my last post. Prints can also be hard to style, but they're a little more fun and vibrant. They make it easier for outfits to have depth, dimension, and movement.
Perhaps one of the most important things to remember about prints is what is age-appropriate and what looks… not cheap. Referring back to my post about how to wear florals, any print– if you're not careful– can fall into the junior-y, overdone category. Aztec prints, tiny florals, skulls, tie-dyes, and plaids (among many other prints) can all read "junior high" if you're not careful.
But never fear, College Fashion is here to help you style all sorts of prints. Let's get started!
Playful in Pastels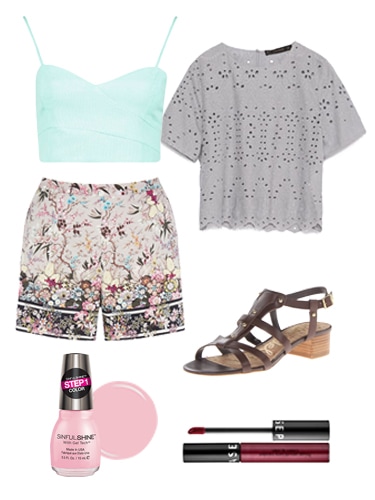 Product Information – Shorts: Oasis, Top: Zara, Shoes: Sam Edelman, Lip Stain: Sephora, Bralette: Boohoo, Gel Polish: Sinful Colors
Not all prints have to be obvious. These shorts are a great example of a busy print, but the scalloped shirt falls under the category of "implied print." Prints don't have to be patterns, they don't have to be flowers or polka dots or chevron; they can be implied.
Implied prints are prints we create out of visual clues. This perforated top creates an implied print with the holes and scalloped hem. Even though the fabric isn't "printed," our mind tells us it is. Pairing implied prints with actual printed pieces is easy, because the pieces compete with each other less, and complement each other more.
Use the colors found in the printed shorts to pick solids that accent the outfit: i.e. a teal bralette and a petal pink nail polish. Offset the fragile pastels with a mysterious dark lip stain and a neutral shoe, and you're good to go.
Effortlessly Edgy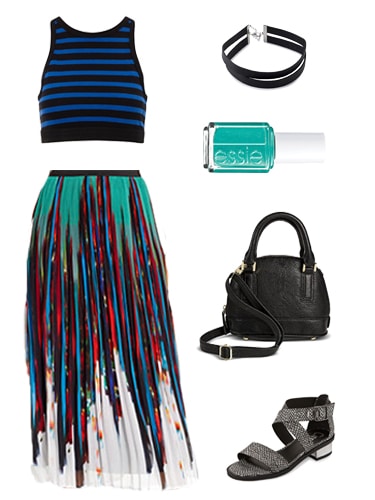 Product Information – Top: T by Alexander Wang, Skirt: NY Collection from Macy's, Shoes: Sam Edelman, Choker: Forever 21, Nail Polish: Essie, Bag: Target
Another successful way to play with prints is to juxtapose fabrics and textures. Textures can also be considered an implied print, if they're visually interesting enough (i.e. crocodile, studs, feathers, etc.). As long as the patterns aren't too distracting, this approach can look extremely cool.
A sweater crop top paired with a chiffon-like midi skirt not only looks interesting, but creates great proportions as well. A chiffon-like crop top wouldn't give the same effect this particular sweater does, and a sweater tube skirt wouldn't tell the same story as the chiffon. Juxtaposing fabrics can make or break an outfit, so it's important to know how to do it correctly.
The textures don't stop there. Enter: metallic shoes, a velvet choker and a mini leather crossbody bag. By choosing accessories in the same neutral color (you can never go wrong with black), you're not distracting from the patterns found on the statement pieces of the outfit.
Glowing and Girly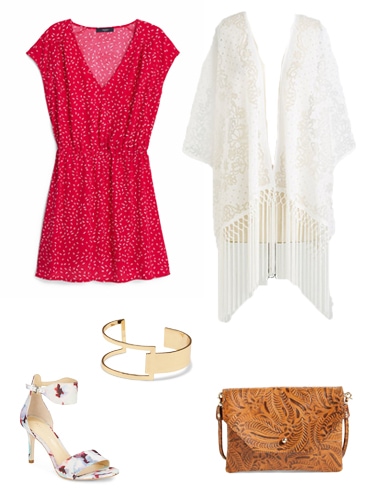 Product Information – Dress: Mango, Bag: Street Level, Kimono: ModCloth, Heels: Ivanka Trump, Cuff: Sole Society
For those of you who are on the fence about mixing patterns, this will be the best approach for you. A minimalistic print on a dress or jumpsuit isn't distracting, and it's easy to style. Pair it with a denim jacket or solid-colored kimono. This kimono jacket is made of lace and fringe, so the textures play as implied prints.
So what print do you pair the dress with? Try a printed sandal. But beware: with a springy heel, you have to be careful. You don't want it to read too-wedding-guest or too-kitschy. A successful floral heel has a neutral base with an abstract or spotty floral, and simple construction. As a rule of thumb: No floral gladiators, no floral cowgirl boots, and no floral platform pumps. Keep it minimalistic and classy.
The tooled bag is probably my favorite find of the week, and it's on my wish list. The pattern is classy, interesting, and creates dimension to an otherwise flat accessory. It's a classic piece that can be worn with anything. This is the kind of bag that starts conversations like, "Where did you get that?" and "Is that vintage?" and "I love that! I want one in black."
So, what do you think?
Will you try mixing prints this season? Are you loving any of the pieces or combinations CF created for you? How would you style these pieces? Don't forget to comment below. We love to hear from you!