Personal style changes when you move to a new city… especially New York City. I recently moved from small-town Iowa to Manhattan, and it didn't take long for me to act on all of the great fashion inspiration the city has to offer.
New York City is one of the four fashion capitals of the world, where there is unlimited creativity and no rules when it comes to personal style. Too scared to wear your harem pants and denim vest to the grocery store? Move to New York. Problem solved.
In the midwest, people may look at you sideways if you're wearing a purple bucket bag backpack or 3-inch platform Birkenstocks. Since I've been in Manhattan, I've experienced a major confidence boost. I can really wear whatever I want, wherever I want, and most times it's totally appropriate.
That being said, it's time to go shopping!
The first item on the list? Cropped pants. Culottes, boyfriend jeans, printed slacks, cropped flares… the options go on. Scroll down to see a few ways to style this new wardrobe staple.
Alternative to Leggings: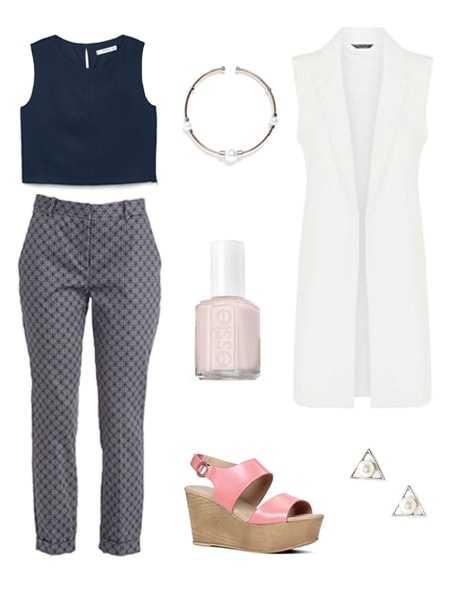 Product Information: Pants- Modcloth, Shoes- Aldo, Top- Mango, Vest- New Look, Necklace- Zara, Nail Polish- Essie's "Allure", Earrings- Forever 21
Leggings are comfy. There's no denying that. But, if shopped for correctly, cute cropped pants can be just as easy to wear. And if you've ever heard that cropped slacks are strictly for the office or a Sunday service, forget it. This outfit in particular has a lot of versatility, thanks to the layering vest and minimalistic jewelry.
Alternative to Skinny Jeans: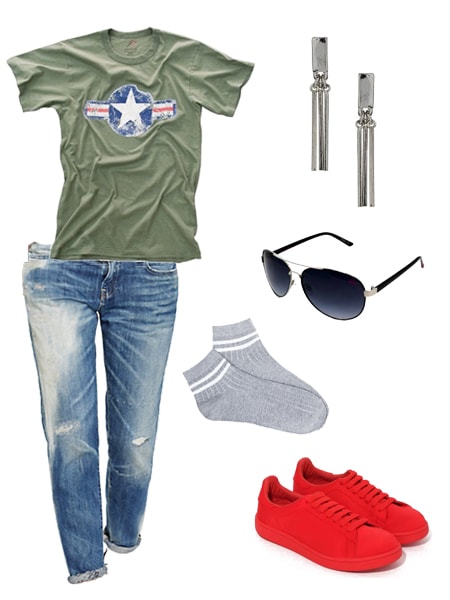 Product Information: Top- Rothco, Jeans- Ralph Lauren, Shoes- Nasty Gal, Earrings- Topshop, Sunglasses- Betsey Johnson, Socks- Forever 21
Everyone has a favorite cut of jeans. Maybe it's bootcut, maybe it's skinny jeans, maybe it's flared. Do me a favor, and trade out your go-to pair with cropped boyfriend jeans. They can be destroyed, distressed, untouched, light wash, super-blue, or anything you want. Whatever you choose, you won't be sorry. They may even be your new favorite cut!
Stop by a Salvation Army and pick up a cute vintage tee, and you're the coolest, most casual chick on the block. (And can I have a round of applause for those red hot sneakers?)
Alternative to a Skirt: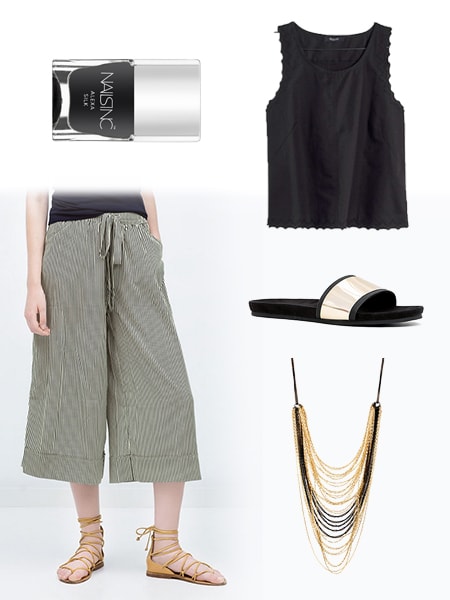 Product Information: Culottes- Zara, Top- Madewell, Sandals- Aldo, Necklace- Steve Madden, Nail Polish- Nails Inc. "Alexa Silk"
A summer staple: the skirt. Flowing, swingy dresses give us cool and comfortable freedom during the hot, sticky days of June and July. Want a funky twist on your basic skirt? Try culottes. They're trending pretty hard right now, so they're easy to find! Some are structured, and some are more forgiving. Try skirt-inspired culottes, like the ones above, for a dressy look.
What do you think?
Would you wear cropped pants? Do you have any of these (or similar) styles in your closet? Which look is your favorite? Don't forget to comment below!