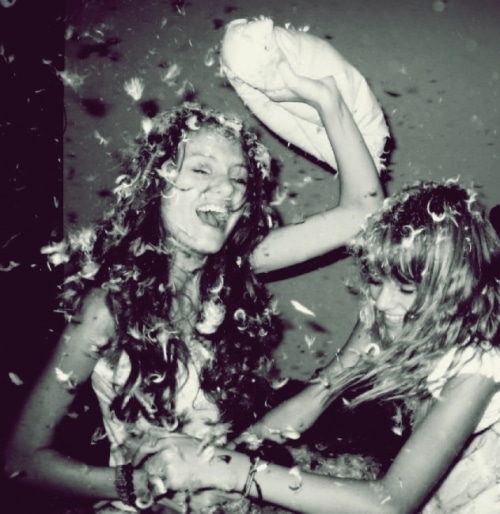 The great thing about essentials for hanging out, relaxing, and just being lazy is that you probably already have most of them! That's why in this installment of the "Essentials" feature, I'm going to do things differently. Because I think we all cringe at the sight of PJ's in public, I'm going to give you my essentials for lounging, but then also show you how to wear some of the items fashionably in public.
I'm a fan of versatile clothing, and I wouldn't list any items as "must-haves" unless you could wear them often and in many ways – so that's the focus here. If, like Lady Gaga, you prefer to be "in costume" day-in and day-out, you still might want to give this a look; there's something here for everyone. Here are some of my picks for must-have lounging items:
1. An Oversized Tee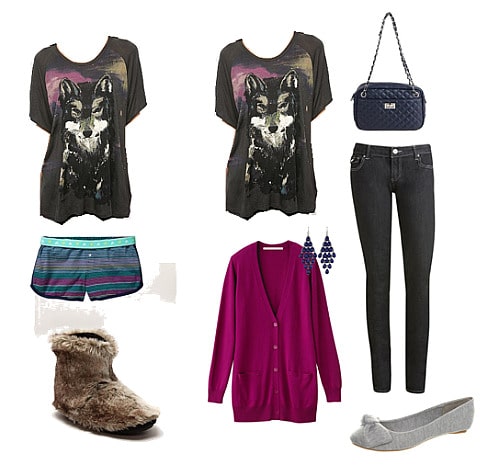 Product Information: Wolf Graphic Tee – Urban Outfitters, Outfit#1: Striped pajama shorts – Old Navy, Slipper boots – Urban OutfittersOutfit #2: Fuschia cardigan – Uniqlo, Bow flats – Miss Selfridge, Black skinnies – Arden B., Quilted shoulder bag – Yesstyle, Chandelier earrings – Oasis
The great thing about oversized tees is that if you don't already own one, you can get one almost anywhere for a great price. My current favorite tee came from a garage sale!
A t-shirt is perfect for lounging around the house (see Outfit #1), but it's also great for a slouchy daytime look (see Outfit #2). I like the 80's-inspired feel of Outfit #2, thanks in part to the throwback wolf tee. I imagine wearing Outfit #2 for a day of thrifting and coffee with your eccentric best friend. An oversized scarf and cropped jacket would make it perfect for traveling from store to store.
Planning to buy an oversized tee? Here are some tips and tricks:
Shop used! Check out thrift stores, garage sales, and your local vintage shop. A genuine vintage concert tee looks much more chic than a replica, and if you look hard enough, there are many to find in these stores.
Look beyond your usual size range. For some oversized apparel (jackets, cardigans, jeans), you want a properly fitted but elongated style, but for t-shirts, anything goes! Check out the boys and mens sections (or raid your dad or boyfriend's closets).
2. A Robe
A robe definitely isn't something that you can wear outside in public. I mean, you could, but I wouldn't recommend it.
Even though it's not the world's most versatile item, I definitely consider it an essential. Whether you live in a dorm with a shared bathroom or have your own place, a robe can function as in-between clothing when you're just out of the shower, or just covering up your PJs. Blair Waldorf makes robes look super-chic, and so can you. Here are a few I like: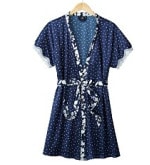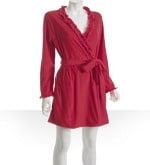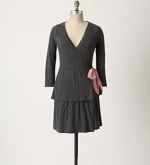 Product Information: Polka-dot satin robe – Kohls, Red micro-fleece robe – Bluefly, Grey and pink robe – Anthropologie
3. Comfy Leggings
Leggings are my favorite piece of lounging attire. I pair mine with boyfriend cardigans, my oversized tee, and even a robe, for morning coffee and TV in my dorm room. It's no secret that leggings are also perfect for outfits outside of your room. The key to versatility is to find a pair of leggings that are comfy! While liquid leggings, jeggings, and other textured leggings are great for dressing up, you want something soft and warm for hanging out at home.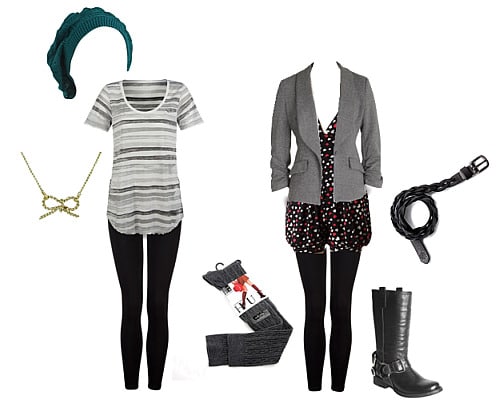 Product Information: Basic leggings – TillysOutfit #1: Striped tee – Tillys, Bow necklace – Rachel Leigh, Knit beret – Forever 21Outfit#2: Heart romper – Anthropologie, Blazer – Piperlime, Socks – Hue, Engineer boots – Steve Madden, Braided belt – Athleta
Outfit #1 is something I would wear to the study room in my dorm. It is super comfy, which makes it perfect for hours of calculus problems, but thanks to cute accessories, it doesn't lack in the style department. Outfit #2 is 100% inspired by Second Skin (if you don't already know about her, check it out!). She recently wore a romper/blazer/tights combo and it looked so vintage-y and fab that I had to try and emulate it.
4. Sweatshirt
I'm laughing as I type this because in high school I absolutely hated when I saw girls wearing sweatshirts every day, but alas, I have given in to the temptation. The great thing about wearing lounge-y basics as everyday wear is that it gives a great model-off-duty vibe (if you wear it right). Sweatshirts aren't for everyone, but if you are looking for a laid-back cool vibe, you might try one on for size. One of my style icons, Rachel Bilson, often pairs sweatshirts with dressy pieces for a great downtown look.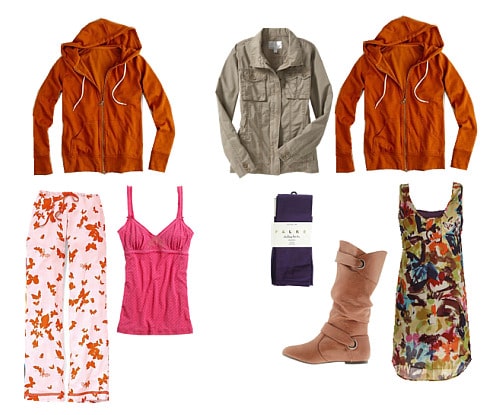 Product Information: Orange hoodie – J. CrewOutfit #1: Printed pj bottoms – Victoria's Secret, Pink cami – American EagleOutfit #2: Utility jacket – Old Navy, Floral dress – ModCloth, Purple tights – Falke, Boots – Piperlime
Hoodies are perfect for warming up a basic set of PJs (Outfit #1), but they also work as a great layering piece (Outfit #2). For Outfit#2, I would layer the jacket over the hoodie (for a cohesive look, either leave both zipped-up, or wear both open). With lots of different colors going on, the neutral boots and jacket keep things balanced, and draw the eye from head to toe instead of bringing the focus to one area.
Hoodies not your thing? Here are a few different styles of sweatshirts that I love, and I think they would transition nicely into your everyday wardrobe: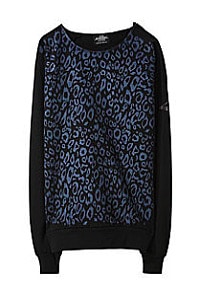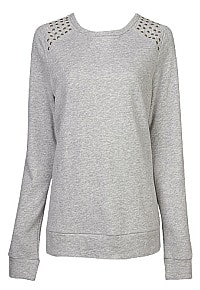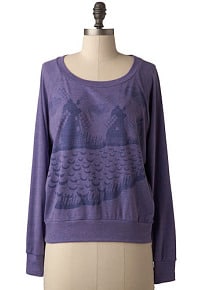 Product Information: Leopard print – La Garconne, Studded shoulder – Forever 21, Mountain print – ModCloth
Keep in mind that the same tips for finding oversized tees apply for most clothing, and especially sweatshirts. As always, there are great finds to be had at vintage stores and thrift shops.
5. Easy-on-the-Feet Shoes
When I'm planning on spending hours at the library, I look for shoes that allow me to be completely comfortable. I usually wear the closest thing I can find to slippers (and if I'm staying in, I definitely put on my slippers). The most comfortable shoe varies from person to person, so it may be tennis shoes, flats, or even heels for you. That said, these are a few I like: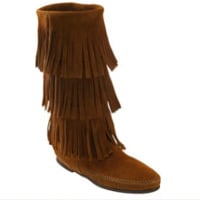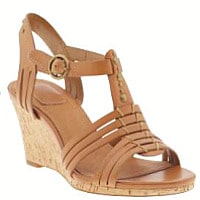 Product Information: Fringe boots – Nordstrom, Yellow moccasins – DSW, Sandals – Piperlime
While moccasins and flat boots are an obvious choice, sandals are also a good option (even though it's not spring quite yet). These Clark's sandals are very comfortable, and totally chic for spring or summer. For around the house, it's all about finding shoes that are comfortable enough for lounging (even if that means slippers).
What do you think?
What are your go-to lounging items? Do you ever wear "lounging" clothes outside your house? Are you completely against the idea of sweatshirts/t-shirts as a fashionable item? Have a favorite pair of comfortable shoes you'd like to share? I'd love to hear from you!