This post may contain affiliate links, which means we may receive a commission if you purchase through our links. Please
read our full disclosure here
.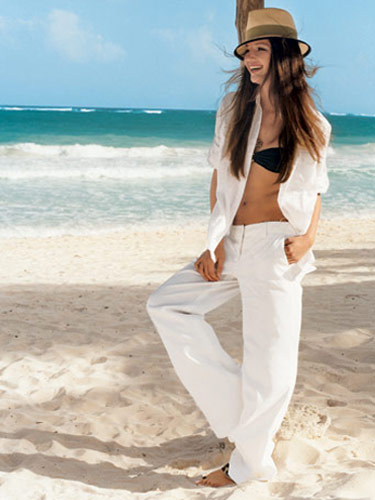 There's nothing more beachy and perfect for summer than a trusty pair of linen trousers. Although they're pants, the light fabric and loose cut of these babies will keep you cool in even the hottest weather. You don't have to visit the Bahamas in order to wear these, though: Linen pants are comfortable and classic, yet fashion-forward, making them the perfect bottoms for a college setting.
Dreaming of summer but stuck inside studying for finals? Linen pants are the perfect way to cure your landlocked blues. Read on for ideas on how to rock this week's challenge!
Tips and Tricks for Rocking Linen Pants
These pants are cozy and relaxed, but they don't look lazy. They're perfect for wearing to class, out shopping with friends, or to a fun day at the park.
Linen is unique in that it will keep you warm indoors when the air conditioning is blasting, but will also breathe in hot weather, keeping you cool. That makes linen pants perfect to wear to finals–you'll be comfortable no matter the temperature.
Since linen trousers are usually meant to fit loosely, pair them with a structured top to keep from looking frumpy. Try a form-fitting t-shirt, cropped jacket, or a simple tank.
It might sound cliche, but the reason so many advertisements feature women frolicking on the beach in linen pants is because these pants are meant for the seashore. They will protect your legs from harsh wind or sunburn while still keeping you cool.
These basic pants look awesome with classic summer accessories like a fedora, summer scarf, or a huge pair of sunglasses.
Outfit Inspiration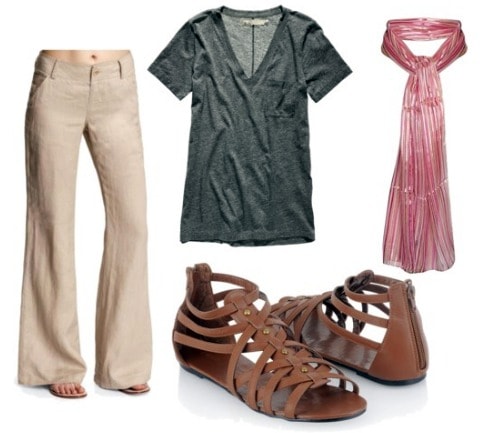 Pants, T-Shirt, Sandals, Scarf
Linen pant are a good way to switch up the jeans and shorts routine many of us fall into come summer. Keep the look casual and cute by pairing the pants with a v-neck, gladiator sandals, and a summery scarf.
Pants, Swim Suit, Cropped Top, Sandals, Sunglasses
If you're lucky enough to live by a beach (a pool or lake will do too), fickle spring weather can be combated with a great pair of linen trousers. Start with a swimsuit, and add a cropped top, sandals, and a pair of sunglasses.
CF Reader Looks
Ahaja Scott-Auburn University
I'm wearing khaki linen pants by MaxAria, a brown v neck tshirt from wet seal, and a green blazer I got from a local thrift store. I'm also wearing brown gladiator sandals from walmart and a thin cheetah print scarf in a bow on my head.
Does she look chic or what? For more of Ahaja's sweet style, check her out here!
Rocked The Challenge? Send Us Your Pictures!
Did you wear a pair of linen pants this week? Before you change clothes, take a couple snapshots and sent them to fashionchallenge AT collegefashion.net along with your name, school, a description of what you're wearing, any styling tips you might have, and the URL of your blog if you have one. We'll feature your photos here to inspire other CF readers.
We can make you a celebrity overnight 🙂
Thoughts?
Do you own a pair of linen pants? What do you like to wear them with? What pieces do you like wearing to your finals to ensure you're comfortable the whole time? What are you favorite things to wear to the beach or the pool? Leave a comment and let us know what you think!