This post may contain affiliate links, which means we may receive a commission if you purchase through our links. Please
read our full disclosure here
.
When we first did a post on non-prescription glasses, we had no idea that they were such a controversial subject! While we think they're a fun way to spruce up a boring outfit, we can also see where this trend would be frustration for girls who have to wear glasses for their eyesight. I can certainly relate — I have prescription glasses, and wearing contacts with clear frames feels a little strange.
Another point many CF readers brought up is that these glasses felt a little too "hipster/scene" for many of you. I'm sure we can all agree that when worn right, these can make you look chic and stylish, not like a poser that's trying too hard. It's a delicate balance, but we're here to help you out.
Ready to take this week's challenge? Read on!
Tips and Tricks for Pulling Off Faux Glasses
Faux glasses come in handy when you're feeling too lazy to put on makeup! The thick frames draw attention to your lovely eyes.
Colored frames can toe the line of looking like you're trying too hard. If you're feeling bold, pair colored frames with a simple outfit and tons of confidence for the best look.
You can pick these glasses up for under ten dollars at many places at the mall – Claire's, Hot Topic, and Forever 21 are great places to start.
You can pair these glasses with almost anything in your closet – that's one of the great things about this trendy accessory.
CF Reader Looks
Here are some faux glasses looks sent in by CF readers like you. Wanna see your photo here? See the instructions below!
Luisa – Florida International University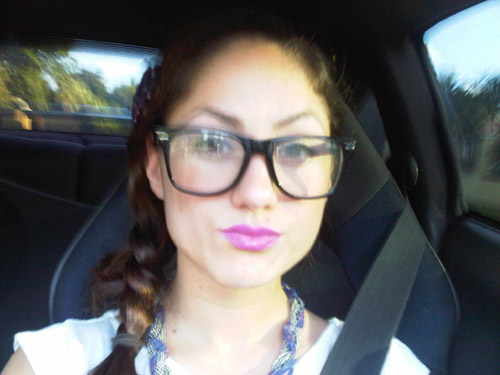 "There are days that I just don't feel like going through the hassle of wearing eye makeup, so I decided to try the faux glasses look! I was wearing a plain white tee and jeans. Since it's summer and a pop of color never hurts, I completed the look with pink lips :)"
Ayuna and Violanta – Berea College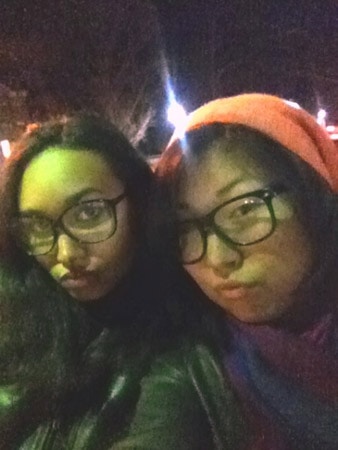 "Personally, I do not usually like to use faux glasses, simply because I do need prescribed ones and get sick and tired of wearing them all the time, and I do look too asian in the faux glasses, as people joke =) However it is fun to wear them, especially if you are with your bestie =)"
Nicole – Institute of Culinary Education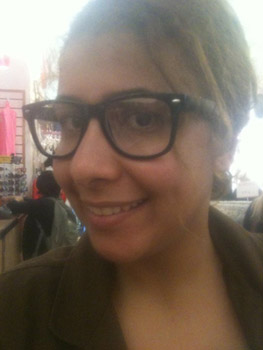 Rocked the Challenge? Send Us Your Pictures!
Did you wear a pair of non-prescription lenses this week? Want us to make you famous?
Take a few snapshots and send them to fashionchallenge AT collegefashion.net along with your name, school, the URL of your blog if you have one, a description of what you're wearing, and any styling tips you might have to share. We'll post your pictures here to inspire other CF readers.
What Do You Think?
How do you feel about non-prescription glasses? Has your opinion changed over the last few years? Do you have real glasses, and does that change the way you feel about them? Are you going to rock this week's challenge? Leave a comment and let us know how you feel!