This post may contain affiliate links, which means we may receive a commission if you purchase through our links. Please
read our full disclosure here
.
Here at College Fashion, we're big fans of pushing boundaries and making statements with what we wear. However, I'm sure we can all agree that there's a fine line between looking quirky and looking crazy.
Tutus (to clarify, when we say tutus, we're referring to both ballet-specific skirts and fluffy tulle skirts not intended for ballet) are fun, a bit unexpected, and a girly way to make a statement. But they can also be hard to pull off, as history has shown us. We all remember Lara Flynn Boyle channeling a ballerina on the red carpet:
For the record, I actually thought Lara looked playful and fun in her tutu, but others had some not-so-nice opinions on the statement she made.
An equally iconic but more well-received tutu was included in the opening credits of Sex and the City:
I might be the only girl in the world who is not a fan of Carrie Bradshaw (I know, I know), but even I've got to hand it to her: She pulls off this tutu beautifully.
Finally, tutus have also been in the spotlight recently due to a little Oscar-winning film known as Black Swan.
Although the preceding tutu looks are notable, they don't demonstrate how to pull off a tutu in the real world. Don't worry, though, it's a lot easier than you think to wear a tutu without looking like you're crazy or wearing a costume. Read on to learn how to rock a tutu, then take some photos and send them in to inspire other CF readers!
Tips and Tricks for Wearing a Tutu
Unless it's Halloween, don't pair anything tutu-like with a wrap sweater, leotard, leg warmers, or a bun – these items will make your ensemble look costume-y.
Contrasting textures look great with tulle. Fabrics like leather, denim, or suede will keep your outfit from looking too girly.
Speaking of girly, a tutu paired with lace or sequins could be overwhelming. So keep the rest of your outfit toned down, and let your skirt have all the attention.
Because tutu skirts are voluminous, they generally look best paired with fitted tops. Add a cropped jacket for a super chic look.
An authentic ballet tutu might be hard to find, so try looking for a tulle skirt or dress. It'll give you the tutu look without being too extreme.
Shoes, as always, are an important part of your look. I love how ankle boots and spike-y stilettos look with full skirts like tutus. For a really daring look, try wearing a tutu with combat boots or even Converse All Stars!
Chunky jewelry will toughen up the look of a tutu. Try a statement necklace or a cocktail ring.
Remember that this look is supposed to be playful and quirky. Rock it with confidence and you'll be sure to look amazing!
Outfit Inspiration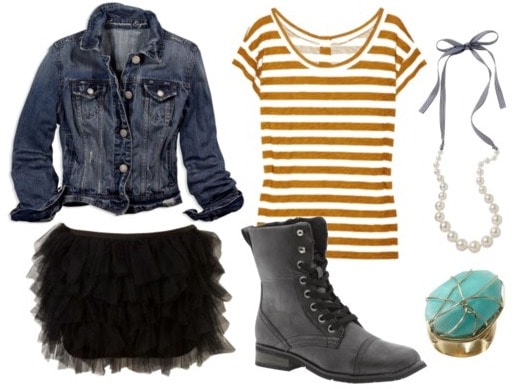 Jacket, Tutu, Shirt, Boots, Ring, Necklace
A frilly tiered tutu skirt is toned down when paired with a striped shirt and simple denim jacket. Low-heeled combat boots give the outfit a street-chic vibe reminiscent of British style. Finish with a turquoise ring and this funky faux pearl necklace.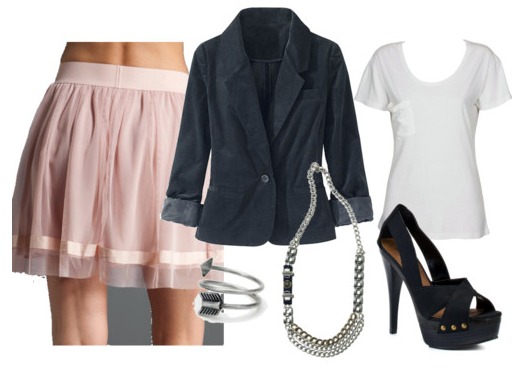 Tulle Skirt, Blazer, Shirt, Necklace, Stilettos, Ring
A delicate pink tulle skirt like this one looks perfect with a white t-shirt tucked into it. Next, a boyfriend blazer and a badass pair of stilettos contrast nicely with the girlishness of the skirt. Finish with a chunky necklace and ring.
Took the Challenge? Send Us Your Photos!
Did you wear a tutu (or tutu-esque skirt/dress) this week? Before you change clothes, take a couple snapshots and send them to fashionchallenge AT collegefashion.net along with your name, college, a description of what you're wearing, and the URL of your blog if you have one. We'll feature your photos here to inspire other readers.
We can't see what you girls come up with!
What Do You Think?
Do you own a tutu? If so, how do you like to wear it? Do you think tutus are OK for casual wear, or are they too costume-y for your taste? Also, what other pieces have you had trouble styling? We may feature your idea in our next Fashion Challenge post! Leave us a comment and tell us what you think!