This post may contain affiliate links, which means we may receive a commission if you purchase through our links. Please
read our full disclosure here
.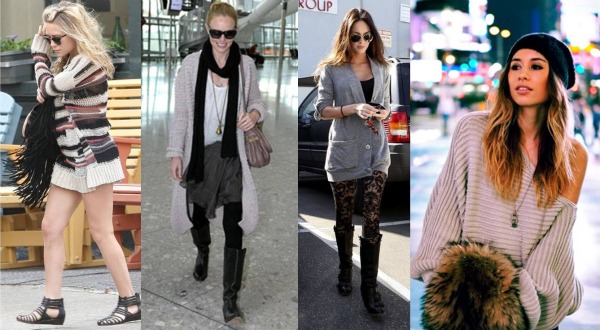 Mary Kate Olsen, Kate Bosworth, Megan Fox, and Rumi Neely of FashionToast
November is upon us, and the chilly climate has come full-force on colleges all across the nation. I'm bummed to say goodbye to shorts, gladiator sandals, and frozen yogurt, but more than thrilled to say hello to pumpkin spice lattes and cuddling up by the fireplace.
The downside to freezing weather is that it makes it harder to choose a stylish outfit to wear to class. I live in Oklahoma where winters aren't nearly as brutal as they are at many CF readers' schools, but I definitely understand how tempting it is to throw on a pair of sweatpants and Uggs and call it a day.
Over the next few weeks, the Fashion Challenge column will focus on styling cold-weather pieces to look more sartorial and less "snow-woman." We'll kick it off with a piece that everyone and their mom (literally) have collected several of over the years; a chunky knit sweater.
I know, I know — knit sweaters often evoke images of a) grandmas, b) goofy Christmas sweater parties, and c) horrible itchy things you were forced to wear as a child. Try to push these images aside though, because a chunky sweater can look very chic when styled in the correct way.
Ready to take on the challenge? Read on for tips for keeping your sweaters in top condition and ideas on how to style them!
Tips and Tricks
Don't hang up your knit sweaters! It will cause them to stretch out and lose their shape. Instead, fold them and stack them in drawers or in crates under your bed (if you're pressed for space like I am).
Check out thrift stores. You'll be sure to find some perfectly worn-in sweaters for dirt cheap prices. Watch out for fraying or anything too stretched out, and be sure to have the sweater cleaned before you wear it.
Don't put them in the washer and dryer! I've ruined SO many nice sweaters this way. Instead, get your sweaters dry cleaned once or twice a season, and use Febreeze and/or steam them in between wears.
Consider the texture. No matter how well-cut a sweater is, if it doesn't feel comfortable against your skin, you'll never wear it.
Check out your Mom's closet. Something that you once thought was ugly and old-fashioned could have major street-style appeal when paired with a chic pair of jeggings and riding boots.
Borrow a sweater from a boy. Your boyfriend, brother, or best guy friend's favorite cardigan or sweater is probably perfectly worn-in and will give you the slouchy, laid-back fit that's popular.
Throw in something trendy. A chunky sweater will look great paired with a pair of skinny cargo pants, combat boots, a floral tank top, or a lace skirt.
Outfit Inspiration
Outfit #1 – Casual for Day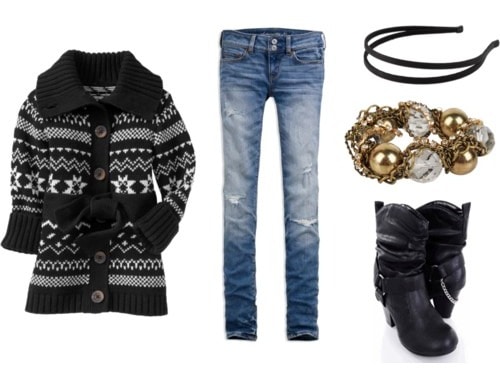 Sweater, Jeans, Boots, Headband, Bracelet
Most people have a thick, patterned, "Bill Cosby"-type sweater lurking in the back of their closets. To keep it looking cool instead of geeky, just choose the right accessories. Pair a thick sweater (try checking in your mom's closet if you don't have one of your own) with a pair of distressed skinny jeans, badass boots, a headband, and some statement-making jewelry.
Outfit #2 – Preppy & Comfy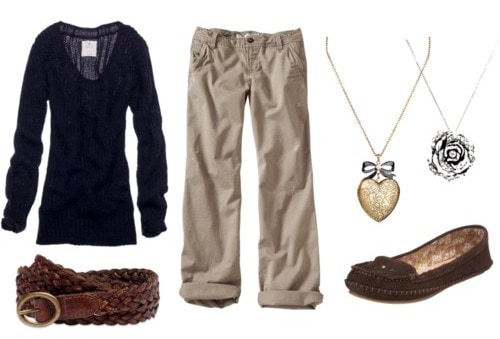 Sweater, Trousers, Shoes, Belt, Gold Necklace, Silver Necklace
This look is part preppy, part androgynous, and all kinds of comfortable! Find your favorite loose-fitting sweater (bonus points if it's from a guy's closet) and pair it with a tailored pair of loose khaki paints. Add a masculine-looking belt and a pair of loafers to continue with the "boyfriend" look. Finish with some girly jewelry, like the necklaces pictured above.
Outfit #3 – Step Up the Style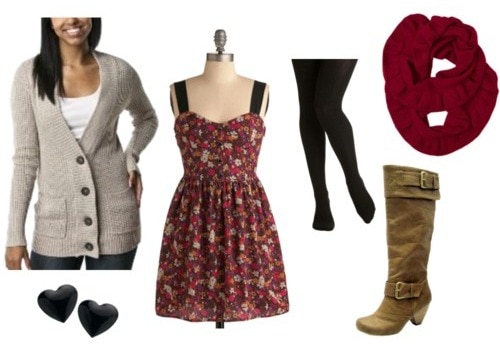 Cardigan, Dress, Tights, Boots, Scarf, Earrings
Another great way to style a chunky sweater is by pairing it with a skirt or dress. Grab your favorite cable-knit cardigan and layer it over a floral frock. This is a great way to prolong the use of one of your favorite sundresses – just be sure the coloring is right for this time of the year. Next, pull on a pair of tights and add a pair of high heeled boots. Finish with a pretty circle scarf and simple jewelry.
Rocked the Challenge? Send Us Your Pictures!
Did you take a lumpy sweater and turn it into a fashion statement? Send us photos at fashionchallenge AT collegefashion.net and include your name, school, a description of what you're wearing, and the URL of your blog (if you have one). We'll post your pictures here (see pastexamples) for other CF readers to gain inspiration from.
Can't wait to see your submissions!
What Do You Think?
Can chunky sweaters be turned into a fashion statement, or should they be left for little kids and older ladies? Are you a fan of sweaters, or are you more of a jacket kind of gal? What challenges would you like to see in the near future? Leave a comment and share your thoughts!