This post may contain affiliate links, which means we may receive a commission if you purchase through our links. Please
read our full disclosure here
.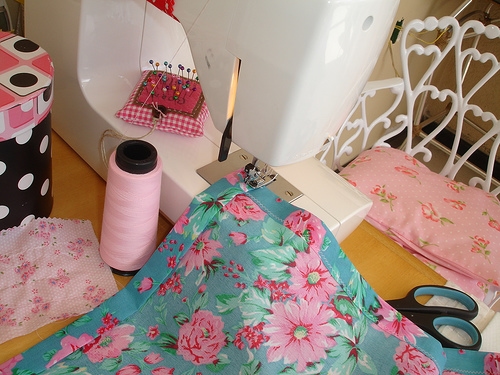 Summer is here, and hopefully after a busy semester you finally have some time to yourself. I for one have been enjoying catching up on Netflix, laying out by the pool, and reading stacks of magazines. But if your extra free time has you itching for a project, then this week's Fashion Challenge is perfect for you!
This week, we challenge you to get started on a DIY project. After all, crafts (at least where I go to school) are just as much a part of college as all-night study sessions and football games. Plus, making your own piece ensures that you're the only one who will have it, and you can make it look however you want!
Excited to take the challenge but don't know where to begin? Read on for some tips and project ideas!
Tips and Tricks for Starting a DIY Project
This is obvious, but start small. If you've never sewn before, a complicated project that requires a lot of maneuvering probably won't turn out well.
Don't worry about being perfect. Unintentional mistakes can add character!
Jewelry is a great place to start. Check out our tutorials on making a stone and wire necklace, customized earrings, a ribbon necklace, and a multi chain necklace.
Shoes are easy to update as well. When I was in middle school, I used to love tying fabric to my flip flops. While fabric-covered flip flops would look a little juvenile out in public, how cute would they be if you made them in your school colors and wore them as house shoes? Along those same lines, check out our tutorial on how to customize your Toms.
Give dye a try. A boring t-shirt or sweater can look awesome if you dye or even tie-dye it. Just be sure to wear latex or vinyl gloves to avoid a freaky-streaky look on your hands.
Revamp a jacket. Try sewing on new buttons, adding patches, pinning a brooch to the lapel, or shortening the sleeves. Or check out our article on 2 ways to reinvent a blazer.
Play with a pair of pants. Unravel the hem, sew on some patches, or cut them into shorts. We even have a tutorial on how to turn dress pants into shorts.
Make a scarf. If you have some time on your hands, now would be a great time to learn how to knit or crochet (honestly, there's nothing like curling up on the couch with a great movie and a simple project to knit). If that's not your style, we have a tutorial on how to make a scarf out of a t-shirt.
Stack of old t-shirts lying around? A few of my friends turned their old club and activity t-shirts from high school into a quilt! I love this idea and have been meaning to give it a go myself. But if you try this, just be sure you know how to work a sewing machine to ensure you don't butcher your tees unnecessarily.
Have a shapeless dress? An easy way to update a boring dress is to sew on a ribbon belt — with minimal effort, you'll get an entirely new look!
Need more ideas? Check out our list of our favorite DIY projects to cure your boredom, or visit some DIY-themed websites: P.S. – I Made This and ThreadBanger are two of our faves.
Took the challenge? Know of a great DIY project? Share it with us!
Hopefully we've given you a few ideas to get your creative juices flowing, but now it's your turn to inspire us! We want to see your DIY creations, so we can feature them here for other CF readers!
Just shoot an email to fashionchallenge AT collegefashion.net with your name, school, URL of your blog if you have one, and some photos and a description of a DIY project you took on. We'd love to hear your story and drive a little extra traffic to your blog at the same time 🙂
What do you think?
Do you try DIY projects very often? Have any easy projects to share with us? Leave a comment and let us know!