This post may contain affiliate links, which means we may receive a commission if you purchase through our links. Please
read our full disclosure here
.
Photo Credits: 1 – Marni Spring 2010 RTW, 2 – Tavi via Style Rookie, 3 – Liz S. via Lookbook
Two weeks ago we challenged you to try summer boots, and now this week, we're challenging you to rock summer socks! Of course, most people trade out socks for bare feet in the summer, but why not be a trendsetter and get a jump start on one of fall's hottest trends right now?
Still need to be convinced to pull a pair of socks out of your top drawer this summer? Think about these facts: socks are super cheap, surprisingly versatile, can add color and interest to any outfit, and umm….Tavi's wearing them.
Tips and Tricks for Rocking Summer Socks
Socks and sandals. Ah, the age-old fashion controversy: is it ever okay to wear socks with sandals? Personally, I think it looks great if worn correctly (e.g. NOT Adidas slip-ons worn with white crew socks). Try pairing a ladylike heeled sandal with neutral-colored socks. Or, if you're feeling brave, opt for flat sandals like Chloe's festival-friendly look below:
Thigh-highs. These will be big for fall, but you can get the look now by opting for a lightweight pair, like the ones Liz wears in Picture 3, or some sheer black ones like Rumi's, below:
Experiment. Try socks with other styles of shoes as well. Alexa Chung does a classic English look with ankle socks and flats here. Also try boots (short and mid-height), or ultra-trendy ankle socks and heels.
Get The Look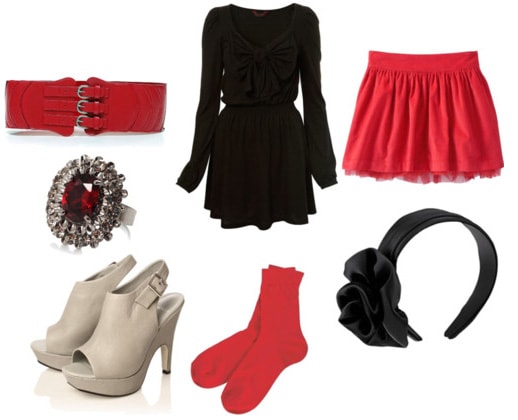 Product Information: Pink ankle socks – Topshop, Blue button-down – Ron Herman, Faux pearls – Forever 21, Cross-body bag – Aldo, Polka-dot skirt – Delia's, Flats – Piperlime
Here, I imitated Alexa Chung's school girl look from the link above. Classics (shirt, bag, flats, pearls) are updated with a fun polka-dot skirt and ruffle-hemmed ankle socks. Think this look isn't your style? Don't shy away from summer socks just because you are more rock and roll than ladylike prep. Taylor Momsen rocks sheer knee-highs with total tough-girl edge. No matter what your style, you can work a pair of socks–you just have to experiment a little.
Extra Credit Reading Assignment
Want some more info on this hot fashion trend? Check out these links for all the sock-related reading you can handle:
CF Reader Looks:
Here are some looks sent in by CF readers who took the Summer Socks Challenge! If you want to see your own look here, read our instructions for sending in your looks at the bottom of this post!
Hayley- Baylor University
"To make my summer socks look great for the hot weather I paired them with some jean shorts, a white collared blouse, and some Charles David platform wedges. The look is pretty fun and I think it works great in the summer! When it gets a bit cooler at night the blazer goes nicely, too!"
To see more of Hayley's style, check out her blog, Hayley Golightly Style!
So, will you take the Fashion Challenge?
How do you feel about socks in the summer? What is your take on the socks/sandals controversy? Will you try to beat the crowd and sport socks this summer, or just hold off until fall?
Already work this trend? Send us pictures of you in your summer socks and we'll feature them here!* As always, we are open to suggestions for future fashion challenges and we'd love to hear from you!
* Send your outfit pictures to fashionchallenge AT collegefashion DOT net! – be sure to include your name and where you go to school, as well as a description of what you're wearing in the photo! (See examples here and here!)