This post may contain affiliate links, which means we may receive a commission if you purchase through our links. Please
read our full disclosure here
.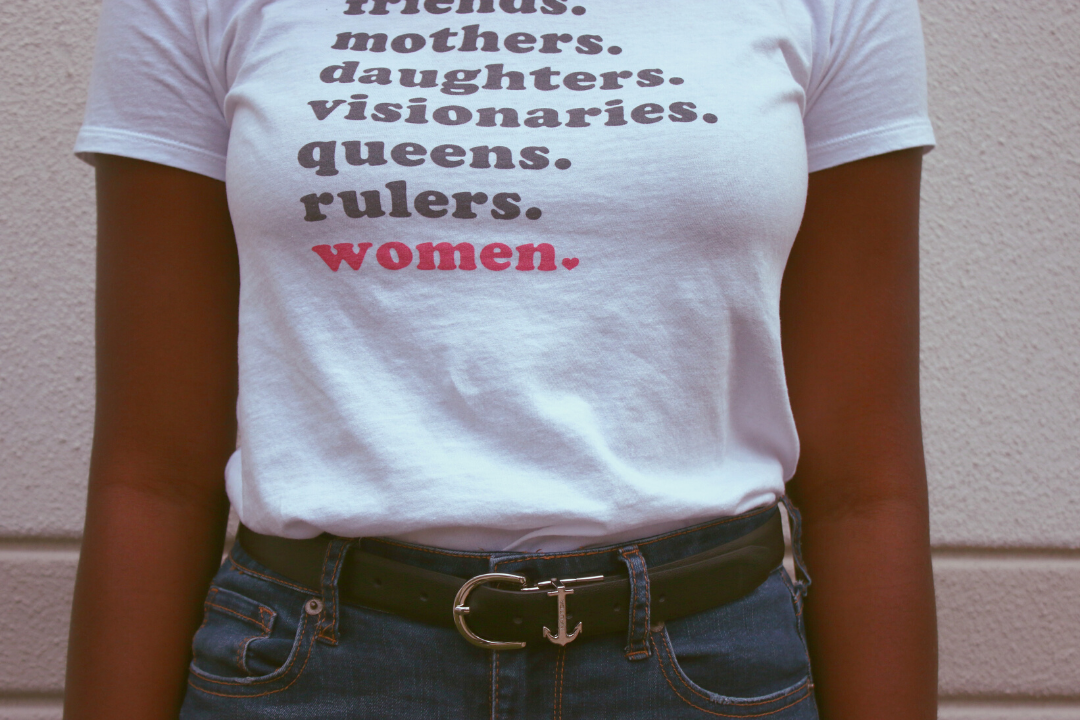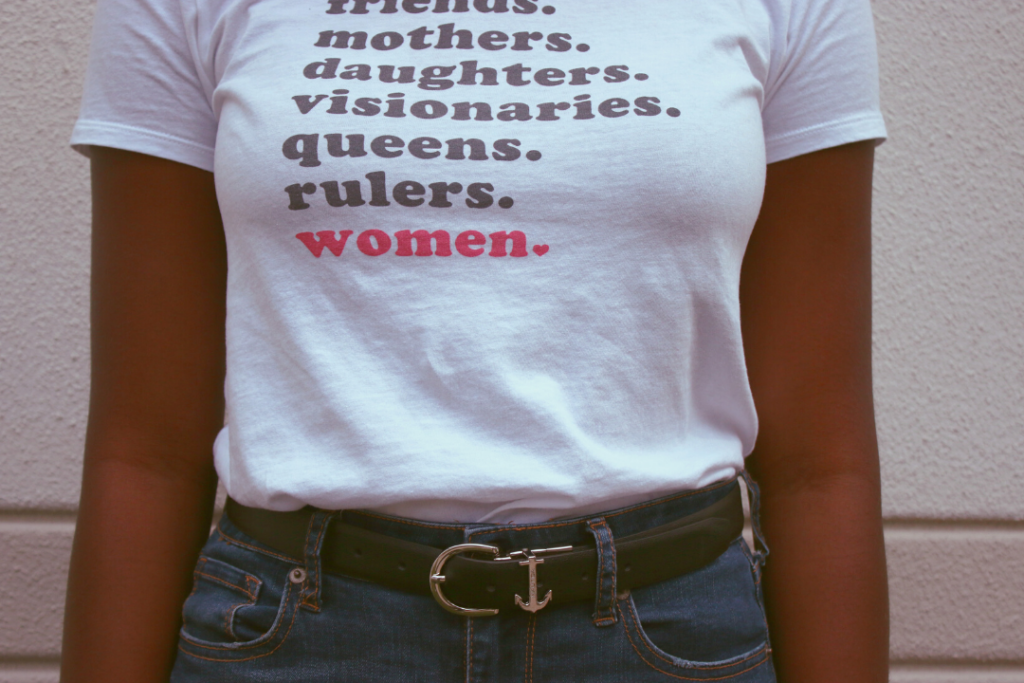 You will never encounter a college campus that's short on t-shirts. From giveaway shirts, to free student organization tees, to t-shirts adorned with your college's logo, these babies are sure to be appear on the backs of a few (or a few dozen) of your friends on a regular basis.
Many girls throw up a fashion white flag on their t-shirt days, whether they're rocking their graphic tee by choice, or are required to wear a specific shirt for a sorority event, volunteer work, club function, or a job. It's always funny to me how people think you can't make a graphic tee look stylish – there are tons of ways to make a statement in a t-shirt, and this week's challenge is to seek out these options so you'll never feel sartorially stifled again!
Ready to rock this challenge? Read on for some tips then try it out yourself!
Tips & Tricks for Adding Style to a T-Shirt
Add some outerwear. If you're having a lazy day, throw on a denim or tuxedo vest to add some style to your tee. If you're required to wear the shirt you're rocking, people in charge may not appreciate you covering up the shirt's logo, so opt for a cardigan instead.
Layer on jewelry. A stack of bracelets, funky earrings, or a few different rings will add interest and a bit of edge to your outfit.
Pair it with a skirt. A full-on maxi skirt like Carrie wore with her graphic tee in SATC 2 (pictured above) is probably a bit extreme for most of us, but a t-shirt can look great tucked into a high-waisted or bandage skirt.
Accessorize! A hat, scarf, pair of sunglasses, or statement belt can easily spruce up an outfit.
Spice it up with shoes. If you have to wear a strict uniform (for a job, a club's yearbook photo, etc.) add interest with unexpected shoes! The plainest jeans-and-t-shirt combo can look chic when paired with boots, funky gladiators, or brightly colored sneakers.
Three T-Shirt Outfits for Inspiration
Outfit 1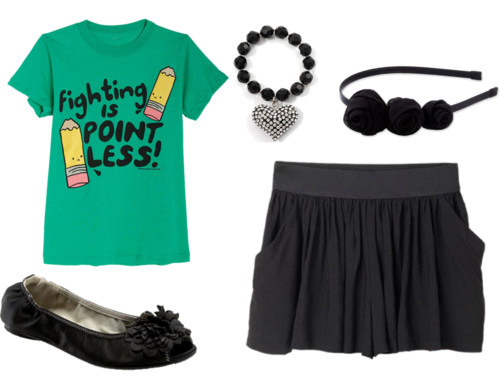 Shirt, Skirt, Bracelet, Headband, Flats
If your campus is like mine, you'll know that students have gone crazy for American Apparel tees. I love them because of their flattering fit, and every student organization loves to print their logo on them. Every now and then, though, I'll get a shirt from a club who ordered from a generic or old fashioned brand, leaving me with a short, boxy tee. Not the most flattering cut!
If you find yourself in this situation, try tucking your shirt into a skirt. A high-waisted skirt with a thick elastic waistband will give your body a nice hourglass shape, while looking fashion-forward. Pair your look with girly flats, a sweet headband, and matching jewelry for a feminine ensemble perfect for class.
Outfit 2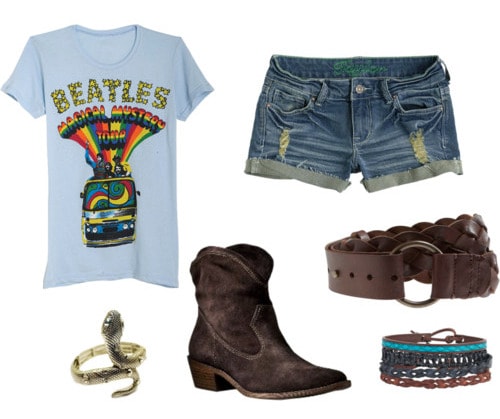 Shirt, Shorts, Boots, Belt, Snake Bracelet, Braided Bracelet
I go to the University of Oklahoma, and as cliche as it sounds, cowboy boots are somewhat of a footwear staple here. It's really popular for boys (especially guys in fraternities) to wear them underneath their jeans with a button-down shirt or polo! Although I'm from Tulsa, I never encountered this until I came to college here! Every girl here owns a pair of cowboy boots, but the level of "western" inspiration varies according to one's style. They're especially popular to wear to tailgates, or during concerts worn with a dress.
Even if your campus isn't cowboy-crazy like mine, a pair of cowboy boots is an unexpected way to add interest to a basic outfit. This look is probably a little too "Daisy Duke" for many, but swapping out the cowboy boots for a funky pair of clogs or another pair of summer boots would also work. Finish with some chic jewelry.
Outfit 3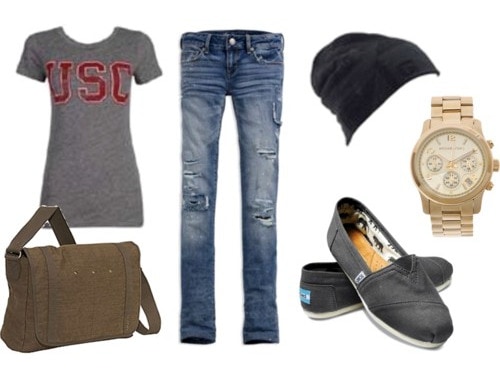 Shirt, Jeans, Shoes, Watch, Beanie, Bag
This look is laid-back and a bit grungy, which is right on trend for the chilly fall days we're about to encounter. Pair a t-shirt with some beat up skinny jeans and comfy shoes. A slouchy beanie is perfect for covering up unwashed hair, and will keep you looking put-together on a windy day.
A few months ago, I bought a Michael Kors watch as a gift to myself using the money I earned as an intern. It has quickly become one of my favorite investment pieces. I wear it with almost everything–the chic menswear aesthetic of the watch adds interest to any outfit. This sort of piece is exactly what you need to make a laid back outfit like this look intentional, not like you just rolled out of bed.
Took the Challenge? Send Us Your Pictures!
Did you take a t-shirt and turn it into a fashion statement? Send us photos at fashionchallenge AT collegefashion.net along with your name, school, and a description of what you had to wear the shirt for and how you made it stylish. We'll post the picture here to inspire others! We'll also link up your blog if you have one. 🙂
Can't wait to see what you girls come up with!
What Do You Think?
Do you have to wear t-shirt for different activities on campus? How do you dress it up to make a fashion statement? How often do you rock t-shirts on campus? Do you hate when you're told what to wear, or does it not bother you? Does anyone on your campus wear cowboy boots? Sound off with a comment!