This post may contain affiliate links, which means we may receive a commission if you purchase through our links. Please
read our full disclosure here
.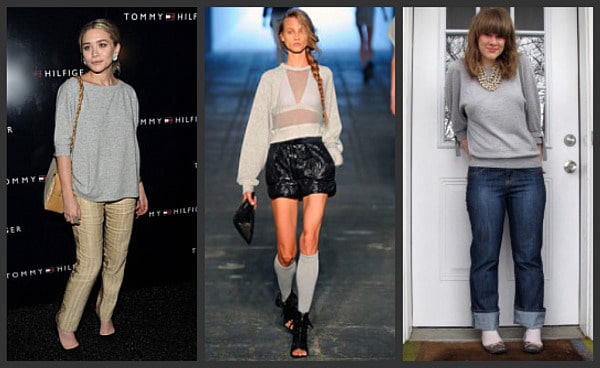 Photo Credits: Ashley Olsen- 1, Alexander Wang model- 2, Kyla's street style look- 3
Sweatshirts, at their most basic, aren't really challenging to wear- but they ARE challenging to style in a fashion-friendly way. With everyone and their cousin wearing their VS Pink sweatshirts around campus, it's hard to stand out from the crowd when rocking a sweatshirt.
That said, it's not impossible to make a sweatshirt more stylish. A few simple updates can help you get the sporty look just right. Are you up to the Fashion Challenge?
Tips and Tricks for Wearing Sweatshirts Fashionably:
Make a commitment. Go either completely sporty-casual like Kyla in picture 3 above, or dress up your sweats with girly extras like Ashley Olsen's feminine-chic neutrals or this tiered skirt: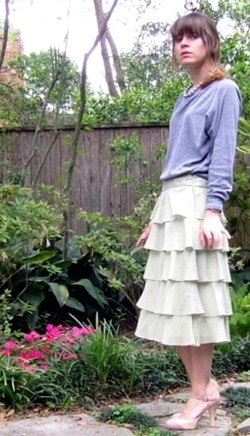 Show off your style. This is a perfect opportunity to express your personal style. You can rock anything from a printed sweatshirt to a basic grey pullover. Throw it over jeans, leggings, or even layer it with a dress.
Keep the weather in mind. Sweatshirts are, well, warm. With spring weather right around the corner (and already here for some of you), they might be a bit too warm for spring. Pair your sweatshirt with shorts and sandals for a sun-friendly look.
Get The Look
Product Information: Sweatshirt: Urban Outfitters, Shorts – Topshop, Necklace – Forever 21, Bag – Forever 21, Shoes – Old Navy
Balance out the heavy texture of a striped sweatshirt with a pair of silky shorts and metallic accessories. Add a neutral bag (a great way to work in another spring trend) and the outfit looks polished. You could switch out the flat sandals for heels and a more elaborate necklace for a night-friendly look as well.
More Sweatshirt Fashion Tips
For even more on rocking hooded and zip-up sweatshirts with style, see our article 3 Stylish Ways to Wear Your Hoodies and Zip-Ups. It should help give you even more inspiration!
So, will you take the fashion challenge?
Do you love the look of this casual basic, or do you shy away from sweatshirts? What is your favorite way to make a sweatshirt fashion-friendly? Already work this trend? Send us pictures of you in your favorite sweatshirt look and we'll feature them here! And, as always, we are open to suggestions for future challenges in the comments! We'd love to hear from you!