This post may contain affiliate links, which means we may receive a commission if you purchase through our links. Please
read our full disclosure here
.
Hi I'm Chelsea, and I'll be writing the Fashion Challenge articles for the next few months! Audrey certainly left big shoes for me to fill, but I'm excited to continue a column that's so popular!
Rather than featuring a new trend, the next few fashion challenges will focus on a clothing combinations that you probably already have in your closet. I hope that the upcoming fashion challenges will help you look at your wardrobe with fresh eyes and expand your creativity when it comes to putting outfits together. As always, feel free to leave feedback and suggestions by posting a comment!
Love the breezy femininity of a skirt but not in the mood to wear heels? Sneakers are a great, comfortable option for those days when heels are too dressy. Celebrities have been rocking this look for a while now; if you haven't already tested the waters, this week is the perfect week to start! I hope you're ready to take the Fashion Challenge!
Tips and Tricks
Wearing actual running shoes might not give you the look you desire. Stick to pairing Converse, Vans, Keds, Pumas, slip-on Sketchers or retro styled sneakers with your dresses and skirts.
Go crazy with colors! The brighter and more unexpected, the better. Have fun with laces, too!
Don't be afraid to try high-tops. They'll give any outfit at nice retro feel.
Although I think this look works best as a part of a casual outfit, Kristen Stewart and Lil Mama pull it off beautifully on the red carpet in the pictures above!
This look is meant to break rules and is a great example of anti-fashion fashion. So do what you think looks cool, and rock this challenge with confidence!!
Get the Look
Outfit 1: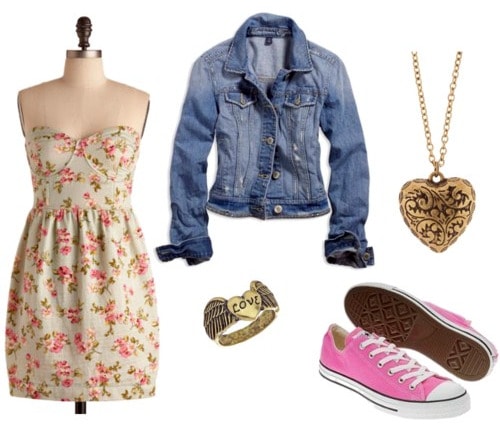 Outfit: Dress, Jacket, Necklace, Ring, Shoes
The outfit is girly and sweet, but the Chuck Taylors give it a surprising kick! Converse sneakers are classic shoes that look great with almost anything, so they're an easy way to work this challenge. Wear a pink pair with a floral dress and denim jacket, and top off the look with a gold locket and ring.
Outfit 2: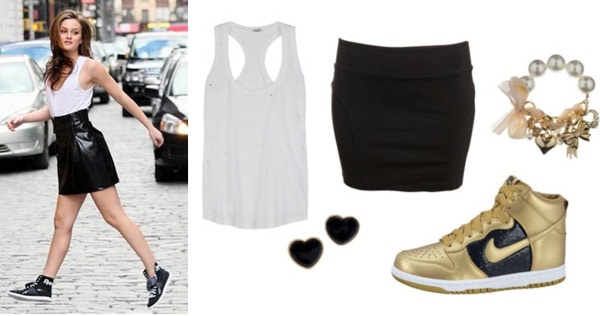 Outfit: Tank, Skirt, Earrings, Bracelet, Sneakers
This spin on Leighton Meester's outfit is a little more daring that the first sample outfit. Tuck a slouchy white tank top into a form-fitting black skirt, and throw on some cute black heart earrings and a charm bracelet. Pairing this outfit with some retro Nike sneakers gives it an unexpected twist bound to catch the attention of fashionistas everywhere!
What do you think?
Are you going to try this fashion challenge? Have you been rocking this look for a while now? What kind of sneakers do you think looks the best with a skirt or a dress? I can't wait to hear all of your thoughts!!
Already work this trend? Send us pictures of you in your skirts and sneakers and we'll feature them here!*
* Send your outfit pictures to fashionchallenge AT collegefashion DOT net! – be sure to include your name and where you go to school, as well as a description of what you're wearing in the photo! (See examples here and here!)