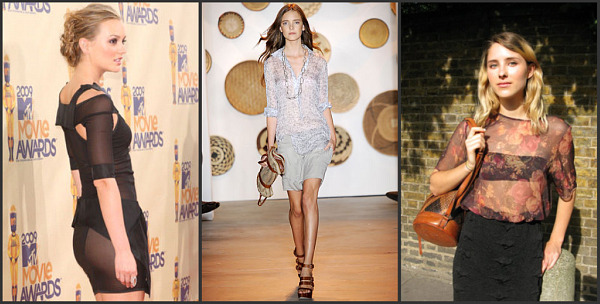 Photo Credits: 1 – Leighton Meester, 2 – ADAM Spring RTW 2010, 3 – via Refinery 29
What better way to stay cool this summer than by skipping heavy fabrics and going for something light and sheer? The sheer fashion trend was a big hit on the spring runways, and you have to admit the trend definitely looks summery.
As with any trend that involves showing skin, this look takes courage (and confidence!) to pull off. So, if you've got what it takes to bare it all, check out this week's Fashion Challenge:
Tips and Tricks for Rocking the Sheer Look
Layer. If you aren't one-hundred percent comfortable wearing a see-through shirt, try a sheer button-down (like the one in Picture 2) over a slinky tank. You don't have to show too much skin to get the effect: even a sliver of arm can be sexy.
On a similar note, try a bandeau top. If you are comfortable with something a little more revealing but still want to keep things in the G to PG-13 range, layer a sheer blouse over a bandeau bra top (see Picture 3 above). Try here or here for some simple and cheap styles in a range of colors.
Balance is key. Because you are showing a large amount of skin on top, stick to more conservative bottoms. A pencil skirt, shorts with a masculine edge, or simple jeans would all look amazing.
Nothing says sexy like skin. A sheer look is the perfect match for a fun night out. When you're looking for something a little bit over-the-top, sheer is the way to go. Pair it with something sparkly, and your looks will say "I just wanna have fun".
Get The Look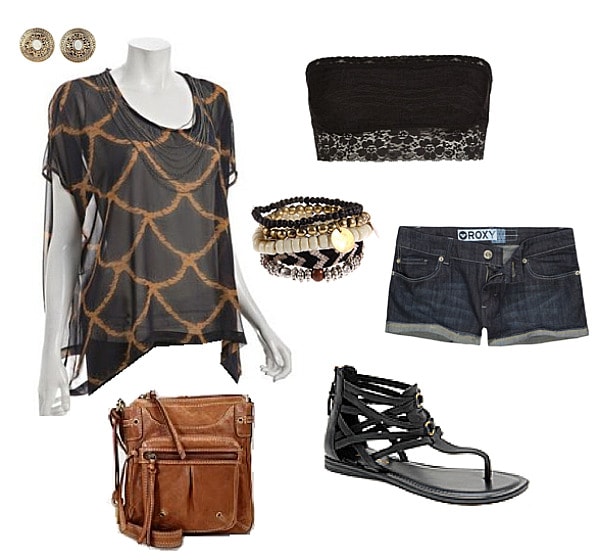 Product Information: Sheer Blouse – Bluefly, Gold post earrings – Urban Outfitters, Lace bandeau – Tilly's, Friendship bracelet set – ASOS, Denim shorts – Tilly's, Gladiators – Aldo, Cross-body bag – Fossil
For this outfit, I chose to layer a sleek, fish scale-print sheer blouse over a lacy, feminine bandeau bra top. Layered friendship bracelets, gold posts, and a rugged cross-body bag give this look a tribal feel. Simple denim shorts and black gladiators keep the look grounded and warm-weather friendly. I think this blouse would be a great cover up for a tribal or boho swimsuit as well (try this one, recommended by Rachel Zoe).
CF Reader Looks:
Here are some looks sent in by CF readers who took the Sheer Challenge! If you want to see your own look here, read our instructions for sending in your looks at the bottom of this post!
Hannah – Needham High School (class of 2011)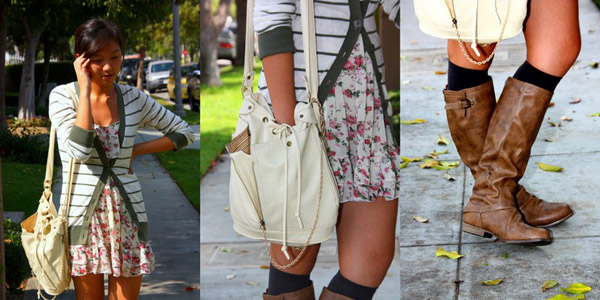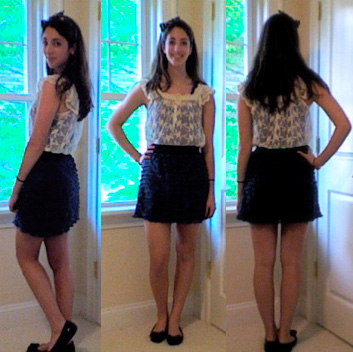 I layered this lace blouse over a purple tank and tucked it into a ruffled skirt. Black and white accessories polished off my look. I loved this outfit because it incorporated the sheer trend without looking too sexy or over-the-top!
To see more of Hannah's fierce style, check out her blog, Mademoiselle!
So, will you take the Fashion Challenge?
How do you feel about sheer clothing? Are you brave enough to go for the bandeau look, or would you stick to a more conservative layered look? How about Leighton's strategically sheer red carpet dress in Picture 1: Do you think someone could pull that off in "real life"? Already work this trend? Send us pictures of you in your sheer look and we'll feature them here!* As always, we are open to suggestions for future fashion challenges and we'd love to hear from you!
* Send your outfit pictures to fashionchallenge AT collegefashion DOT net! – be sure to include your name and where you go to school, as well as a description of what you're wearing in the photo!