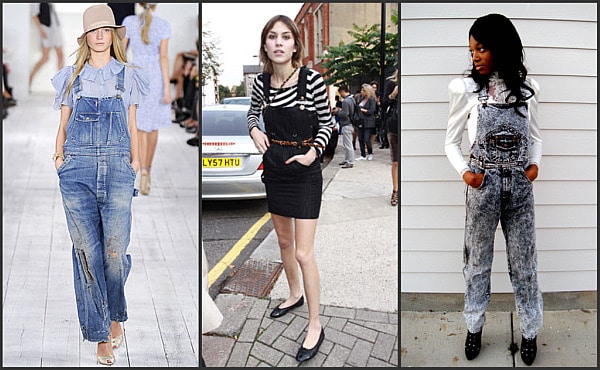 Overalls have always been on my "don't" list, especially since I'm from a small farming town where everyone wears overalls, and not in a trendy way. However, this farming basic might be edging it's way onto my "do" list, with a little nudging thanks to Ralph Lauren and Ms. Alexa Chung (photos above). Like it or not, overalls are definitely on the spring trend radar – and although they're challenging, they're more wearable than you think.
Keep in mind that the point of this series is to show fun ways to style more difficult-to-wear trends. A micro-trend by definition is a short-term development in fashion, so every trend might not appeal to everyone! The goal is to get you to be bold and try these out-there runway trends in real life. Don't like the trend I chose but have one that you're dying to see styled? Let me know in the comments!
Tips and Tricks
Moderation is key. Don't pair your overalls with anything even remotely western inspired–you don't want to look like you're wearing a costume. Skip plaids, agriculture-y boots, and cowboy anything. As with any trend, going overboard can look tacky.
Step it up a notch – literally. If you choose a pair of overalls with full legs, like the look in Picture 1, opt for heels instead of flats on the bottom. A high heel makes the look intentional and feminine.
Ladies first. Overalls look masculine, so balance that out with something ultra-girly, like Tomeka's lace shirt in Picture 3, or this tie-neck blouse and ladylike bag: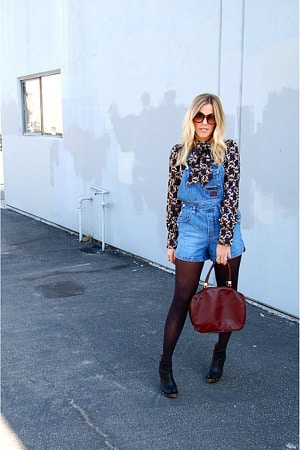 Try something new. Don't be afraid to mix it up. Wear one strap unhooked, like the J. Crew model below, try folding the whole bib down, or throw on a blazer. Nothing is off limits, so be creative!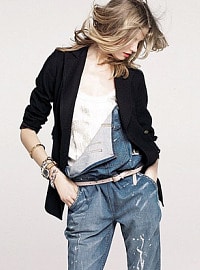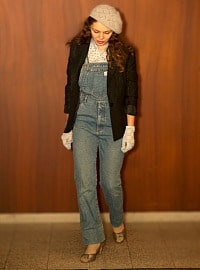 Find the right fit. Overalls aren't flattering for every body type, so you might need to try different styles before you find a good fit. Although I'm a little iffy on this trend in general, if I were going to try it, I would go for a belted jumper: because of the stiff nature of denim, the skirt is a nice, flattering A-line. If you have amazing legs, show them off in a cut-off pair!
Get the Look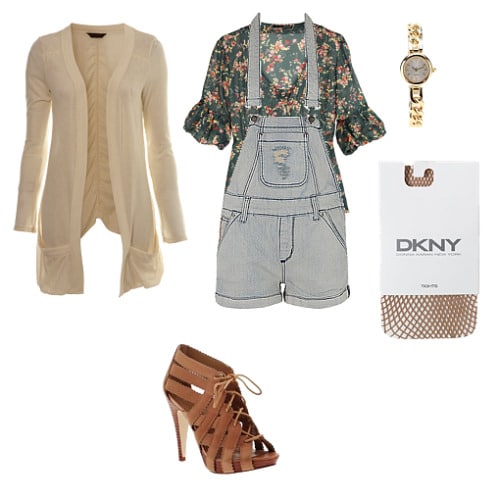 Product Information: Overalls – Forever 21, Floral shirt – The Outnet, Cardigan – Miss Selfridge, Platform sandals – Piperlime, Nude fishnets – Nordstrom, Watch – Urban Outfitters
Add girly flair to light-wash overalls with a floral blouse. Sticking to neutral add-ons gives this outfit a light look, perfect for spring. Pairing denim with nude fishnets gives this outfit texture. Not keen on the heels? Substitute these flat booties for something a little less risque.
Extra-Credit Reading Assignment
Still can't believe that overalls are "in" for spring (me either!)? Add these to your reading list:
So, what do you think?
Are you up for the fashion challenge? How would you style a pair of overalls? If you try this look out, take some photos and post links to them in the comments section! We may feature our favorite looks here. Would love to see how you guys tackle this challenge.
Also, if you have another item you'd like to see as a Fashion Challenge, let me know it the comments – I'd love to hear from you!