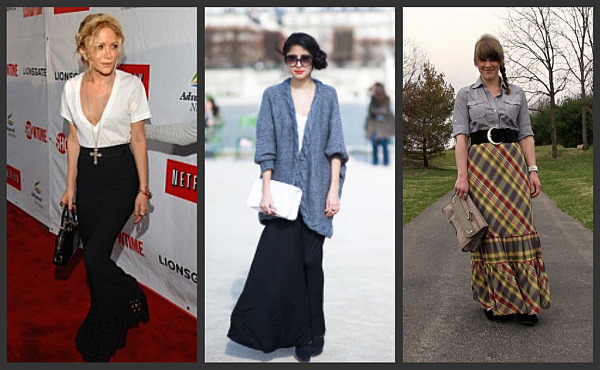 Photo Credits: 1 – Mary Kate Olsen, 2 – Denni via Vanessa Jackman, 3 – Kyla via Blue Collar Catwalk
When I think maxi skirt, my thoughts automatically fly to peasant skirts: You know, those boho bottoms that the Olsen twins popularized during their early days at NYU? While they certainly had their run, I'm happy to tell you this post isn't about peasant skirts. It is however, about their sleek lookalike: the maxi skirt. Its long and shapely silhouette, versatility, and minimalist vibe make the maxi skirt the perfect Fashion Challenge for you to try!
Maxi skirts are great because they are more versatile than a maxi dress: You can pair them with almost any shirt, blouse, or cami in your closet, plus they are perfect for layering. As a bonus, maxi skirts work for both summer and fall: designers like Richard Chai and Peter Som utilized the long skirt in their fall collections. But just a little warning: this look takes courage — it's not a trend for the fashionably faint at heart! Do you think you can handle this Fashion Challenge?
Tips and Tricks for Rocking the Maxi Skirt
Balance is key. Because your entire bottom half is covered, don't be afraid to show a little skin on top. Mary-Kate pairs her maxi skirt with a deep v-neck in picture one (talk about a great opportunity to sport your favorite American Apparel tee). If you are too curvy for such a low cut top, try a simple button-up with a little skin showing at the neck, as Kyla does above.
Take advantage of this figure-friendly piece. If you are self conscious about your legs, this trend was made for you! It completely hides thicker legs, making them look sleek, while also allowing you to showcase other features you like best about your body. This skirt also adds length to your bottom half, especially if you choose a high-waisted version, so all the petite ladies out there should take advantage of this as well (be sure to get a slim skirt – too much volume will overpower your fame). Just look at how long MK's legs look above!
Find the right length. Ideally, the skirt should just brush the tops of your shoes, so shop for the length appropriate for the shoes you plan on wearing that day.
Avoid the peasant skirt look. Steer clear of a bohemian vibe by looking for skirts with a minimalist design. The easiest way to work this look would be with basic neutrals. That doesn't mean that you can't pull off a pattern; just stick to modern graphics, like Kyla's bright plaid above, or Elisa's stripes seen below: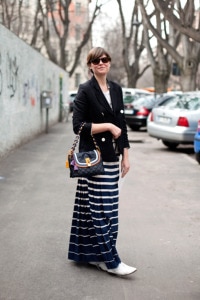 Photo Credit – Elisa Nalin via All the Pretty Birds
Get The Look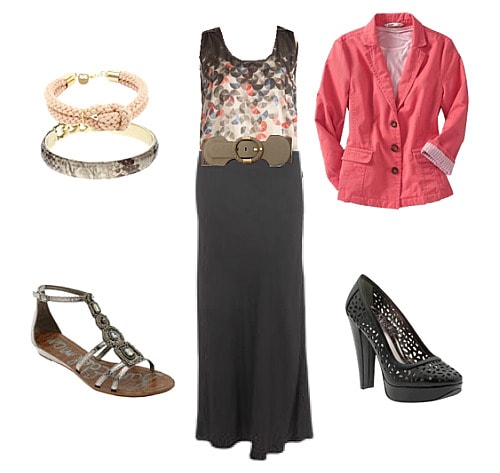 Product Information: Maxi skirt – Dorothy Perkins, Printed top – ModCloth, Belt – Urban Outfitters, Blazer – Old Navy, Heels – Piperlime, Knot bracelet – ASOS, Snake print bangle – ASOS, Embellished sandals – Nordstrom
This look is a great example of the transitional quality of a maxi skirt. For warmer weather, tuck in a printed blouse and belt at the waist. Slip on some fun bangles and embellished sandals for an easy-going look. (I think this would look especially cute with a loose side braid.) When fall rolls around, throw on a coral blazer for warmth and color and stick with a closed-toe heel the same color as the skirt to keep the leg-line long and lean. It's especially nice when a trend will last you more than one season, so take this opportunity and run with it!
Extra Credit Reading
Can't get enough of the maxi skirt? Check out these sources for more styling advice, photo inspiration, and plenty of ideas:
FabSugar TV did a great review of the maxi skirt on the fall runways.
Check out another blogger's (a Glamour fashion blogger, to be exact) take on the trend here.
More of a picture person? Check out Lookbook.nu's database of looks featuring maxi skirts to get your creative juices flowing.
https://www.collegefashion.net/wp-admin/post.php?action=edit&post=20946
CF Reader Outfits
We asked you to take the challenge, and here are some maxi skirt outfits sent in by fellow CF readers. Want to see yourself on this post? Just email a photo of your Fashion Challenge look to zephyr AT collegefashion DOT net!
Talisha
We love how the gorgeous Talisha (pictured below) rocked her patterned maxi skirt with a waist-cinching belt and simple black top and minimal accessories. According to Talisha:
"I rocked this amazing black and white print maxi skirt (it was a dress but i just pulled it down (: ) from H&M last year. Even though I'm only 5'5" I always get a lot of compliments on it. (One girl even bought the same dress,but couldn't quite carry it off like me.) It's all about confidence!"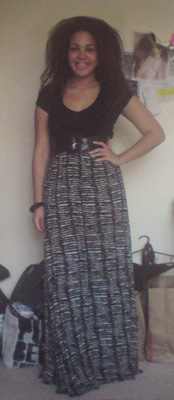 Click image to enlarge!
So, will you take the Fashion Challenge?
Are you bold enough to pull off this look on campus? Do you think a maxi skirt works better for day or night? What shoes would you pair with a long skirt? Already work this trend? Send us pictures of you in your maxi skirt and we'll feature them here! As always, we are open to suggestions for future fashion challenges and we'd love to hear from you!