This post may contain affiliate links, which means we may receive a commission if you purchase through our links. Please
read our full disclosure here
.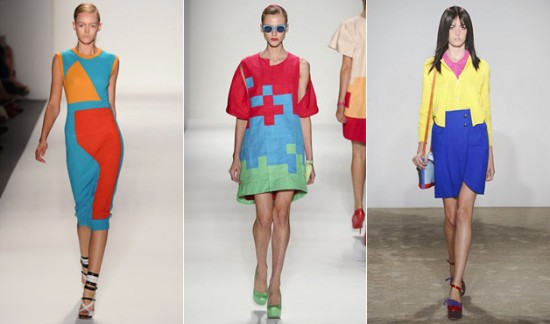 Photo courtesy of ELLE.
Since we're all pretty fashion-savvy here at CF, most of you probably know the importance of buying investment pieces in neutral colors – beige, black, navy, white, gray, and brown. This is a wise idea because these colors go with everything, giving you the most bang for your buck. Not only can you pair neutral pieces with anything in your closet, but neutrals also look amazing when worn together.
However, in the name of springtime (which has officially sprung), this week's challenge is to go a week without wearing any neutral colors. This challenge will force you to take inventory of what is in your closet and creatively pair pieces together in new ways. For a girl like me who wears something black almost every day of the week, the challenge (which I recently tried myself) was pretty difficult… but not impossible.
To help you out, I've compiled a list of tips to aid you in giving up your favorite neutrals! Read on for tips and tricks on how to pull of this challenge!
Tips and Tricks for Going Neutral-Free for a Week
Build outfits around a single piece. A pair of olive green skinny cargo pants or a colorful dress make great pieces to build off of.
Don't be afraid to mix pastels and bold colors. Sometimes, the most unexpected color combinations can be the most interesting.
To avoid looking like a hot rainbow mess, look for muted tones when creating outfits – they're more likely to flatter each other.
Go easy on the accessories. Your colorful clothing will be enough of a statement.
This challenge is a good opportunity to revisit some pieces that you never wear, or don't know how to style. So think outside the box and try to create a few great outfits that you'll re-wear again and again.
Don't worry about shoes — if you want to be a challenge superstar, you can avoid shoes in neutral colors for the week, but the reality is, most of us don't own too many colorful pairs of shoes.
For more ideas, check out vintage Fashion Challenge articles on wearing a monochromatic and brightly colored outfits.
Outfit Inspiration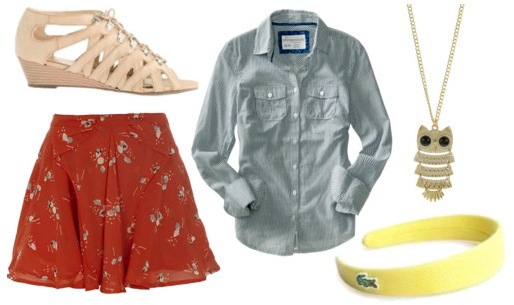 Skirt, Shirt, Shoes, Headband, Necklace
Welcome in spring weather with a floral print skirt and a simple light blue button-down dress shirt. Keep the outfit girly with a yellow headband (these Lacoste ones are crazy popular at my college), an owl pendant necklace, and a pair of gladiator sandals.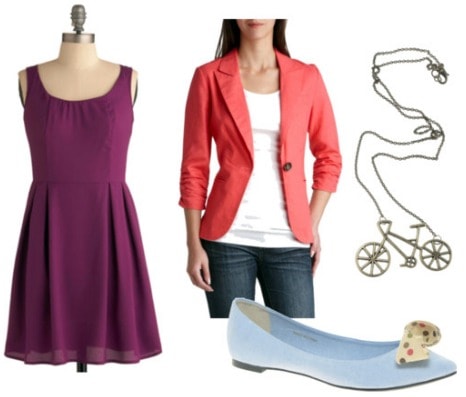 Dress, Blazer, Necklace, Flats
A simple purple dress can be spruced up with a bright coral colored blazer. A basic necklace and some simple flats will add interest to the outfit without overwhelming it with too much color. An outfit like this would work great for a casual meeting, daytime date, or even for class if you're feeling fancy!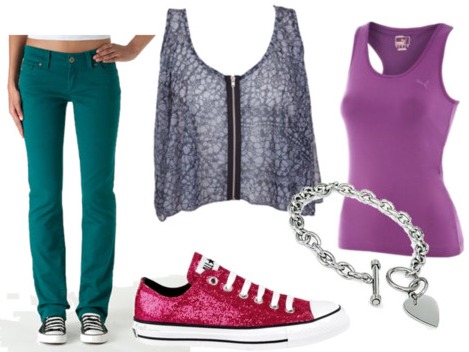 Pants, Cropped Top, Tank, Shoes, Bracelet
A funky outfit like this is perfect if you're in a wild mood! Colored skinny jeans might seem a bit out there, but I'm always surprised at how many tops work with them. Next, wear a cropped top, or layer a tank top underneath for a more conservative look. Finish with some funky kicks and a bracelet.
Rocked the Challenge? Send us Your Photos!
Did you go a week (or even a couple days) without wearing neutral colors? Take a snapshot of a few of your outfits and send them to fashionchallenge AT collegefashion.net along with your name, school, a description of what you're wearing, and the URL of your blog if you have one.
We'll feature your photos here to inspire other CF readers (and give your blog some hits)!
Thoughts?
Are most of your outfits made up of neutral colors? Is there a certain color that dominates your closet? Are you planning on taking the challenge? What ideas do you have for future fashion challenges? Let us know with a comment!