This post may contain affiliate links, which means we may receive a commission if you purchase through our links. Please
read our full disclosure here
.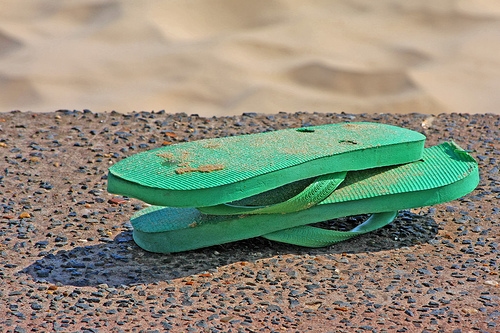 Leave your flip flops behind this week!
Close your eyes and picture this: it's a hot day, and you're by the pool in your favorite bathing suit, a chic cover-up, huge sunglasses, a floppy sun hat, and a cold drink in your hand. Now think – what is on your feet?
If you're like most people, you probably thought "flip flops, duh!" And that means this week's Fashion Challenge is for you!
While most of us probably have dozens of pairs of flip flops, this week's challenge is to up the style factor for a week by opting for some more stylish shoes to complete your warm weather outfits. I know, flip flops are just so easy — but we know you can do better than that! Swapping out your trusty flip flops for another pair of sandals, flats, or casual shoes can instantly transform a boring t-shirt-and-shorts combo into an interesting ensemble.
After you take the challenge, we want to find out about your experience with the challenge — so make sure to send in photos of the outfits you turned from frumpy to fabulous with a change of footwear. Read on for ideas on how to rock this challenge, then find out how to share your experience with us and get featured here!
Tips and Tricks for Avoiding Flip Flops
Thong sandals can be fancied up with an ankle strap. Look for designs with embellishments like jewels, braided leather, or flowers.
Even if you're running out of the house in a pair of Nike shorts and a t-shirt, your look will be so much more interesting if you swap out flip flops for a pair of casual sneakers or even high tops!
When I was in middle school, our principal actually banned flip flops — she justified it by saying that it helped avoid "foot injuries," but to this day I still think she was just tyrannical. We got around this odd rule by wearing sandals with toe straps instead.
Ballet flats can make a sloppy t-shirt and shorts look intentional as well. Also, they're just as easy to slide on as a pair of flops!
If you're going to the pool, consider wearing espadrilles or high-heeled sandals instead. Not only will you steal a little bit of Miami style, but the extra height will make your legs look miles long. Obviously, these won't work on the beach – but you can rock sandals or go barefoot there.
Casual shoes, like Sperrys, Keds, Vans, Toms, or Converse All-Stars make great alternatives to flip flops, too!
Cute Flip Flop Alternatives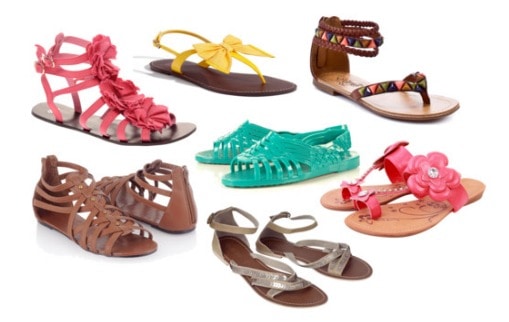 From the Left: 1, 2, 3, 4, 5, 6, 7
Rocked the Challenge? Tell Us About It!
Did you banish flip flops from your wardrobe this week? Send us an email at fashionchallenge AT collegefashion.net with your name, school, the URL or your blog if you have one, some frustrations you faced or lessons you learned while tackling this challenge, and some photos of your super chic outfits.
We'd love to hear your story and share it with other CF readers (we'll also make you famous and give your blog some free publicity)!
Thoughts?
How do you feel about flip flops? Do you see them as staples, or can you go without wearing them pretty easily? What's your favorite pair of throw-on shoes when you're in a rush? Leave a comment and let us know what you think!