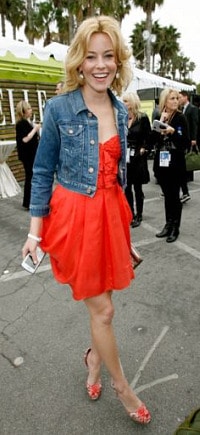 Photo Credits: 1 – Elizabeth Banks, 2 – J. Crew Lookbook, 3 – Kristani A. via Chictopia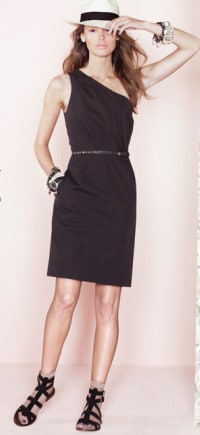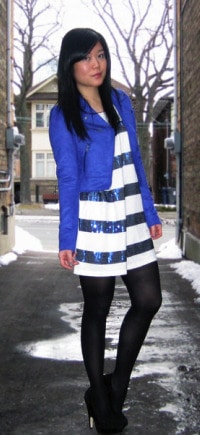 I received a request for a Fashion Challenge focusing on wearing a night-out dress for daytime and thought it would be a perfect topic for this week's article. I love the idea, not only because I personally love the look, but also because it's a great way to be stylish on a budget. We all have those special dresses we buy for specific events, and wearing them during the day instead of hiding them in the back of your closet will help your wardrobe do double-duty. After all, no one wants to be wasteful. Why hide all those pretty dresses away? They deserve to be worn!
The challenge to wearing a fancy dress for daytime is keeping the look tasteful – you don't want to look like you're making the walk of shame back to your dorm room after a long night out. Hopefully, the photos and tips below will inspire you to rock this look your own way. Are you up to the Fashion Challenge?
Tips and Tricks
Consider a chic layering piece. A great way to tone down a party dress for day is to add a casual jacket or shirt. Elizabeth Banks (above) opts for a jacket in spring's hottest fabric (denim, for those of you who have been living under a rock). Also above, Kristani A. added a pop of daytime color to her sparkly party frock. If a jacket is too predictable, try a cardigan or your comfiest flannel as seen here: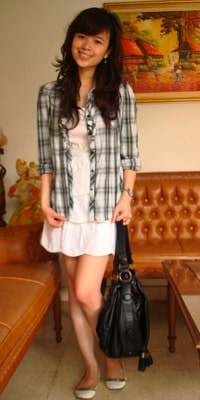 Find an alternative for your favorite heels. Don't get me wrong: I love heels as much as the next girl. That said, high heels AND a fancy party dress might be a little too over-the-top for a daytime look. Instead, try sandals (like those in Picture 2 above), flats, or a more serious heel like oxfords. You can even experiment with sneakers to make your look more daytime-friendly.
Just go for it. Don't be afraid to be bold and take a risk. Sometimes taking on a fashion challenge turns out all wrong, but other times, it's just so right: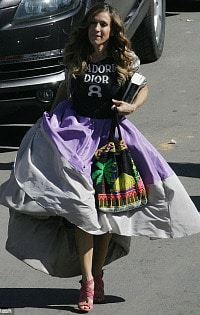 Photo Credits: 1 – Sarah Jessica Parker, 2 – Cynthia Nixon
(both on the set of the new Sex and the City film)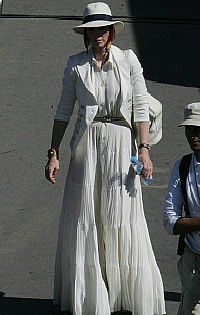 Get the Look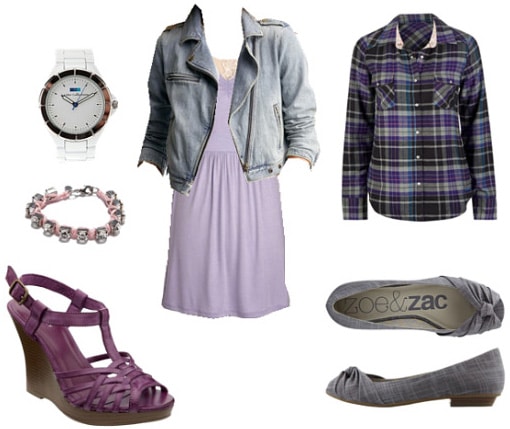 Product Information: Lacy dress – ModCloth, Jean jacket – Gap, Purple sandals – Old Navy, Bracelet – American Eagle, Watch – Urban Outfitters, Flannel shirt – Tilly's, Flats – Payless
A motorcycle style jacket and strappy wedges make a lacy dress more casual. Not feeling the jacket? Swap it for a colorful flannel and flats. A pair of Converse would also work well with this outfit. The best part? Bring along a pair of heels and you can easily switch to a party-friendly look.
So, will you take the Fashion Challenge?
Do you think you could pull off sequins during the day? What is your favorite way to wear a fancy dress to class? Already work this trend? Send us pictures of you in your day-to-night look and we'll feature them here! As always, we are open to suggestions for future fashion challenges and we'd love to hear from you!