I love the versatility of denim. From basic jeans to overalls, denim is my go-to fabric. As with other denim pieces, denim vests are fun and stylish, with a distinctly all-American vibe. Considering the overflow of Americana sent down the runway this spring, it's no surprise that denim vests are now showing up all over the place. They have been a staple in Sienna Miller's (below) closet for some time, and bloggers are integrating them into their wardrobes as well: check out Tavi in a jean vest here.
While many of you might associate denim vests with something you (or your fifth grade teacher) wore in elementary school, they're chicer than ever right now and can bring many outfits from basic to fabulous. All you have to do is learn how to make them work. Are you up to the Fashion Challenge?
Tips and Tricks for Wearing a Denim Vest
Look for a fitted and cropped shape. The most flattering vests I've seen hit a few inches below your natural waist. A too-short vest looks childish and too long and baggy is an untrendy '90s flashback.
Medium and light washes are best. A dark wash vest can work, but they are much harder to style.
A denim vest is the perfect match for your favorite patterned piece. A nice, faded denim breaks up the print and prevents your look from getting too "busy" looking. Patterns work well with denim, whether they're florals (like the look above), or stripes like this:
Get the Look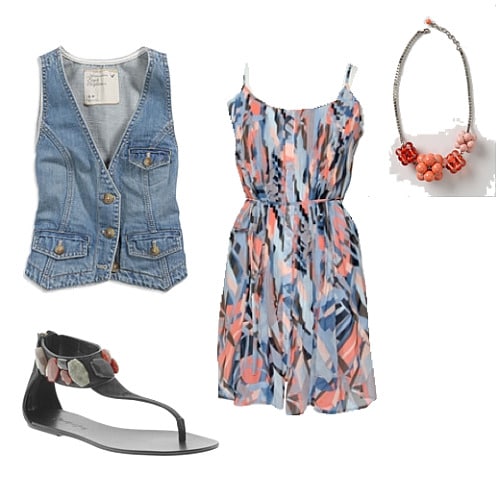 Product Information: Denim vest – American Eagle, Dress – Ruche, Sandals – Piperlime, Necklace – Anthropologie
This denim vest outfit is the perfect spring look. Abstract prints are in for the season, and this artsy one is the perfect complement to a rustic denim vest. The great thing about a denim vest is that it can be styled with tons of items already in your closet. Mix it with your favorite skirt and a basic tee, or throw it on with jeans for a trendy denim-on-denim look. (Just FYI, the sandals above, as much as I love them, are a bit pricey. So if you want a similar look for less, try these from Aldo!)
So, will you take the Fashion Challenge?
Do you love the look of a denim vest, or do you despise the boho-chic staple? Already work this trend? Send us pictures of you in your favorite denim vest look and we'll feature them here! And, as always, we are open to suggestions for future fashion challenges. We'd love to hear from you!