This post may contain affiliate links, which means we may receive a commission if you purchase through our links. Please
read our full disclosure here
.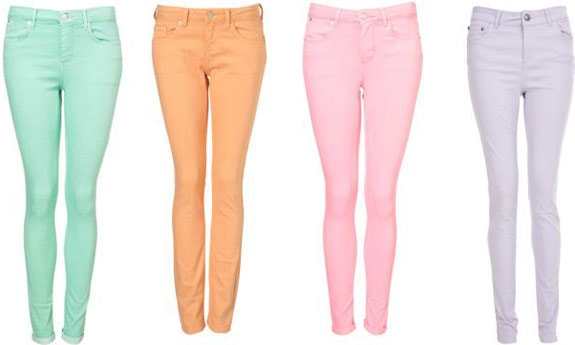 Photo Credits: 1 – Rachel Bilson, 2 – Dittos, 3 – Isabel Marant Fall 2010 RTW
This week's Fashion Challenge is all about taking a formerly-trendy item and wearing it again once it's no longer "in." Think you can handle it? Read on!
Colored denim is a look that's been on and off the fashion radar for the past few years now. Bright denim had a big comeback in 2007 (you might still have some in the back of your closet), and celebrities were pulling the pieces out of their closets again last summer. Although Isabel Marant sent orange denim down the Fall 2010 runways (above right), colored denim is not exactly a trend of the moment right now, making it more challenging to wear.
So if you're bold enough to ignore trends (or just have some colored denim sitting around that you'd like to get use out of), then you are more than ready for this week's multi-colored Fashion Challenge.
Tips and Tricks for Rocking Colored Denim
Ease into it. If you aren't ready to throw on a bright red pair of jeans just yet, go for something similar to what you already wear: green, shades of blue (see Picture 5, below right), and purple (Picture 4, below left) would do the trick.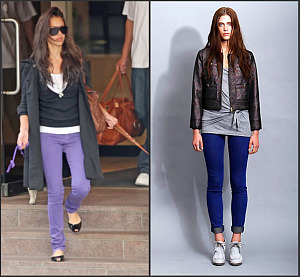 Photo Credits: 1 – Jessica Alba, 2 – Marc by Marc Jacobs Resort 2011
Consider your body shape. Bright colors draw attention to your lower-half. If you are uncomfortable with that, just try a pair with a boot-cut or flare leg (like the green denim in Picture 2), rather than skinnies.
Pair with neutrals. One great way to keep this look on the mature side is to pair it with toned-down basics.
Go trendy. If you like to stick with what's in, go with bleached white denim, or try a red or navy pair to create a nautical-inspired outfit. Both looks are big for summer and spring. You could also add a bit of color with floral denim, as well.
Get The Look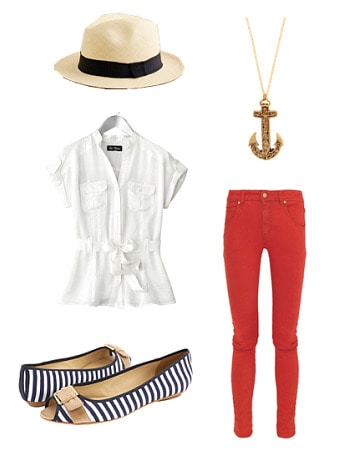 Product Information: Red jeans – The Outnet, Striped flats – Zappos, White blouse – Kohls, Panama hat – J. Crew, Anchor necklace – ModCloth
I went the nautical route for this outfit; it's an easy way to incorporate a bold item (red jeans) into your wardrobe, and the nautical theme makes 2007's jeans look very right-now. You could easily transform this into an edgier look by switching out the blouse for a graphic tee and adding a belt (or two). Or make it girly with a floral tunic, heels, and a denim vest.
CF Reader Looks
Here are some looks sent in by CF readers who took the Colored Denim Challenge! If you want to see your own look here, read our instructions for sending in your looks at the bottom of this post!
Laura – William's College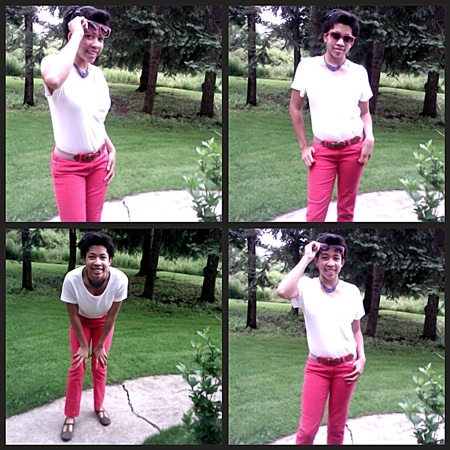 "I love to wear bright colors, so I was really excited when I found these pink jeans a couple of years ago. Seeing the fashion challenge today inspired me to dig them out of my closet. I paired the jeans with very neutral pieces (gray flats, DIY bow headband, and white tee), so as to avoid color overload."
To see more of Laura's style, make sure to check out her blog, TheWardrobeNotTaken.
Katrina – Hood College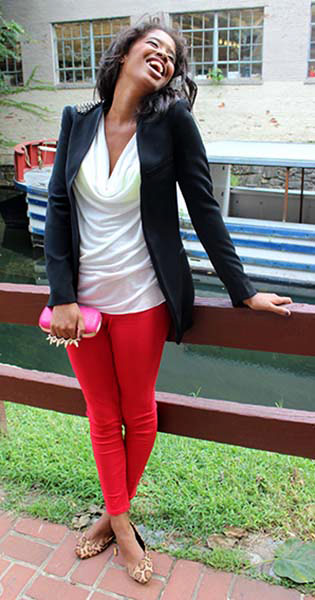 "I really love the monochrome look, so I paired these dark violent pants with a lilac colored grecian inspired tank. I love how the flowing tank offsets against the harsh lines of the jeans. I think this is a modern take on the colored denim look."
This CF reader has a blog, too! To see more of Katrina's style, you can check it out here!
So, will you take the Fashion Challenge?
What do you think about colored denim? Did you rock it back in '07, and are you planning to resurrect it now? What do you think about re-wearing trendy pieces in your closet? Are you brave enough to do it? Let us know with a comment!
Already work this trend? Send us pictures of you in your colored denim looks and we'll feature you here!* As always, we are open to suggestions for future fashion challenges and we'd love to hear from you!
* Send your outfit pictures to fashionchallenge AT collegefashion DOT net! – be sure to include your name and where you go to school, as well as a description of what you're wearing in the photo! (See examples here and here!)