This post may contain affiliate links, which means we may receive a commission if you purchase through our links. Please
read our full disclosure here
.
Beyonce, Ashley Tisdale, Kim Kardashian, and Selena Gomez all show their personal style off at the beach.
Swimming is undoubtedly most people's favorite summer pastime. Be it at the beach, the lake, or the pool in your own backyard, there is nothing more relaxing than taking a dip with some of your best friends. Even though there are tons of swimsuit cover-up choices out there, many girls get lazy and throw on a pair of Nike shorts and a t-shirt over their bathing suits and call it a day.
While this is fine for some (it is summer after all) why not take a few extra minutes to put on something unique and stylish to wear to the pool? You never know who you'll run into, and why not celebrate how great you feel by showing off your fabulous sense of style?
Ready to take on the challenge? Read on for some of our ideas for how to reinvent your beach look!
Tips and Tricks for Adding Style to a Swimsuit Cover-Up
Accessorize! Nothing jazzes up a summer outfit like a fedora or floppy sun hat, some exotic-looking bangles, a long necklace, or a pair of sunglasses.
Lightweight scarves make great beach accessories. Tie one around your bikini bottoms, wrap it around your hair, or use it as an addition to your sun hat.
Rompers and sundresses look great over swimsuits because of their summery, playful vibe. Stick to fabrics that won't be ruined if they get a little wet.
Crop tops are another fun swimsuit cover up to try out – they always look appropriate on the beach!
High-waisted shorts are a great way to experiment with retro-glam silhouettes without having to buy a high-waisted swimsuit.
Shoes are key in bringing an outfit from "blah" to stylish — personally, I avoid flip flops whenever possible and opt for gladiator sandals instead, but if you love thong sandals, look for styles with jewels or embellishments on them for extra pop.
Confidence is the most important poolside accessory you can have. It's summer; you should wear things that make you feel beautiful and have a great time while doing so! Don't let stress over how you look ruin a fun day.
Outfit Inspiration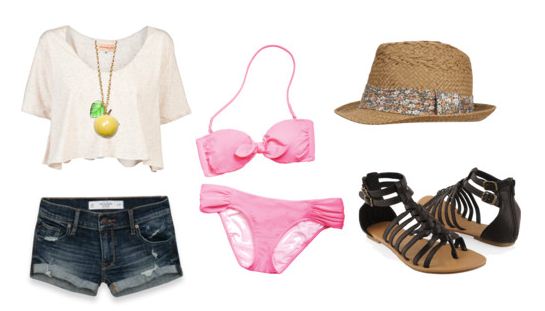 Cropped top, necklace, shorts, swimsuit, sandals, fedora.
This outfit is funky and fun, perfect for a trip to the lake with your friends! Jazz up a bikini by adding a cropped top and pair of worn-out denim shorts. Pull on some gladiator sandals, add a fedora, and finish it off with a summery necklace.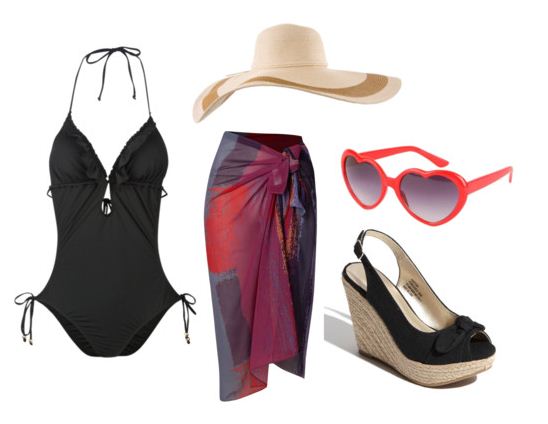 Swimsuit, Sarong, Hat, Sunglasses, Espadrilles
This outfit is elegant and girly, ideal for a family gathering at the pool. A monokini is trendy yet unexpected, and will go wonderfully with a long wrap-around sarong. Finish your look with a simple pair of espadrilles, Lolita sunglasses, and a big floppy sunhat!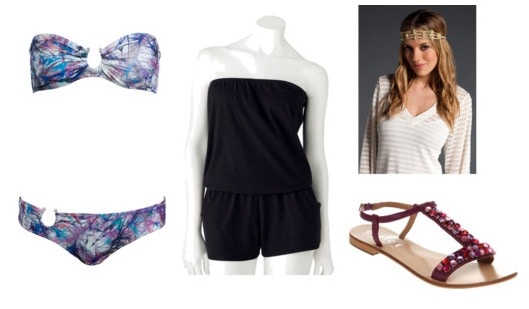 Swimsuit, Romper, Hippie Headband, Sandals
This outfit is fun because it incorporates many boho-chic elements, making it perfect for summer. I love this tie dyed bikini, and it will look great with a simple romper like the black one above (don't be afraid to let your swimsuit straps show, too!) Finish the look with a jeweled pair of sandals and a fun hippie headband.
Took the Challenge? Prove It!
Did you glam up a swimsuit cover up? Send photos to fashionchallenge AT collegefashion.net along with your name, school, a description of what you're wearing, the URL of your blog if you have one, and any styling tips you'd like to share! We'll feature your photos here to inspire other CF readers!!
What Do You Think?
What are you favorite things to wear to the beach or pool? How do you add style to your swimsuits? Would you ever wear heels or wedges to the pool? How dressed up is TOO dressed up? Leave us a comment and let us know what you think!