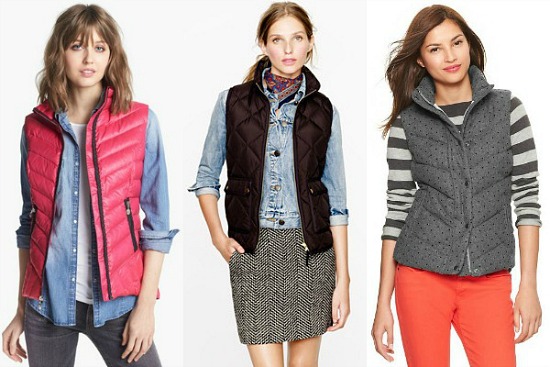 1. Nordstrom, 2. J. Crew, 3. Gap
Fall is upon us, and the crisp air, colorful leaves on the ground, and a little bit of football are just a few of my favorite things about this season. Another thing recently added my list of fall favorites is a chic puffer vest.
Yes, I just used chic and puffer vest in the same sentence, but don't worry: These vests are perfect to wear on days with in-between weather on campus, when it's not too hot but not too cold. Plus, they're oh-so comfy!
Below, I've created two different outfits using the same puffer vest, to serve as inspiration on how to rock this look for fall. Scroll down to see them both!
Classic & Chic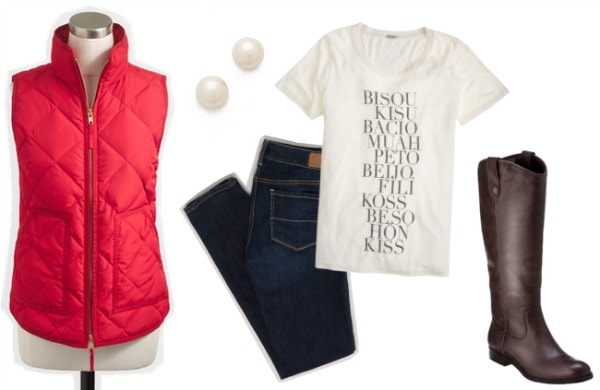 Vest, Top, Jeans, Boots, Earrings
Switch up the classic t-shirt-and-jeans combo by adding on a brightly colored puffer vest. Start by pairing a cute graphic tee with a pair of dark wash skinnies. (If the weather is a bit colder where you are, you can easily swap out the tee with a long-sleeved one or even a sweater.) Riding boots provide a perfect fall-ready appeal, while simple pearl earrings complete the ensemble.
Checking In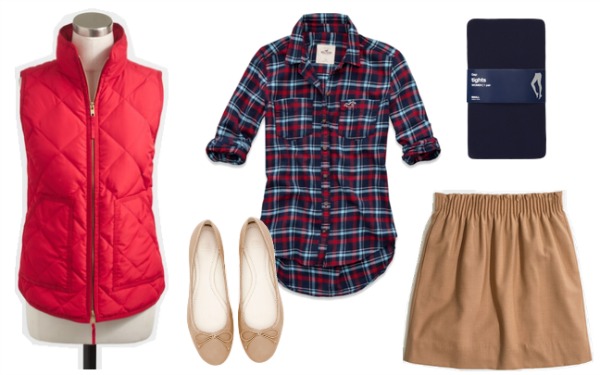 Vest, Top, Skirt, Flats, Tights
You can also update your go-to plaid shirt for fall by layering it under a puffer vest. Tuck a plaid shirt into an a-line skirt, then slip on a pair of cute and comfy ballet flats. If the weather is a little chilly, slip on a pair of tights underneath. The puffer vest adds the perfect combination of functionality and style to this fall getup!
What do you think?
Would you wear a puffer vest? How would you style it? Would you wear any of the looks above? Which outfit is your favorite? Would you like to see more posts like these in the future? Let me know in a comment below!