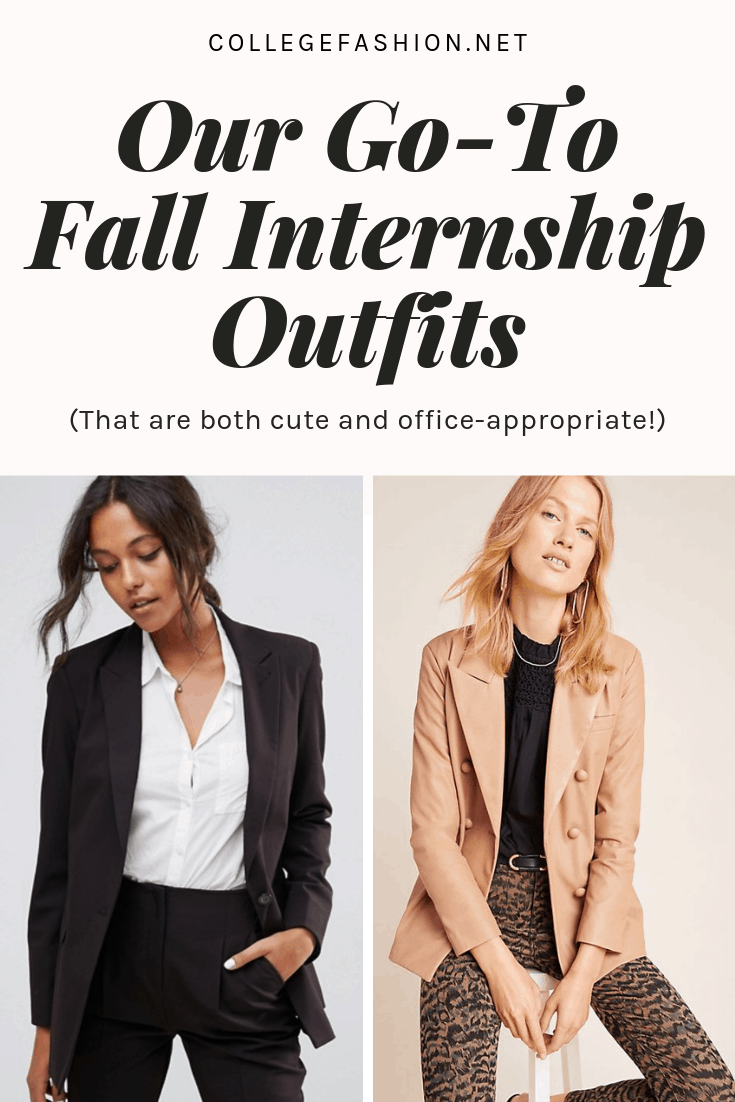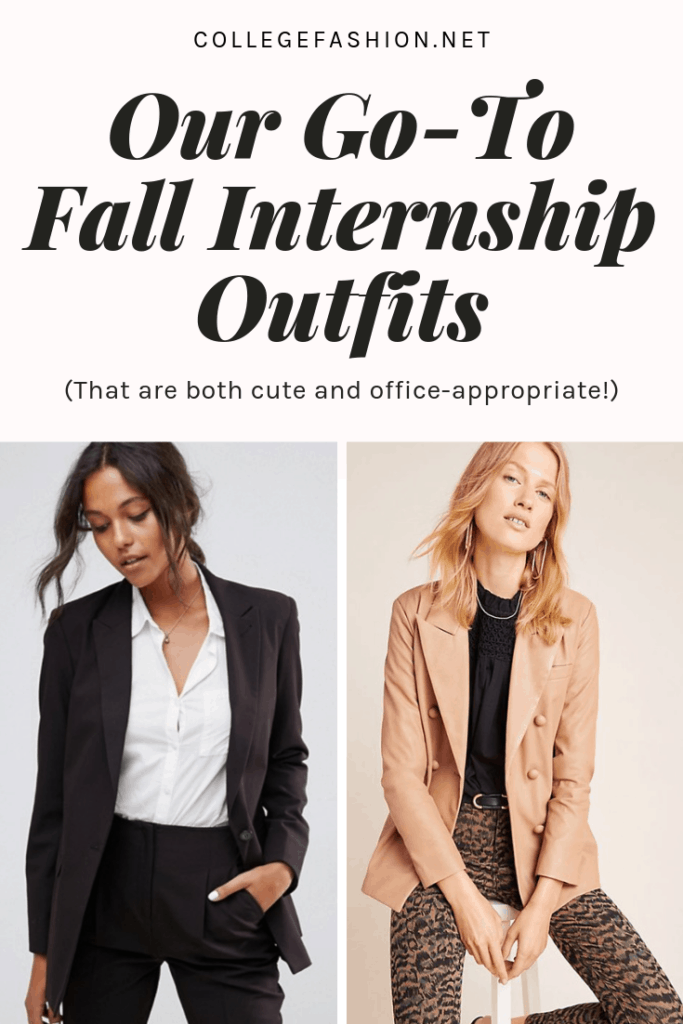 Whether you're an internship rookie this fall, or you have several internships under your belt, finding the perfect fall internship outfit that's professional yet retains some elements of your own style is never an easy task!
Securing a fall internship is a great way to gain practical work experience and strengthen your resume, as well as build your professional network and get a feel for how office life works. In my opinion, another great perk of doing an internship is that it gives you a practice run in terms of your work wardrobe!
If you've been given clear guidelines or a clear dress code for your internship, then it's pretty easy to follow and build your wardrobe according to that. (See our guide to business professional dress codes for full details.)
However, in many industries, the rules are more ambiguous.
For example, in my first internship in a newspaper, I wasn't told anything about a specific dress code, and on my first day, my senior coworkers' outfits ranged from full business suit to jeans and a t-shirt! I wished I had asked beforehand what the dress code was, as that would avoided useless stress about my outfit! If it's an option for you, I would definitely ask.
While most of us already know that pieces like ripped jeans, faux leather mini skirts or neon clothes are no-gos for the office, that doesn't mean it's easy to come up with cute yet professional outfits day after day!
That said — don't panic! I have created 3 fall internship outfits that combine office fashion staples, and that are safe for almost any kind of office.
1. Professional Fall Internship Outfit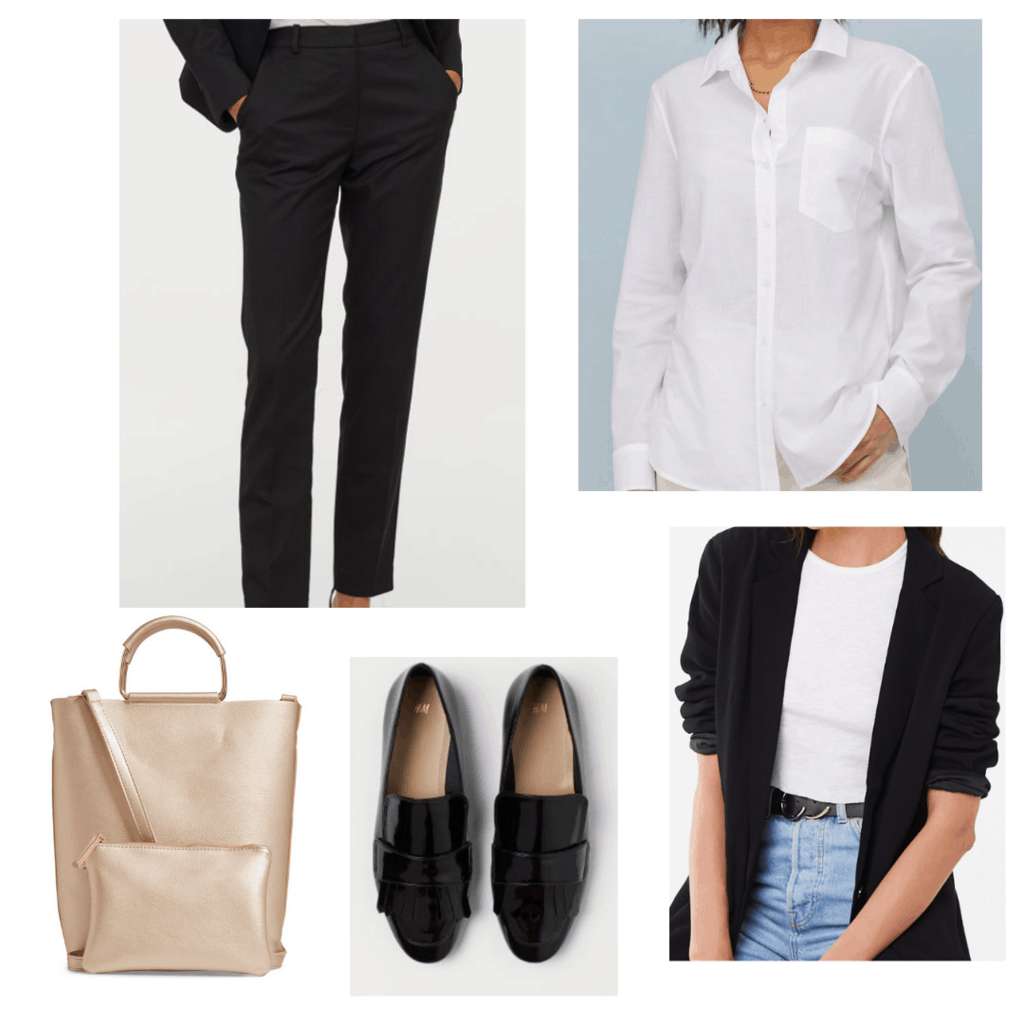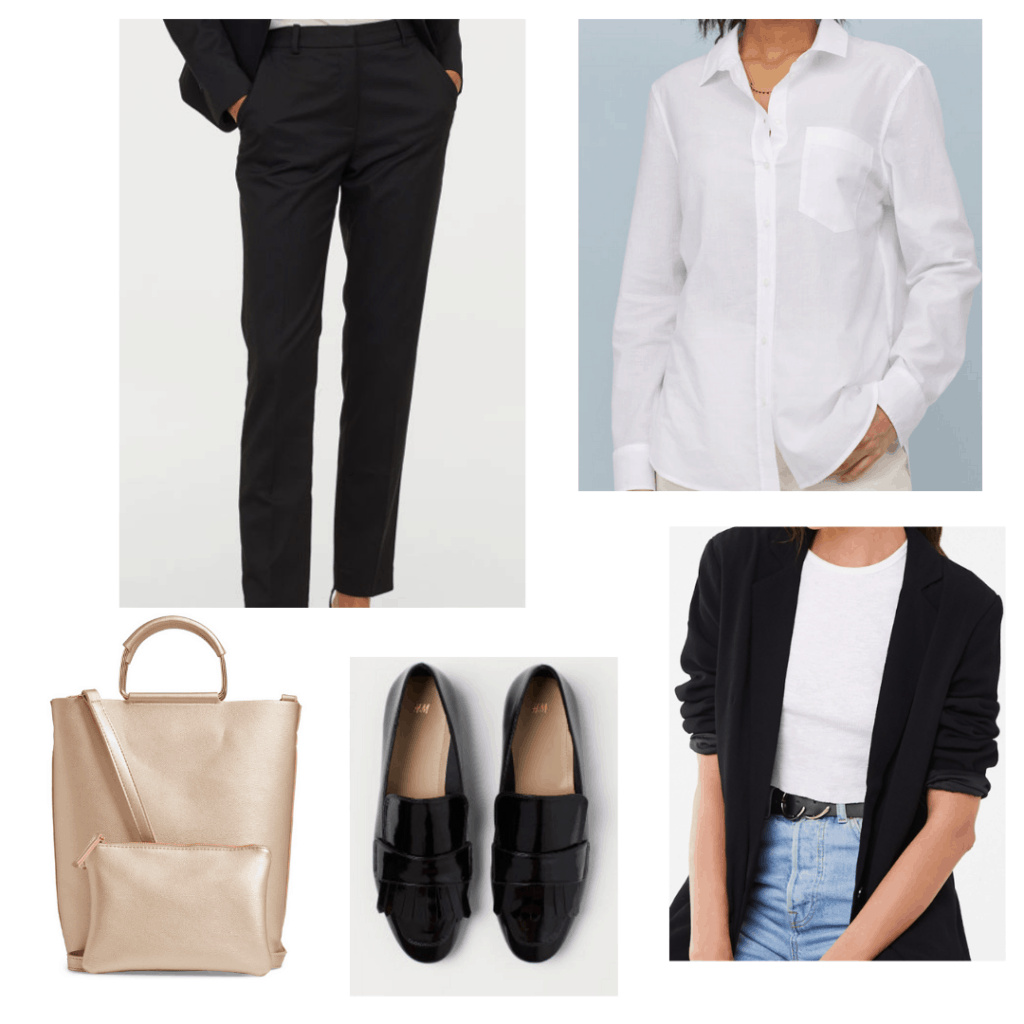 Products: Suit Pants – H&M, White Shirt – H&M, Blazer – Forever 21, Loafers – H&M, Faux Leather Tote – Nordstrom
If you'll be doing your internship in a corporate environment like finance, banking, or business, I recommend getting some of these pieces into your wardrobe if you don't have them already.
The black blazer is a must; it's a timeless piece that you'll be able to wear for many seasons, paired with jeans or skirts and blouses or shirts. I paired the blazer with a basic white shirt and black suit pants, two office staples.
The loafers I chose are a great compromise if you want dressy shoes but don't want to compromise on comfort.
While a professional dress code does limit much of what you can wear, bags often don't apply to the dress code, as long as they aren't over-the-top crazy. That's why I chose this subtly metallic golden tote bag that brings a bit of color to your outfit without being too flashy.
Beyond your internship, this outfit is also great for interviews, or to wear on the first day of your internship if you're unsure of the dress code!
2. Fall Internship Outfit – Business Casual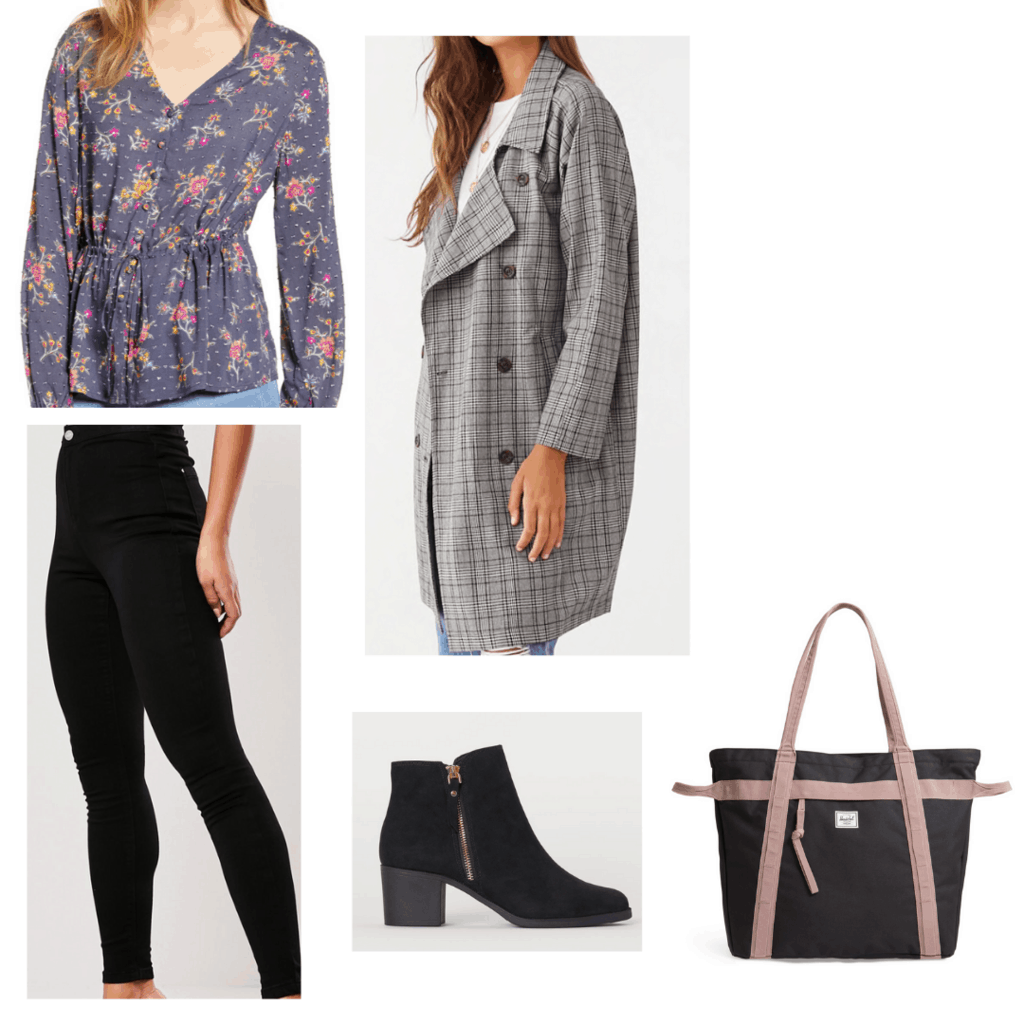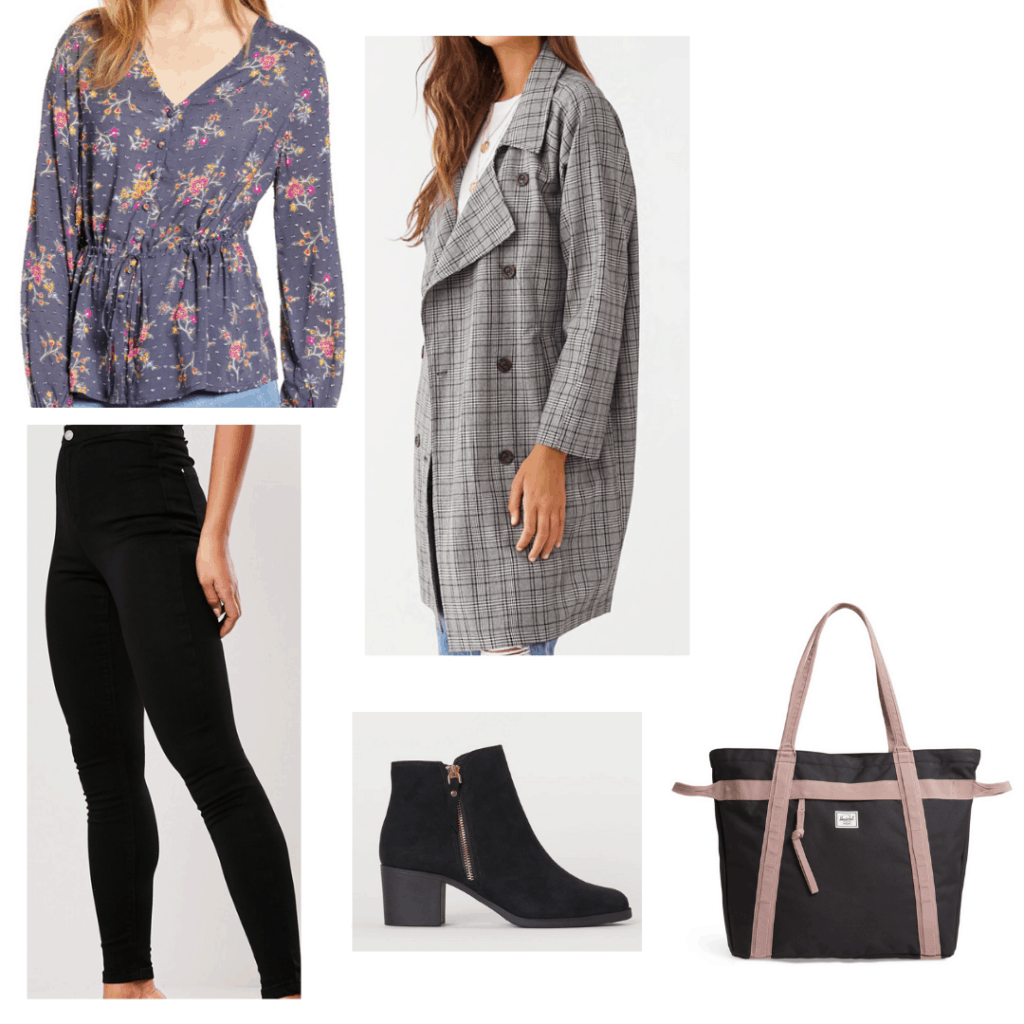 Products: Black High Waisted Jeans – Missguided, Pink Blouse – Nordstrom, Ankle Boots – H&M, Trench Coat – Forever 21, Tote Bag – Nordstrom
While business casual may sound cool at first, it can quickly become a nightmare because everyone has a different definition of what a business casual outfit is.
Again, if you're unsure about the dress code at your new internship, I suggest wearing the first outfit (professional) on your first day as a way to test the waters. It's better to be overdressed than underdressed!
If you're sure that business casual really means business casual in your office, then this outfit is for you.
Mix dark colored jeans with a colorful blouse and flats or ankle boots for an outfit that shows your style yet looks office-appropriate.
To complete the outfit, add a grey oversized trench coat and this pink and grey Herschel tote (which can double up as your bag for college) for a trendy but polished look!
3. Casual Fall Internship Outfit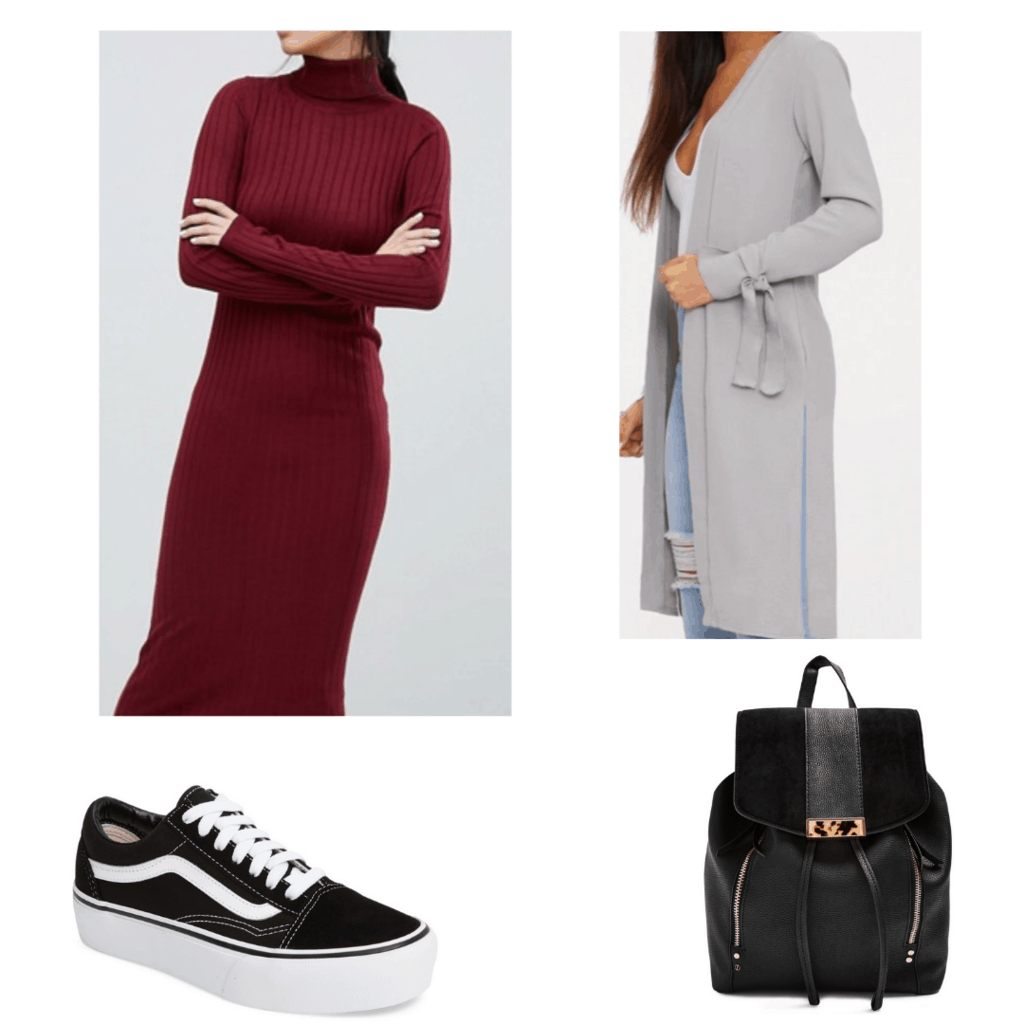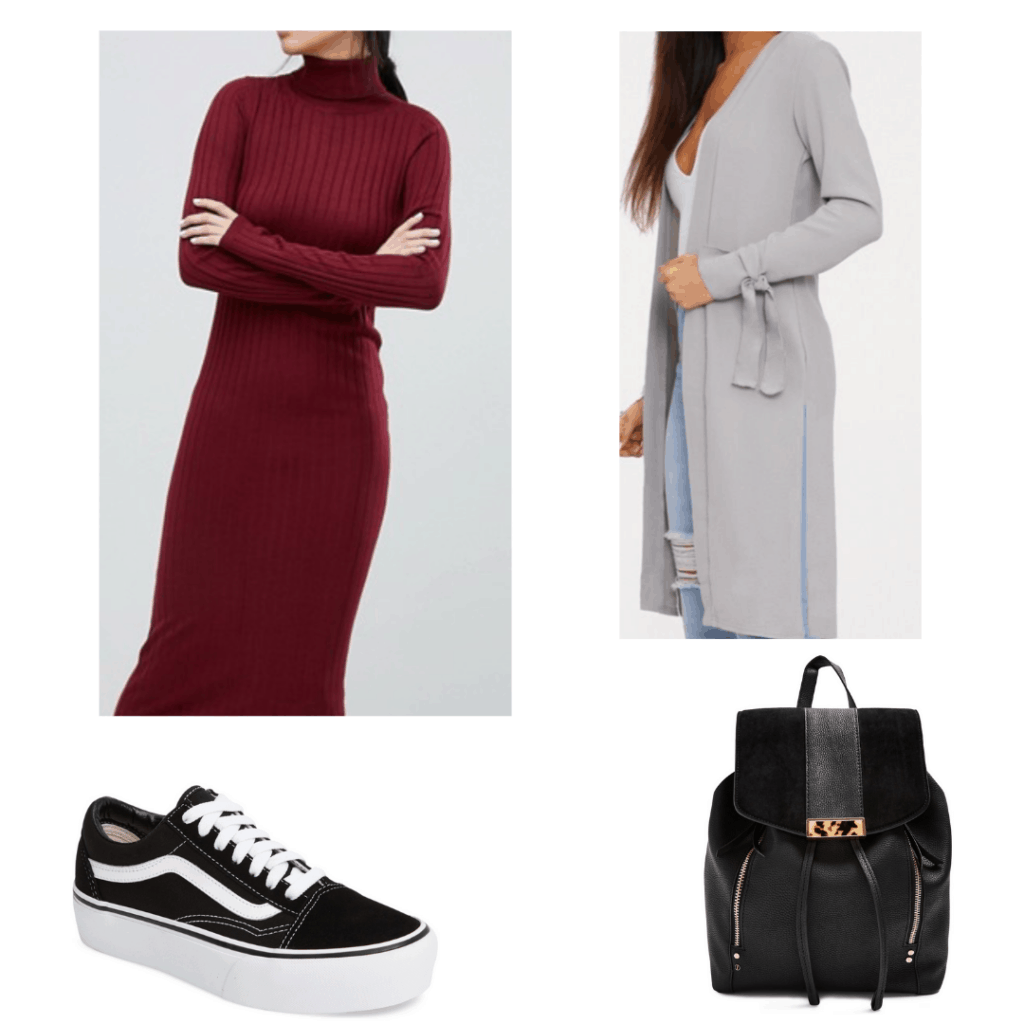 Products: Turtleneck Midi Dress – Asos, Duster Jacket – PrettyLittleThing, Vans Sneakers – Nordstrom, Topshop Backpack – Nordstrom
If you have been told that your office is casual and that there is no dress code, then you don't need to change your style much to make it appropriate for work! (Of course, I wouldn't recommend wearing leggings, school hoodies, or very short or tight clothes!)
Having no dress code is actually more complicated than it sounds. I'm lucky to work somewhere creative where I don't have to follow a dress code at all, and it does take a bit of preparation to put together outfits which I deem work appropriate, and that look good.
One of my favorite fall internship outfit combos is the one above, a turtleneck midi dress, paired with sneakers, a duster jacket, and a faux leather backpack. It always looks trendy yet office appropriate!
One last piece of advice for a casual dress code: Avoid statement jewelry or bags, and if you're still unsure what is acceptable for your office, ask your coworkers, they've been in your shoes at some point!
What are your go-to fall internship outfits?
Are you doing an internship this fall? What's your dress code? Let me know in the comments.