If you've been paying attention to this fall's trends, you've probably noticed a lot of dressed-up sweatpants on runways and in stores. Track pants (or joggers) are the trendy, fashionable version of the sweats you would usually wear when working out or lounging. They're typically made out of the same comfy material, but have stylish touches, like zippers, tuxedo stripes, or contrasting waistbands.
For any lazy girl, this is the ultimate fall trend: comfy, stylish, and really versatile. Don't believe me? Check out these three ways to style track pants:
Look #1: With Sweats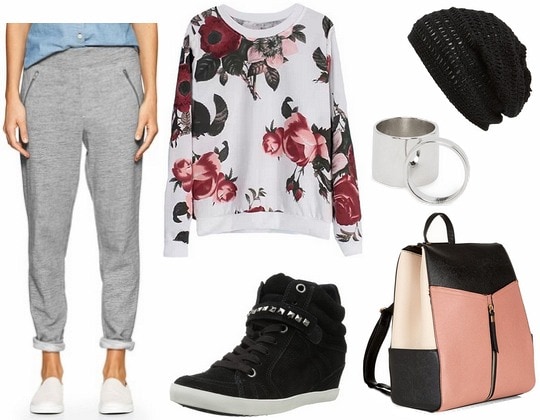 Product Info: Pants, Sweatshirt, Sneakers, Backpack, Beanie, Rings
For the ultimate comfy-for-class look, why not pair sweats with more sweats? Start with a simple pair of gray track pants with zipper details, and add in a pretty floral print sweatshirt. Edge up the look with black wedge sneakers, a black beanie, and minimalist rings. Lastly, add another trendy touch and a little color with a streamlined pink backpack.
Look #2: With Denim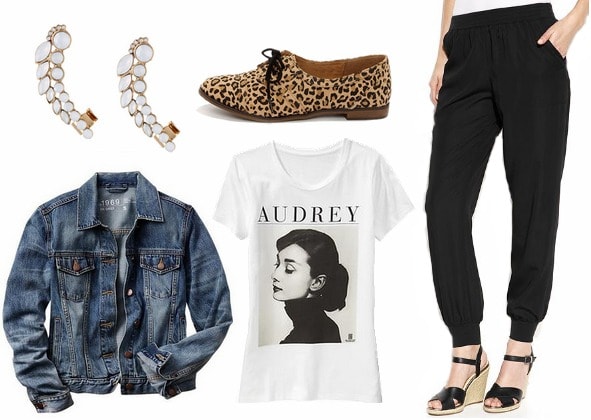 Product Info: Pants, Tee, Jacket, Oxfords, Ear Cuffs
This casual yet polished ensemble would be equally perfect for class, studying in a coffee shop downtown, or doing some weekend shopping. Just pair black track pants with a sophisticated graphic tee, and layer on a distressed denim jacket. Incorporate a pop of print with eye-catching leopard oxfords. For the final touch, add a bit of modern sparkle with jeweled ear cuffs.
Look #3: With (Faux) Leather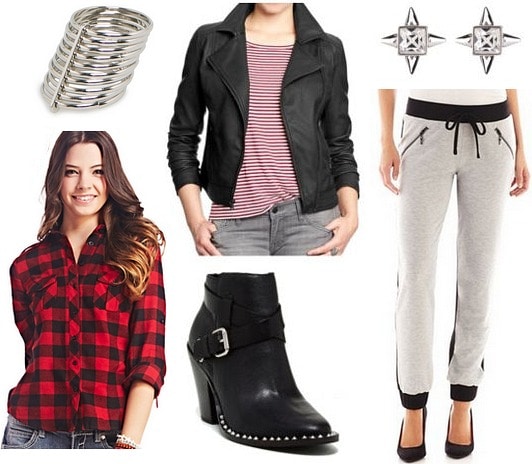 Product Info: Pants, Shirt, Jacket, Boots, Earrings, Ring
This is the perfect edgy fall outfit, ideal for a class-to-night-out scenario. Start with a trendy pair of colorblocked track pants and a classic buffalo plaid flannel shirt. Toughen it up with a faux leather moto jacket and buckled black booties. Lastly, add some subtle accessories, like studded earrings and a sleek, modern ring.
Thoughts?
Do you like the track pants trend? How would you style them? Which outfit is your favorite? Let us know in the comments!